To counter subsidies provided to Chinese stainless steel manufacturers by its government, India is investigating whether to levy a duty on the product's import from China to protect Indian manufacturers.
This country specific duty, also known as a countervailing duty, on imports is imposed to nullify subsidies provided by other nations and is intended to make prices of domestic products competitive. Importing countries also have other options, such as introducing an anti-dumping duty, to make domestic prices at par.
The inquiry by India has been initiated under the supervision of the Directorate General of Anti-dumping and Allied Duties, an arm of the ministry of commerce and industry.
"We have started an anti-subsidy investigation for stainless steel products from China which has been flagged by the industry," Ajay Kumar Bhalla, additional secretary in the ministry of commerce and industry, told VCCircle.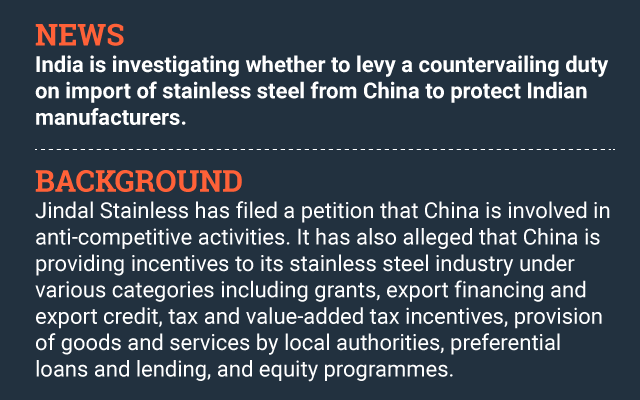 China has improved its stainless steel production capacity and registered a production of 21.7 million tonnes (MT) for financial year 2014-15. India's consumption of finished steel was 76.99 MT for financial year 2014-15 driven primarily by infrastructure creation in railways, roads and highways, and the auto industry. The country has been a net importer of steel with the exception of financial year 2013-14 when it bucked the trend.
"In this (the Indian investigation) regard, we held the first meeting with our trade counterparts from China on 10 March," added Bhalla.
The petitioner, Jindal Stainless Ltd—India's largest stainless steel manufacturer with a 1.8 million tonnes per annum capacity—has provided details of 106 subsidy schemes to the Indian government allegedly being operational in China, which are directly or indirectly available to Chinese manufacturers.
"The purpose of the consultation is to provide an opportunity to clarify the factual situation and to arrive at a mutually agreed solution, if any," said Bhalla, adding that provisional results will come within three to four months. Usually, the final investigation report takes a year to be completed.
Interestingly, India's Economic Survey 2016 presented last month stated that any future safeguards for the steel industry may not be in the best interest of the downstream industries.
Experts, however, have termed the Indian government's move as the right strategy.
"Investigations for introducing countervailing duty are compliant to World Trade Organisation norms and the duty may be imposed to the extent of subsidies being provided to the industry. India will gain by neutralising impact of cheaper imports," said Anwarul Hoda, professor at Indian Council for Research on International Economic Relations, a policy think tank.
"Currently, the steel industry is finding it difficult to compete with China due to low demand and declining prices. Any restriction of cheaper imports will be a welcome relief for the industry," added Kalpana Jain, partner at Deloitte Touche Tohmatsu India LLP, a consultancy firm.
This comes at a time when the US commerce department has launched a similar probe. The anti-dumping and countervailing duty investigation was initiated after a clutch of US-based stainless steel manufacturers, including AK Steel Corp., Allegheny Ludlum and North American Stainless, filed a petition, news agency Reuters reported on 4 March. The European Union and Canada have also initiated similar probe in the past. Also, India is exploring to impose anti-dumping duties on imports of certain stainless steel products from countries such as China, South Korea, European Union, South Africa, Taiwan, Thailand and the US, news agency Press Trust of India reported on 23 February.
Jindal Stainless' whole-time director S. Bhattacharya said that the industry has filed an application to initiate an investigation into the import of stainless steel flat products from China.
Flat stainless steel products are those which are produced in the forms of plate, strip or sheet, with varying thickness.
"These subsidies distort competition by making imports of the products artificially competitive against the non-subsidised domestically produced good," said Bhattacharya and added that the industry will benefit by having a level playing field with the Chinese manufacturers in case the allegations are established.
According to Jindal Stainless, China is providing incentives to its stainless steel industry under various categories including grants, export financing and export credit, tax and value-added tax incentives, provision of goods and services by local authorities, preferential loans and lending, and equity programmes.
Note: This story has been updated with the correct company name in the accompanying graphic.