Last month, our firm participated in an event in Bangalore for more than 50 senior executives from Indian IT Services companies. As the keynote speaker, I presented our proprietary analysis showing that the Indian IT industry is at an inflection point: sales are up, yet valuations are down.
According to our analysis, in the past 12 months, from September 2011 to September 2012, Tier I Indian IT companies had sales growth of 25.76 per cent and a profit increase of 16.53 per cent, but enterprise value/EBITDA declined 12.48 per cent. Tier II companies increased sales 17.88 per cent and profits rose 15.77%, yet EV/EBITDA declined 16.07 per cent.
This was not news to these Indian IT leaders, who live with this conundrum every day. But another theme of my presentation caused them to sit up and take notice: the degree to which China's IT companies are on the rise.
If a picture is worth a thousand words, the following charts tell a story that has Indian IT executives worried – and they have reason to be.
What's behind the value differential between Indian and Chinese IT companies? One reason is China's 12th Five-Year Plan (2011-2015), which has targeted next generation IT and especially Cloud computing as one of seven national emerging industries that will be relied upon to boost GDP growth in China.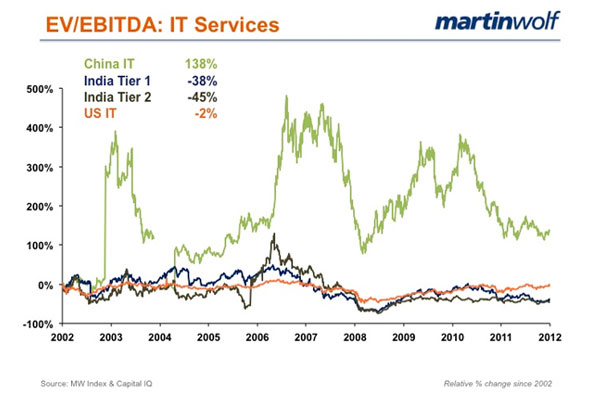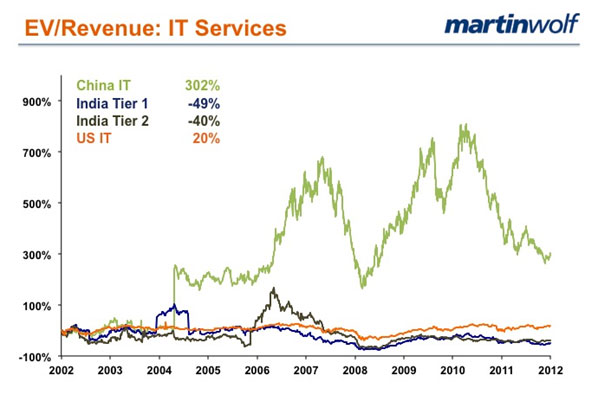 Going back to the early 1950s, China's five-year plans have laid out both social and economic goals for the country, and over the years the Chinese government has a pretty good track record of meeting or exceeding the targets in these plans.
Of course, Cloud computing in China was not stagnating before the government decided to single it out for investment attention. According to research firm IDC, China accounted for around 10 per cent of global Cloud-computing investment in 2011, which totalled $28 billion.
But between now and 2015, the Chinese government is actively investing more than $150 billion in 25 Cloud computing centers by 2015 to shore up China's relatively immature Cloud computing infrastructure. Five cities – Beijing, Shanghai, Shenzhen, Wuxi and Hangzhou – have been designated Cloud innovation pilot cities. Eight other provinces and cities have also announced Cloud computing strategies and plans. There will be others. In fact, if all of the plans are implemented, according to IDC, China will have more than 10 million Cloud computing servers worth more than $220 billion.
This aggressive government investment will lead to a vastly improved Cloud computing infrastructure in China. Domestic companies such as China's state-owned telecommunications companies, its IT services and its Internet, software and e-commerce companies will benefit first. But it has also injected new energy into international companies' investment in China's cloud industry – including tech leaders such as Cisco, IBM, Intel and Microsoft.
Just last month, for example, Intel announced a partnership with Chinese telecommunications giant Huawei for Cloud computing R&D and products. And Microsoft announced that it will add 1,000 employees in China and invest an additional 15 per cent in R&D as part of a Cloud push aimed at competing more effectively with Apple and Google in the world's most populous mobile Internet market.
A logical next step for Chinese Cloud companies is to tackle the global market – and go head to head with Indian companies in their most lucrative markets – the United States and Europe.
Of course, none of this has gone unnoticed by Indian IT company executives I spoke to last month. The majority of questions I received after my presentation were about China's strategy and investments in IT. Of particular interest was the country's investment in Cloud computing infrastructure and Cloud services.
Questions ranged from how Chinese IT companies could earn such high valuations with such relatively low profits; whether they will perform well in the U.S. market; and whether Chinese government policies will affect U.S. investment in China. All of these are provocative inquiries reflecting the nature and depth of the concern that Indian IT executives have over the growing presence of their Chinese counterparts in the cloud computing.
After the event in Bangalore ended, it's clear that Indian IT executives are keeping a close watch on China – and they have every reason to. The rise of the Chinese Cloud computing industry is potentially a storm cloud forming on the horizon of Indian IT companies future plans for growth.
Nevertheless, if Indian IT companies move quickly up the value chain and achieve global scale, before China has the chance, they can weather the storm.
(Marty Wolf is the founder and president of martinwolf, a middle market IT M&A specialist. Since 1997, he has guided buyers and sellers in the IT services, business process outsourcing, supply chain and software industries through more than 100 transactions, including divestitures of Fortune 500 divisions.)