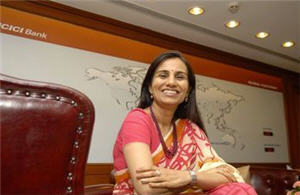 ICICI Bank said on Friday that its board has appointed Chanda Kochhar as its CEO. She will take charge from May 1, 2009, and will remain on the job till April 30, 2014. The current CEO KV Kamath, who retires on April 30, will be the new non-executive chairman of ICICI Bank for five years from May 1. He replaces N Vaghul. Kamath was appointed managing director and CEO in 1986.
ICICI Bank said in a statement on Friday that the board's decision is subject to Reserve Bank's approval.  
Kochhar heads the Corporate Centre of the bank, and is also the official spokesperson. In addition to finance, planning and communications; her responsibilities include the global treasury, principal investments & trading, risk management and legal functions. She is also responsible for day-to-day guidance and administrative matters relating to compliance and internal audit functions.
In 2006-07, she headed up the international business of the bank when all Indian companies had stepped up their international activities. 
At 47, Kochhar will be the youngest chief executive of the 54-year old bank. ICICI, set up in 1954, had its origins as a corporate lending financial institution. It became a bank in 1994, and from then it has built up a large retail business. Kochhar joined ICICI in 1984 as a management trainee fresh from Jamnalal Bajaj Institute of Management Studies.
Kochhar's appointment was expected as she had become the public face of the bank in the last few months. It was Kochhar who fielded questions from the media when the rumour spread that ICICI Bank was affected by credit crunch fiasco in the US. Kochhar kept her calm and heavily defended the bank's position in public. These were the signs enough that Kochhar had emerged as the strongest contender for the top job at the bank.
The other storng contender for Kamath's job was Shikha Sharma, Managing Director & CEO of ICICI Prudential Life Insurance. The appointment committee had also shortlisted other ICICI veterans like Renuka Ramnath, Managing Director, ICICI Ventures, Sandeep Bakhshi, MD & CEO of ICICI Lombard General Insurance, and three Executive Directors of ICICI Bank, V Vaidyanathan, Madhabi Puri-Buch and Sanjoy Chatterjee.
The scale was heavily tilted in favour of Kochhar as she had risen from the ranks as one of the most important officers handling crucial portfolios. Her leadership qualities, and the ability to troubleshoot were also regarded high.