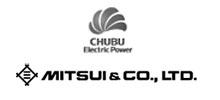 Japanese utility Chubu Electric Power Co and trading house Mitsui & Co are set to sign memorandums of understanding with Indian firms to cooperate in the energy sector, industry sources said on Friday.
Chubu aims to sign an agreement with India's GAIL as soon as possible to launch talks on potential joint purchases of liquefied natural gas (LNG) and cooperation in other areas such as shipping, Chubu President Akihisa Mizuno told reporters.
India and Japan are stepping up the pressure for cheaper liquefied natural gas (LNG) with potential joint tenders as two of the world's biggest gas buyers try to ease the pain of high prices and rising demand.
Mitsui plans to agree later on Friday with India's ONGC to expand an existing partnership and to consider joint acquisitions of upstream oil and gas stakes globally, an industry source familiar with the matter said on condition of anonymity.
Japanese Prime Minister Shinzo Abe is set to visit India on Saturday, underlining growing business and political ties between the two nations.