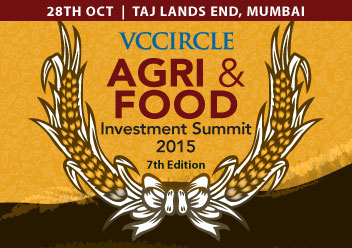 The 7th edition of VCCircle Agri & Food Investment Summit, which will be held on October 28, 2015 at Taj Lands End, Mumbai, will bring together a diverse but carefully curated group of about 250 top, enterprising and emerging 'foodpreneurs', CEOs, investors and new-age food & beverage innovators, many of whom are disrupting  the mainstream Indian agri & food sector. This pre-eminent gathering of entrepreneurs, industrialists, support services-providers, investors and foodpreneurs will specifically look at the problems plaguing the sector, especially the agri space and how technology and logistical innovation can address these issues.
Given the wide range of experts and industry representatives attending the summit, we are excited to announce thatIreena Vittal, an expert in agri business and marketing, will deliver the keynote speech. Vittal, who has had an illustrious career working with McKinsey Co and Nestle India, to name a few, has been instrumental in carving out business and marketing strategies for a number of companies and their products and services. Currently she serves as an independent director on the boards of companies including Tata Global Beverages, Wipro, GlaxoSmithKline Consumer Healthcare, Godrej Consumer Products and Titan.
Her marketing acumen around products and knowledge of rural consumers are a huge value addition to entrepreneurs who are looking at transforming the agri segment through their disruptive ideas. She also has in-depth knowledge of agriculture in the country, its dynamics and commercial scalability. It is important to mention here that Vittal has been at the helm of numerous product launches and at times single-handedly nurtured them, transforming their outlook and reach amongst consumers, leveraging her marketing knowledge.
Click here to view an impressive list of speakers confirmed for VCCircle Agri & Food Investment Summit 2015.
The following topics will be covered at the summit:
Back to the beginning: On mapping digital innovations at the farm input level
Investing in agri and food businesses: The debt vs equity investment prism
Innovations in supply chain and cold storage: From farm to the dining table
Can Indian food safety standards get more consumer friendly?
How ready is India for an organic food revolution?
Mapping new opportunities in the mainstream food businesses
Mapping emerging business opportunities in new foods
Mapping technology-centred food models
To view the agenda in detail please click here
The summit will also feature a Showcase Session that will provide a platform for select companies in the agriculture & food sector to present their innovative services and products to the impressive gathering of entrepreneurs, investors and professionals. If you want to showcase your company at the summit, please click here or write to kanika@vccircle.com.
To participate at the summit and gain valuable insights on the agriculture & food sector, register now or write to Kanika at register@vccircle.com / 0120-4171111.
For branding and sponsorship opportunities, write to Nayab at nayab.k@vccircle.com.
Send us your views, ideas and suggestions on Twitter; use our event hashtag: #VCCAGRI