Despite the rout in commodity prices globally, India's mineral production for financial year 2015-16 increased by 9% to 495 million tonnes (MT).
However, the overall growth in terms of value decelerated by 11% to Rs39,767.3 crore during the same period, according to yet-to-be released provisional mining data for FY16 reviewed by VCCircle.
This spurt in mineral production comes at a time when the government is taking all possible measures to help stressed metal companies, including steel and aluminium, burdened by structural demand slowdown and surge in cheap imports from countries such as China and Korea. The Indian government has also initiated investigations against various types of metal imports and imposed duties to make domestic production comeptitive.
According to provisional data compiled by India's ministry of mines, while India's metallic mineral production including iron ore, bauxite, copper and zinc during FY16 rose by 21% to 190.74 MT, its value was down by 14% to Rs33,124 crore.
Metallic minerals such as iron, bauxite and manganese are those which once melted result in new products such as steel and aluminium, while non-metallic minerals such as coal and limestone transfer high levels of energy.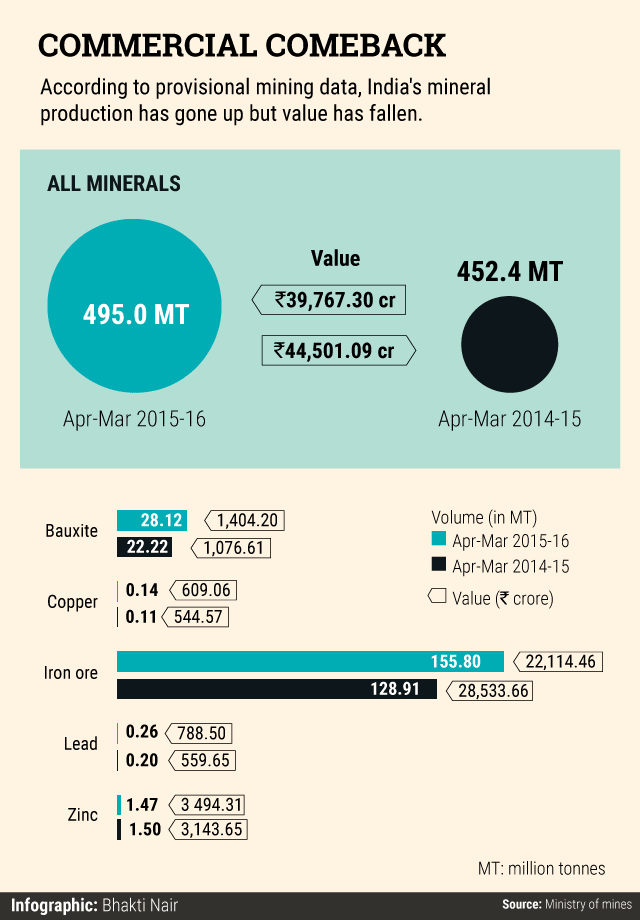 "The numbers for FY16 are looking very good," said a senior government official requesting anonymity.
Buoyed by a robust 5% growth in mining sector, India's Index of Industrial Production also rose by 2% in February after three months of contraction.
Last week, Chinese stocks witnessed a two-month low as falling commodity prices affected raw material producers and worries regarding faltering economic indicators grew.
India's total value of mineral production was Rs44,501 crore during financial year 2014-15. Production of major metallic mineral such as bauxite is up by 27%, copper by 30%, iron ore by 21% and lead by 32%. However, production of manganese and zinc concentrate are down by 12% and 2%, respectively.
Queries emailed to the ministry of mines on 5 May remained unanswered.
Meanwhile, the provisional figures indicate that production of non-metallic minerals including limestone, magnesite, phosphorite was up by mere 3%, while in terms of value it has registered a 13% growth.
Experts believe that there are a host of factors behind increase in mineral production especially iron ore.
"The increase in production of iron ore in FY16 has been on account of commencement of mining operations in Goa post the lifting of ban by the Supreme Court coupled with reduction of iron ore import which has given a boost to domestic production," said Rohit Sadaka, associate director at India Ratings and Research Pvt. Ltd.
The apex court lifted mining ban in Goa, one of the top iron ore producers of the country, in April 2014 and mining activity started picking up in 2015. However, an annual cap of 20 MT has been imposed.  
Furthermore, production of iron ore is not likely to reduce as domestic steel production is expected to be positive, Sadaka said, adding that further removal of export duty on low-grade iron ore (iron content less that 58%) from 30%, announced in the Union budget of 2016, will make domestic miners competitive in the international market.
Like this report? Sign up for our daily newsletter to get our best reports.