In the final two weeks of August we conducted a survey of over 100 large distributors and unlisted companies spread across India and spanning all the key consumption segments including daily consumables, durables, spirits, beer, auto, auto ancillaries, shoes, watches, jewellery, apparel and paints. This survey has focused on identifying the YoY and QoQ trends in consumer demand over July- August 2012 across categories as well as individual brands. The picture that has emerged from our survey shows: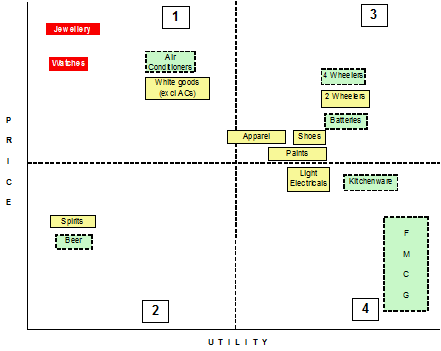 Source: Company, Ambit Capital research; Red shade = significant slowdown in volume growth rates; Light Yellow shade = Volume growth continues albeit at slower than normal growth rates; Light Green shade = Volume growth continues to remain robust.
Significant moderation in discretionary spending: The focus of the Indian consumer on value has increased substantially over the past few months with moderation in growth (or a big slowdown) in consumer spending being clearly visible in: (a) low-utility big ticket items such as jewellery and watches; and (b) products which have witnessed significant price hikes over the past two years such as paints and spirits.
Pockets where demand has held up strongly: Daily consumables has clearly led this pack with volume growth rates and 'premiumisation' trends not showing any signs of moderation either in rural or urban India. Demand has remained strong even in FMCG products which have not seen any material increase in promotional spend by manufacturers compared to last year although savings on gross margins in 1QFY13 have been spent on advertising by all FMCG majors. Other sectors which have shown signs of continued strong volume growth momentum over July-August include air conditioners, beer, premium cars and kitchenware.
What do distributors expect from the rest of FY13? Whilst most distributors expect the festive season to stimulate demand in areas which have seen moderation in YoY volume growth rates in the recent past, distributors across product categories including FMCG, retail and consumer durables expect increased price elasticity in demand in case a further rise in input costs leads to price hikes by manufacturers in the coming months. Moreover, even in segments where consumer spending has moderated significantly (eg. jewellery, watches, spirits), distributors and unlisted companies believe that such spend will return if the Government can revive business and economic sentiment; nobody that we spoke to is willing to contemplate that the Indian consumer might be structurally impaired.
(Rakshit Ranjan, CFA is a consumer analyst with Ambit Capital.)