India is leveraging its position as a clean energy champion to impress upon multilateral financial institutions to earmark a significant portion of their lending corpus towards renewable energy projects.
For instance, India wants the K.V. Kamath-led New Development Bank BRICS (NDB BRICS; initially named BRICS Development Bank) to allocate at least 15% of its annual lending towards setting up green energy projects. NDB BRICS was set up with an initial authorized capital of $100 billion.
Other institutions India plans to engage for similar arrangements include the World Bank, the Asian Development Bank (ADB) and China-led Asian Infrastructure Investment Bank (AIIB).
"We are in talks with the New Development Bank BRICS...we are requesting the bank to earmark a portion of its money, at least 15%, for renewable energy projects, including solar. And we are also requesting it to come up with a scheme to reduce the hedging cost," said Upendra Tripathy, secretary in India's ministry of new and renewable energy.
The move is significant as a majority of prospective members of the International Solar Alliance (ISA) do not have enough funds to support comparatively costlier solar power projects. Availability of loans at cheaper rates and hedging mechanism are pre-requisite for the success of the new global body.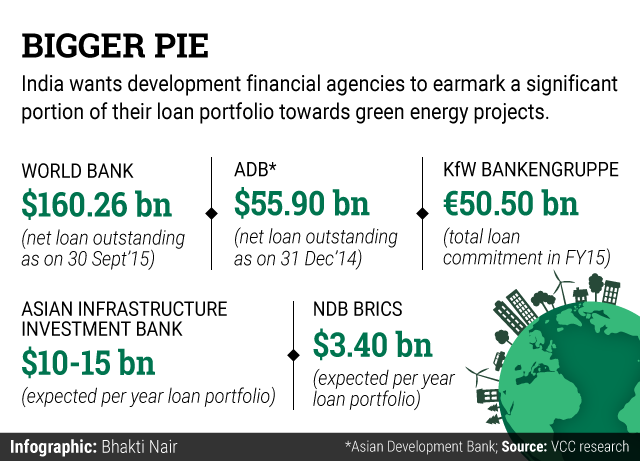 "We are also sending this model to the Asian Development Bank (ADB), to the World Bank, and to the Asian Infrastructure Investment Bank," said Tripathy.
India is pushing for a hedging mechanism from these institutions given the currency fluctuation risk and the cost involved to contain it. Recipient countries such as India bear the onus of bearing the hedging cost. The rupee has depreciated by around 52% against the dollar to 68.16 since the start of the calendar year 2011.
The volatile rupee-dollar exchange rate may also result in India shelving its plan to introduce dollar-denominated tariff for grid-connected solar power aimed to attract foreign investment by reducing foreign exchange risk.
India has rolled out an ambitious green energy programme to generate 175 gigawatt (GW) of electricity by 2022. Of these, 100GW is planned from solar, 60GW from wind projects and the remaining 15GW from biomass and small hydroelectric projects. This would entail an investment of $150 billion.
Queries emailed to the spokespersons of India's finance ministry, the World Bank, ADB, AIIB and NDB BRICS on 3 February remained unanswered.
The Indian government has received a lending commitment of $1 billion each from the World Bank and the ADB. In addition, KfW Bankengruppe, Germany's development bank, has made a financial commitment of €1 billion for India's green projects.
Experts are in favour of concessional finance for green projects.
"India's per capita emission is far below that of the developed countries and its per capita energy consumption is only one-third of the global average. It has embarked upon an ambitious programme for installation of 175GW of new renewables which work out costlier than coal-based power which is in abundance in India," said Anil Razdan, India's former power secretary.
While a coal-fuelled thermal project requires an investment of Rs7 crore per MW, solar power project requires Rs5-5.5 crore per MW. India has a per capita electricity consumption of 1,010 kilowatt-hour (kWh). In comparison, China and developed economies have a per capita consumption of 4,000 kWh and 15,000 kWh, respectively.
"For this effort to save the global environment, India and other developing countries should be provided concessional assistance from the multilateral financial institutions. This assistance should also be extended through implementation of energy efficiency programmes as well as storage of power from new renewables," added Razdan.
India has taken the lead in championing the cause of solar power with ISA of 121 prospective member countries, including the US, France, Japan and China, to be headquartered in India. ISA aims to make clean power affordable and accessible by all and mobilize $1 trillion in funds by 2030. India also plans to develop small-scale solar power projects in the underdeveloped countries of Asia and Africa, and provide electricity access to villages there.
"The alliance would play an important role in bringing global funds to the clean energy sector. There is enough liquidity in the international markets," added Tripathy.