The International Monetary Fund has lowered its forecast for India's economic expansion for 2015-16, becoming the fourth international agency to tone down its expectations due to global growth concerns.
The IMF said on Tuesday it now expects the Indian economy to grow 7.3 per cent this fiscal year, the same as last year and lower than its previous forecast of 7.5 per cent in July.
In its update of the World Economic Outlook, the IMF noted that there was a structural slowing in emerging markets and lower commodity prices would weigh on their growth estimates.
But the multilateral body retained India's 2016 growth estimate at 7.5 per cent. It said that India's near-term growth prospects remained favourable and a narrowing of the current account deficit had lowered external vulnerabilities. "Growth will benefit from recent policy reforms, a consequent pickup in investment, and lower commodity prices," it said.
The report emphasised on reforms towards fiscal consolidation and structural reforms to ease supply constraints in energy, mining and power sectors. "With balance sheet strains in the corporate and banking sectors, financial sector regulation should be enhanced, provisioning increased, and debt recovery strengthened," the IMF said.
Meanwhile, a much sharper cut in growth projection for China means India will remain the fastest-growing major economy in the world.
The IMF move comes after Moody's, the OECD and the ADB lowered their growth estimate for India
The IMF also sliced global growth estimates to 3.1 per cent for the year from 3.3 per cent. "In an environment of declining commodity prices, reduced capital flows to emerging markets and pressure on their currencies, and increasing financial market volatility, downside risks to the outlook have risen, particularly for emerging market and developing economies," it said.
Another trim for India
The IMF move follows similar reductions by rating agency Moody's, the Organization for Economic Cooperation and Development, and the Asian Development Bank. In August, Moody's trimmed India's growth estimate for 2015 to 7 per cent while maintaining 7.5 per cent growth for 2016. In September, the OECD lowered its prediction to 7.2 per cent for the current fiscal year while the ADB last month slashed India's growth projections to 7.4 per cent from 7.8 per cent for 2015. The Manila-based organisation expects India to grow 7.8 per cent in 2016, down from 8.2 per cent.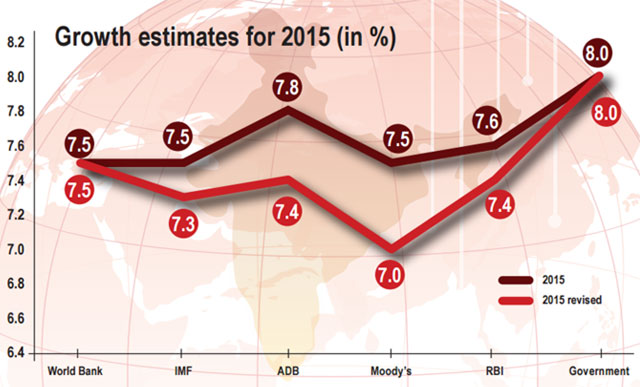 The World Bank, however, retained on Sunday India's growth estimate at 7.5 per cent, though it cut 2016 forecast to 7.8 per cent from 7.9 per cent.
The lower growth projections are in line with the Reserve Bank of India's estimate. The central bank, during its monetary policy review in September, cut its estimate for growth in 2015-16 to 7.4 per cent from 7.6 per cent. In a bid to boost growth, the RBI slashed its main interest rate for the fourth time this year in September.
However, a lot would depend on the government's ability to eliminate bottlenecks and push reforms. The government has so far stuck to its 8 per cent estimate for the current fiscal year, although Finance Minister Arun Jaitley had said after the RBI meeting in September that the government would reassess its growth projections.