India's industrial output, measured by the index of industrial production (IIP), grew 2.4 per cent in May over the same month in 2011. The growth in the index, which captures manufacturing activity besides electricity generation and mining output, was higher than expectations and came after a dip in IIP in April. While some analysts see this as a bottoming out of slowdown in industrial activity, others remain cautious given the volatility in IIP growth numbers in the past.
However, the positive industrial activity numbers did not enthuse the markets, with the 30-stock benchmark Sensex declining 1.47 per cent on Thursday.
Some brokers feel this is partly to do with expectations that the Indian central bank may once again hold back a rate cut in the upcoming review of monetary and credit policy on July 31. The Reserve Bank of India has been on a tightrope walk, trying to balance the twin objectives of bringing down inflation, while loosening monetary policy to boost flagging growth.
Manufacturing, which accounts for over three fourth of the index, grew 2.5 per cent in May, below the 6.3 per cent rise recorded in May 2011 (over May 2010). Electricity generation grew 5.9 per cent (10.3 per cent in May 2011), while the mining sector declined marginally by 0.9 per cent, as against a growth of 1.8 per cent recorded in same month last year. Poor performance on the mining front is partly on account of low gas production, which fell by 11 per cent during April-May 2012.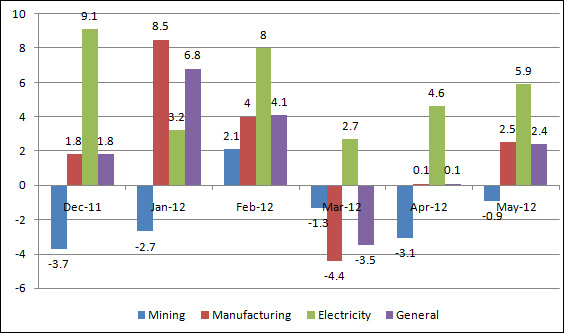 "Today's data could be seen marking a bottom in industrial sector related activities, although given the profusion of domestic and external headwinds, the recovery will likely be gradual. The recent pickup in manufacturing PMI suggests a modestly expanding economy. Since PMI and IP track each other well on a trend basis and the latter gets revised frequently, there may be some scope for the May IP data to be revised upward further," said a Deutsche Bank note authored by Taimur Baig and Kaushik Das. Deutsche Bank had forecast 2 per cent growth in IIP for May.
As per use-based classification, intermediate goods was the only category which recorded higher growth of 2.7 per cent (0.1 per cent in May 2011). On the other hand, both basic goods and capital goods underperformed, with the former growing by 4.1 per cent, while the latter declined by 7.7 per cent.
The performance of capital goods is crucial as it is a key indicator of manufacturing activity, which represents machines used by manufacturing sector to produce other items. Increase in equipment purchase underlies the order book of the corporate houses and their expansion plans for scaling up capacities. Poor prospects of some sectors are reflected in the decline in production of capital goods for them, including textile machinery (a dip of of 30.5 per cent) and electric machinery (a decline of 28.6 per cent).
Production of consumer products was pegged at 4.3 per cent (7.2 per cent in May 2011), largely due to dismal performance of non-durables at 0.1 per cent (9 per cent in May 2011) led by food products and beverages, and in particular the decline in production of sugar and edible hydrogenated oil.
At the same time, durables grew at a higher clip of 9.3 per cent (5.1 per cent in May 2011), marked by 30 per cent growth in production of air conditioners, 22.8 per cent rise in mobile phone and accessories besides 16.4 per cent growth in radio, TV and communication equipment & apparatus.
Of the 22 industries considered to assess manufacturing growth, 10 recorded a decline in May.
Economists are taking the IIP numbers with a pinch of salt after the volatility seen in the index movement. Earlier, the April 2012 IIP data was revised downward by the government to -0.9 per cent from 0.1 per cent due to poorer performance of capital goods and consumer non-durables.
(Edited by Prem Udayabhanu)