IDFC Bank Ltd, the youngest private bank in the country, listed on the bourses on Friday and started off as the seventh-largest private lender and tenth-largest bank overall in terms of market value.
The company that was demerged out of its parent IDFC Ltd last month and started retail banking operations a few weeks ago, saw its share price list at Rs 70.5 on the NSE and BSE on Friday.
The shares hit an intra-day high of Rs 73.45 and a low of Rs 67 a piece on BSE in a flat Mumbai market.
At the close of day's session, it was quoting at Rs 70.7 a share, valuing the company at Rs 23,944 crore. Its parent IDFC Ltd, which indirectly owns majority stake in the bank, commands a market cap of Rs 8,751 crore.
IDFC Ltd had a market value of Rs 19,606 crore at the end of trading on April 1, 2014. IDFC was chosen, along with Bandhan, to start retail banks in the country a day later.
IDFC Bank is only the second bank in the country to start operations in more than a decade, after it received a final banking licence from the Reserve Bank of India in July.
IDFC had transferred all assets and liabilities of its Rs 55,000 crore lending business to IDFC Bank while announcing the launching of the IDFC Bank last month.
The book value of IDFC Bank is Rs 39.11 a share.
The bank, which began full-fledged operations on October 1, has opened 23 branches so far, including 15 rural branches in Madhya Pradesh, and aims to have 60 branches by the end of the current financial year.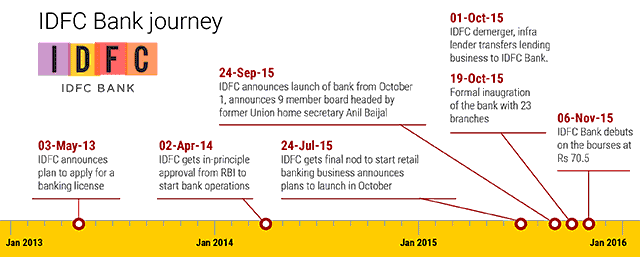 IDFC Bank counts amongst its shareholders private equity investor Actis besides Malaysian sovereign fund Khazanah, among others. The government holding is pegged at 7.71 per cent against its 16.4 per cent ownership of IDFC Ltd. The value of Actis' investment in IDFC as a group is underwater, as per VCCircle estimates. Khazanah is sitting on a modest upside.
IDFC now retains 75 per cent stake in IDFC Asset Management and 53 per cent stake in IDFC Bank besides full ownership of IDFC Securities, PE arm IDFC Alternatives and IDFC Infrastructure Debt Fund (which is to be brought down to 49 per cent gradually).