After an immensely successful second edition of the VCCircle ICICI Bank Investment Summit 2010: Agri, Food and Emerging Sectors, attended by over 250 delegates, we bring you a panel-by-panel account of the proceedings abundant in perspectives, live experiences, anecdotes and game-changing insights.
Panel I: Global Ambitions In Indian Agriculture: M&A, Consolidation and Financial Structuring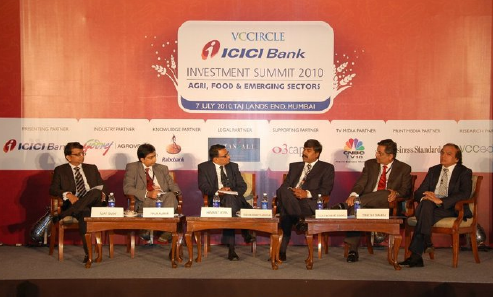 In what could be dubbed as Indian agriculture's tryst with growth, the sector is now abuzz with intense activity on the investment front. Rabo Bank estimates that agri sector could take about $50 billion in investments over the next 10 years.
Indian companies are also making a global mark with a string of investments by companies like Karuturi Global Ltd in Ethiopia and Kenya, LT Foods Ltd in USA, Ruchi Soya Industries in Malaysia, Indonesia and Ethiopia and Vallabhdas Kanji Ltd in Vietnam.
The VCCircle Investment Summit 2010 on Agri, Food and Emerging Sectors brought together an eclectic mix of panelists from food and agri sectors to share their experiences and develop a clear perspective on how the M&A and consolidation landscape would shape up in the next few years.
The panel comprised of Vijay Kumar Arora (Chairman, LT Foods), Ramakrishna Karuturi (MD, Karuturi Global Ltd), Nalin Kumar (MD & Head, M&A Corporate Advisory, Rabo India), Ajay Saraf (Senior GM, ICICI Bank Ltd) and Dinesh Shahra (MD, Ruchi Soya Industries) and was moderated by Hemant Vora (GM, ICICI Bank Ltd).
For companies looking at growth and expansion and not knowing how to go about it, the panel had a lot to offer.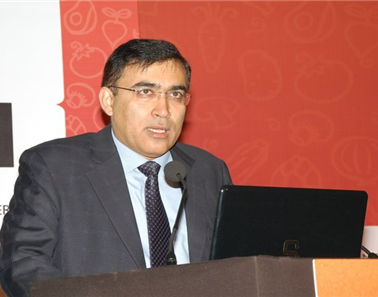 Corporate agriculture is looking forward to ride the growth in this industry inorganically. Ramakrishna Karuturi of Karuturi Global finds his journey as exciting and challenging. He says, "The impact of the acquisition on the company's business model has been very gratifying." His advice to a company considering an acquisition is to use the available resources to the best at that point of time.
While it was a bid to find a way around the land holding regulations in India which prompted Karuturi to look abroad, for Dinesh Shahra of Ruchi Soya Industries, a domestic acquisition in southern India did the trick. Palm oil is subject to import duties in India. He figured that if they acquire some mills in south India, they would save on import duties as well as the logistics cost involved in shipping palm oil from abroad. Today, Ruchi Soya owns 180, 000 hectares of command area in palm oil plantations and is considering an addition of another 150,000 hectares globally.
For Vijay Kumar Arora of LT Foods, getting his brand of rice to US markets was a much different experience. They acquired distribution and brand of a company in the US and they were rather hesitant to undertake that acquisition as the US company was not evoking a favourable response to LT Foods which was an Indian company. LT Foods was asked for an advance payment without recourse while they studied their financials. The acquisition was successful and, since 2007, it has done well for the company.
Critical Factors for a Successful M&A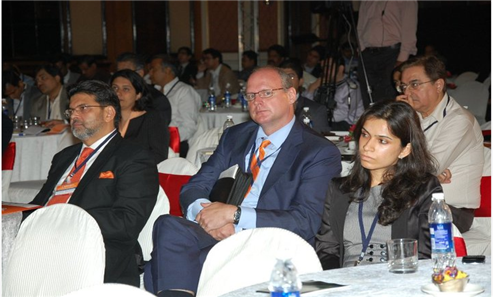 With a surge in M&A activity, financing and structuring of deals have also become more flexible and at times complex. Ajay Saraf of ICICI Bank says, usually companies prefer funding acquisitions from internal accruals and seek external sources when they fall short. External sources could be debt or equity or a combo of both. If it's a startup company then debt may not be an option. On structuring the deal, he says, "The ultimate goal is to marry two businesses for a more
competitive entity". Two questions that need to be asked are: What is the deal currency- cash/stock/both? What are you buying - assets or the entire company?
Sellers prefer cash transactions while buyer goes for a combination of cash and stock. The buyer is interested in a combination to avoid restrictions imposed by the lenders who fund the deal with cash lending.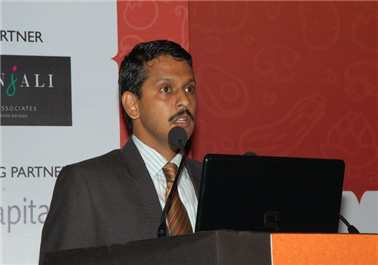 Nalin Kumar of Rabo India finds that M&A in India is challenging because of the highly fragmented land holdings in the country. When companies look at M&A, the set of issues are different for international market and for the domestic market. In India, corporatization of land is a critical issue.
At a strategic level, a company needs to clearly know why it is going in for an acquisition. Is it for synergy, domain expertise, market access or distribution? For LT Foods, it was the synergy that the US company brought. This company had a stabilized sale in its market and it helped LT Foods avoid regulatory challenges in the US market.
Karuturi's African adventure started with Kenya where they went through the regulatory processes. Foreign ownership of agricultural land was an issue which was overcome with some legal advice. Dinesh Shahra feels that his company has now built up experience in M&A and is applying it with their new acquisition in Ethiopia. He also adds that the Indian Embassies are very helpful. His advice is to approach the embassies of the prospective foreign company in India first and then the Indian Embassy in the prospective company's country. A similar opinion was voiced by Karuturi: "I cannot emphasize enough the role the Indian embassy played. They are playing a commendable role in helping companies invest overseas."
Hemant Vora believes that M&A should focus on three key aspects: due diligence, key management personnel and price paid for the acquisition.
Substantiating the importance of due diligence, Karuturi said, it was money well spent and it eliminated a lot of surprises. He says, "Intense due diligence helps. It alters the risk profile of the transaction to your favour." Nalin Kumar says, "We have found that the 80-20 rule applies. You have to think about the most important things that you need from the acquisition and that decides your due diligence process. Once this is done, other issues fall in place."
The panelists agreed that retention of key management personnel in an acquisition is critical for integration of the new company. They believe that top personnel should come from the acquired company's side.
On pricing of an acquisition, companies negotiating an acquisition usually work out a "walk away price". Karuturi believes that walkway price is finally a function of your own discipline. Seconding this, Nalin Kumar says "every acquisition that I have seen has actually come to a point of walking away".
On a final note, during acquisitions the panels suggested that the following issues are considered whenever companies look for an acquisition: strategy and value, due diligence and a compelling commercial opportunity and growth
Panel II: Farm Gate To Fork: India's Big Long Food Chain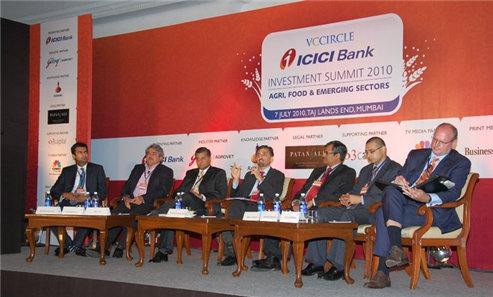 Here is an interesting question: Is there any Indian company whose business spans the entire chain from food production at the farm to selling it at the last level of consumption? Chances are that you may not recall any. The chain of services from the farm to the end point consumption is highly fragmented in India, which poses a great challenge to food and agri sector companies in operating efficiently and scale up.
This was a recurring theme at the VCCircle Investment Summit's panel on "farm gate to fork".
The panel comprised of Kevin Eikerman (Head, ADM India), Dev Lall (MD, Bakers Circle), Ajay Mariwala (MD, Vallabhdas Kanji Ltd), Gaurav Mathur (MD, India Equity Partners), Sandeep Sabharwal (Founder, Sohan Lal Commodity Management) and Sajay Sancheti (Country Head, Olam International) and moderated by Deepak Shahdadpuri (MD, Baer Capital Partners).
For the eight-year-old Bakers Circle, which manufactures semi-finished dough for quick service restaurants, venturing into logistics was more of a compulsion than choice. "We had to get into farm to fork by default," says Dev Lall about their logistics venture.
On the other side of the business chain, India Equity Partners, a PE firm focussed on quick service restaurants, is now expanding into cold chain infrastructure along with agri side integration at the farm level. Such is the level of activity in food and agri sectors, where businesses play complimentary roles and fill in the gaps in the broken chain.
Another interesting case is that of Vallabhdas Kanji Ltd, a 75-year-old company which deals in value added spices and seasonings. Ajay Mariwala of Vallabhdas Kanji says, "We have constructed a global delivery model. We add value to the commodity and create a service closer to the customer. We are now exporting to 55 countries around the world."
Challenges in Food and Agri Sector
For ADM India, the fact that only about 3% of the total food is processed was a significant processing opportunity to set up base here. Kevin Eikerman, Head of ADM India says, "We don't see these kind of challenges in other markets. Our challenge is to work closely with the farmer and partner with him". Another concern he shared was the operating capacities of the processing facilities here. ADM India's processing facility runs at 60% capacity. He says, "The industry here is way over capacity. The consolidation really needs to happen". He also feels that the Indian agro industries are under-automated.
An interesting remark, worth a thought, emerged during the discussion on challenges. Ajay Mariwala said, "India is rapidly eating itself out of competitiveness." A large part of this concern has been due to the fact that Vallabdas Kanji had to scout for stable pepper supply from Vietnam in spite of India being a major pepper producer historically.
He adds, "Instead of importing from Vietnam we shifted our processing there". Spice supply chain needs businesses and governments to work together. He also feels that growing 2x or 3x times isn't a possibility anymore. There are far too many challenges, of which he identified the important ones as: highly fragmented farm to plate food chain, lax law and compliance and constraints in raw material supply.
Running Sohan Lal Commodity Management has been equally challenging for Sandeep
Sabharwal. The major challenge, according to him, is that agri sector is over-regulated in India. Warehousing business is a direct function of the revenues, which, in turn, goes up only when the earlier investments in warehouses break even. This cyclical nature has led to poor growth and a frustrating business environment. The other major challenge is that of mindsets. People are still hesitant to pay an extra cost for warehousing as they do not think it offers any significant value proposition.
In contrast to this, year-on-year, India incurs heavy losses due to improper food storage and there is no accounting of losses yet. One of the largest wastage is during the post harvest season. He hopes that more states would do away with the Agricultural Produce Marketing Committee (APMC) licensing system. With such a landscape he says, "The expectations have to be realistic."
Bakers Circle makes an interesting case study in understanding the challenges that the broken agri chain throws at new business opportunities. Bakers Circle had to deliver their product maintained at -20 degrees Celsius from their factory in Kashipur to destinations as far as Hyderabad in south India. In specialized products, alterations in temperature damages the product quality and so safe storage and efficient delivery are critical to the business.
Moreover, it takes 15 days to take the consignment from Kashipur to Hyderabad. Their business was losing 16% of the product because of temperature variations during transport. This led to Bakers Circle setting up their own fleet of trucks. This way the turn of capital was faster with reduced load time from 2 hours to 15 minutes. The overall delivery time came down from 15 days to over 96 hours for the same distance.
On the commodity front, Sanjay Sancheti of Olam International finds that over a period of time India is turning into an import dependent country. It has impacted the way Olam moves forward. He says, "We have to be entrenched into the local supply chain much more than what we were doing earlier. What is unique to India is the fragmentation of every service in the food value chain. This is the challenge we are grappling with." Another challenge is that of policy. Businesses have to play their role in influencing the government in making changes to the system.
Opportunities in the Sector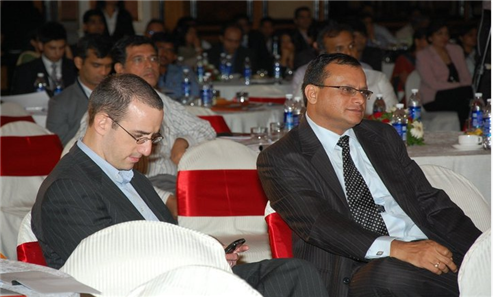 Kevin Eikerman believes that the Indian landscape is complicated and to make it function we need a combination of approaches. ADM is focusing on its relationship with the growers and seeking better engagement with them. While he thinks scale is important, he also says, "Its going to take a lot longer here than other geographies".
Dissemination of information from government bodies to cooperatives can play a significant role in helping the sector overcome the challenges, feels Sandeep Sabharwal. Sanjay Sancheti of Olam finds that most of the opportunities in the sector are demand-related. Olam is experiencing double digit growth rate in most categories like dairy, packaged rice, edible nuts. But looking at the market and participants challenge is to design a cost structure which can address the middle of the pyramid.
As food prices go up, Ajay Mariwala fees that most immediate opportunities lie in supply of raw material and ingredients, inbound storage and distribution.
Panel III: Emerging Trends in Agriculture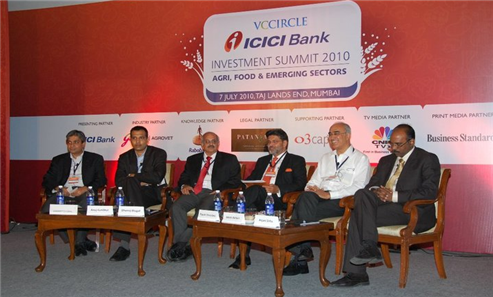 Real world and practical business problems have always led to emergence of newer technologies and business models. Food and agri sector too is now seeing its share of business ideas built around emerging technologies like genetic modification of seeds, micro-irrigation techniques, weather forecasting, ICT-led dissemination of information and post-harvest management techniques.
Opening a session on Emerging Trends in Agriculture, Rajesh Srivastava of Rabo Equity Advisors said, there is an equal amount of upstream as well as back stream of the food value chain. There are issues of rising inflation and declining food productivity along with reduced self sufficiency which needs to be considered before an analysis of the emerging trends in attempted. Shortage of farm labour has been led by a massive $22 billion of funds flowing into rural India under various government schemes. What would this labour shortage mean for agri sector?
Would it lead to increased farm mechanization? Similarly there are issues with financial inclusion. Would risk mitigation and insurance also come under financial inclusion? These questions set the background for the panel comprising of Anuj Kumbhat (ED, Weather Risk Management Services), Sandeep Singhal (MD, Nexus Venture Partner), Anjani Sinha (MD, NSEL), Ashok Motiani (CMD, Freshtrop Fruits Ltd), Dhanraj Bhagat (Partner, Specialist Advisory Services, Grant Thornton).
Counting on his experience in raising Freshtrop Fruits Ltd, a business exporting fresh Indian fruits to European countries, Ashok Motiani emphasized on the critical role played by post harvest management of quality of horticulture crops. The new trends are significantly different from the past. Key to his prolific growth has been an intense focus on quality management both on farm and post harvest. Freshtrop Fruits also pioneered the idea of cluster farming as another alternative apart from corporate farming which has been in practice in India. Cluster farming is based on a clear incentive based philosophy of getting a higher return proportional to the product quality unlike the flat pricing system offered by corporate farming. He says, "Given the opportunity Indian farmer will reach food security and quality farming".
Yet another rising opportunity is being looked at intensely by Nexus Venture Partners. Sandeep Singhal talked about organic farming and export of organic products. From their experience with Suminter Organics, they found that Indian farmers traditionally haven't been very aggressive in usage of pesticides. The real challenge is organic farming is that of lower yield. Increasing information flow to the farmers is marked as another growing trend, which could only make things better in the agri sector.
So is this intense cross flow of information leaving the farmers confused? To this Anuj Kumbhat opines that the farmers know what they need. From Weather Risk Management Services experience in providing weather related data to farmers they have noted that the granularity of data required is out of sync with the data offered by the Indian Meteorological Department. Good data sets can unlock a lot of potential businesses in weather advisory services, crop insurance and better structuring.
Anuj Sinha has an interesting observation to share on the value of professional services in rural areas. He says, "Farmers do not respect any professional other than doctors and lawyers". Both these services are clearly understood by them and the value known to them. Now, if in case of weather advisory services or farm advisory services company can clearly explain the proposition in simplistic, experiential manner to them, then these services can surely find greater adoption among farmers. Key is to demonstrate the practicality and utility of the idea.
On the financial front, the trends in agri sector do not seem to be very encouraging for PE firms interested in smaller companies in this space. The smaller companies tend to have poor accounting practices and suffer from poor availability of data. These generally have a greater degree of cash dealings, which are not accounted for in a clear manner. The due diligence process therefore gets that much more difficult.
New Technologies in Irrigation
The present water shortage in agri sector would only intensify in the coming years. Irrigation which is a state controlled subject has not seen any change in the past several decade. Newer solutions to save irrigation costs are being worked out like drip irrigation and automatic soil moisture based system which gets activated upon sensing a drop in moisture levels.
On the macro scale unless the infrastructure is improved it would be very difficult to save water to recharge the ground water levels. Anuj Kumbhat, says that, "The intensity of rainfall has increased and the number of rainy days have decreased. So canal based irrigation methods are important".
Panel IV: Investment Appetite In Agri & Farm Sector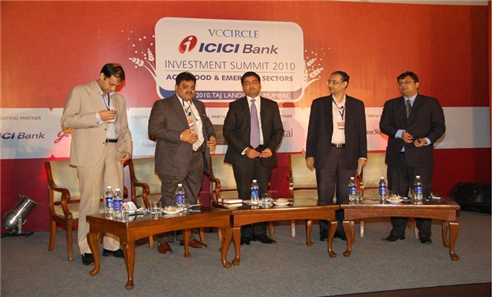 Attracting investments in agri and farm sector has started seeing visible activity only Recently thanks to the rapidly altering economic profile of India. Rising income levels combined with higher disposable incomes have led to a dynamic growth for agri processing companies. Double digit growth are now common in dairy, packaged foods etc.
The panel comprised of Nitin Deskhmukh (CEO, Kotak Private Equity), Rahul Mehta (Director, Agronaut Private Equity), Vikas Agarwal (ICICI Investment Management Co. Ltd.), Sushil Karwa (MD, Krishidhan Seeds) which was moderated by Bhavesh Shah (ED, JM Financial).
The panel based their discussions around the following main themes with respect to investments in the sector: How to attract more investments in this sector? Are investments limited to agri inputs?
How to scale up? How are deals made in this sector?
Nitin Deshmukh says, Kotak Private Equity is focused on pure technology development i.e. GM technology. He adds, "This is a very fragmented sector and so it is difficult to have access to the small entrepreneurs. This has been a big challenge". Further, accounting practices of these firms and the governance has also been an issue.
Seeds sector has seen lot of PE play in recent times. According to some estimates, agri biotechnology is pegged at Rs 2,000 crore while biotech industry is about Rs 14,000 crore in India. Rahul Mehta talked of Agronaut's investments in an edible oil company and in a spices company. They have found that most of the businesses have about 90% of their capital tied up in working capital. So he feels that there is a lack of access to capital in the sector.
The government has increased money to rural areas through bank lending and various governmentt schemes yet financing this sector is a challenge. Taking the case of auto components industry, he said, auto sector too had the technology problem which they solved by going abroad and gaining access. In agri sector, there are very few entrepreneurs doing this. Access to technology is grossly lacking.
Most of the panelists agreed on the need for an apex body in agri sector like NASSCOM in IT sector. Entrepreneurs need to be educated and this could be done by the apex body. On scale, there are some structural challenges that are possible to work around and some impossible. For example, acreage under a single company is a difficult issue which cannot be addressed by businesses alone. Smartly structured joint venture agreements have helped companies scale up like in Africa and this speaks much about the innovative approaches taken by entrepreneurs in India.
Rahul Mehta says, "It's a question of opening the eyes of the entrepreneur. There needs to be an information flow". The global seed market is $34 billion and the Indian seed market about $3.3 billion, making it the sixth largest in the world. Sushil Karwa says, "It is in the process of getting
organized due to heavy investment on high tech. The second green revolution is possible only through seed research."Karwa also believes that the Indian farmer is fast in adopting new tech.
Now, on creating more deals in this sector would require a proactive effort from the private equity end. Vikas Agarwal feels that, "This is one industry where outreach has not been as good as other sectors". He adds that there are three aspects in doing PE deals in this space: Reach, Education (of promoter diluting equity so early in the company, so alignment of thought is important) and Acceptability (bulk of the companies are present in Tier-1 cities and this opportunity is largely located in Tier-2 and Tier-3 cities) Fresh from a PE funding for his company Krishidhan Seeds, Sushil Karwa shared his experience on how he went about it. He says, entrepreneurs need to do their homework before they go for PE.
According to Karwa, profitability alone should not be the criteria to assess a potential business. PE firms should also look at the entrepreneur's strength and the company's market size, he added.
Awareness campaigns should be arranged for helping small companies understand the world of private equity and how to go about it. Drawing a parallel from Abhimanyu's character from the epic Mahabharata, Karwa says, "We shouldn't end up like him who knew how to enter but not how to exit."
Sachin Tiwari & Prateek Singh contributed to the coverage of VCCircle ICICI Bank Investment Summit 2010: Agri, Food and Emerging Sectors. They run an early stage startup in Vellore which is into developing technology applications for process improvements in healthcare and environment sectors. They blog at www.detailtalk.org.