Kunal Bahl, CEO, Snapdeal | Credit: Shah Junaid/VCCircle
Much has been written about the impending sale of troubled e-commerce firm Snapdeal to bigger rival Flipkart and how, after a precipitous fall from a peak valuation of $6.5 billion, the SoftBank-backed company is now having to settle for a measly $1 billion.
The fire sale may have dented the fortunes of Snapdeal founders Kunal Bahl and Rohit Bansal a tad compared to, say, a handsome exit, but a closer look reveals the duo has reaped quite a bit from the company they founded in 2010.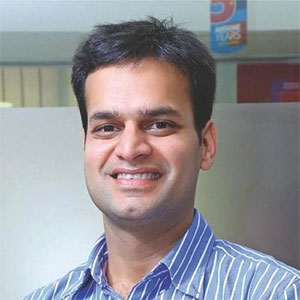 And that's because a combination of salary, stock options and stake sale has worked out for Wharton graduate Bahl and IIT-Delhi alumnus Bansal, shows a VCCircle analysis. If one adds to that the expected payout following Snapdeal's merger with Flipkart, the total for Bahl and Bansal will stand at Rs 418 crore and Rs 319 crore, respectively—not astronomical given their long involvement with the company, but not a raw deal either.
Here's the lowdown on the duo's overall—past and future—earnings from the company.
Between FY2012 and FY2016, Bahl and Bansal drew Rs 54 crore each in salary, data sourced from the Registrar of Companies (RoC) show. That includes the Rs 46.5 crore each of them got in total executive compensation for the year ended March 2015, making them the joint seventh-highest paid executives in the country that year. To be sure, their pay packet was bumped up due to stock options that accounted for close to Rs 45 crore of the total.
Promoters of large, mature firms typically do not opt for stock options even if they take an executive role in their firm. In fact, some take nominal cash salaries. But some startups include such options for founders as part of the compensation mix.
From two instances of stake sale, the co-founders made about Rs 106 crore each.
In March 2012, Bahl and Bansal transferred 406 shares each to investor Bessemer Venture Partners, 242 shares each to Nexus Venture Partners and 314 shares each to IndoUS Ventures at Rs 1,15,505 per share. The two mopped up Rs 11.11 crore each from the sale.
In March 2016, both transferred 5,731 shares each to Canada's Ontario Teachers' Pension Plan. Though the value of the deal is not officially available, the founders are likely to have made Rs 95 crore each, assuming the share price for Series J funding that allotted preference shares (convertible to equity at 1:1) at Rs 1,65,801 per share. The Financial Express newspaper had reported that Bahl and Bansal may have earned Rs 80 crore each from the stake sale.
As for outflow, the founders shelled out Rs 2.94 crore each in November 2014 against allotment of 57 preference shares at Rs 5,16,462 per share.
Proceeds from Snapdeal's sale
If Flipkart acquires Snapdeal at a valuation of $1 billion, as reported by most media, Bahl will make Rs 261 crore and Bansal Rs 162 crore from the transaction. Bansal holds 2.53% stake in the company while Bahl has 4.08%.
In total, after the deal goes through, Bahl is likely to have made at least Rs 418 crore while Bansal would have garnered Rs 319 crore. Put together, that's Rs 737 crore for co-founders of India's second-biggest homegrown e-commerce firm.
An email sent by VCCircle to Snapdeal seeking comments did not elicit a response.

The potentially huge payout is in sharp contrast to the treatment meted out to employees of the beleaguered firm. In February, Snapdeal laid off 500-600 employees across the e-commerce marketplace and its subsidiaries, mobile wallet FreeCharge and logistics wing Vulcan Express. VCCircle reported that the layoffs were in the works for months, but kept out of employees' sight.
While making the announcement to "focus on only the core, stop all non-core activities and reduce costs drastically", the founders also declared that they had decided to forego their salary indefinitely.
"We believe that every resource of the company should be deployed for driving us towards profitable growth…both Rohit (Bansal) and I (Bahl) are taking a 100% salary cut. Many of our leaders have also stepped up proactively and offered to take a significant cut in their compensation, which is an excellent sign of how galvanised the team feels in this shared quest for profitability," Bahl had said in an email to employees.
However, given the founders had already amassed close to Rs 160 crore each, the announcement seems like an insincere attempt at appeasement.
Says Anshuman Das, managing partner at executive search firm Longhouse, "The consolidation happening in e-commerce is good for India. Foreign investors coming to India is a sign of strong fundamentals of the startup ecosystem. However, wealth-creation by entrepreneurs should be preceded by wealth-creation by investors and employees. Only then does it look complete."
To be sure, certain media reports said recently, citing people aware of the development, that Bahl and Bansal will give half of their payout towards a Rs 193-crore scheme that intends to cover all current employees of Snapdeal.
Bhavish Aggarwal and Ankit Bhati, co-founders of cab-aggregator Ola, are the lowest-paid among all unicorn​ founders in the country.​ (A unicorn is a company valued at more than a billion dollar​s.​)
Aggarwal and Bhati drew Rs 39.75 lakh each for ​the ​financial year ended March 2016, RoC filings show​. This​ makes Aggarwal the lowest-paid founder-CEO of an Indian unicorn.