Almost two decades ago, when online retailer Amazon.com, Inc. reportedly made a $250-million bet on Junglee Corp.—a company founded by Silicon Valley tech entrepreneurs Anand Rajaraman, Venky Harinarayan, Rakesh Mathur and Ashish Gupta—the move was seen as a masterstroke.
Junglee, a US-focussed database technology provider that helped consumers find products on the Internet, was not only going to make shopping experience on Amazon more efficient, but also serve as a launch pad for the e-tailing giant's foray into other countries down the line. Through it, the Jeff Bezos-led company could go slow and steady instead of diving headlong into other e-commerce markets.
Launched formally in India in 2012 as an online shopping service, it enabled customers to discover products from online and offline retailers, and also its parent site Amazon.com. The model was simple—a comparison-shopping site that put consumers in touch with sellers.
Two years later, in 2014, Junglee was staring at an identity crisis. It was trying its hand at everything, from classifieds to even horizontal e-commerce—everything except the product-comparison portal it originally was. By then, parent Amazon had already made its grand entry into Indian e-commerce, rendering Junglee even more irrelevant in a market growing at a fast clip.
By May of 2014, Junglee had begun pivoting to a horizontal e-commerce marketplace, and started enabling direct purchases via its site for categories such as books and electronics. However, it seems Amazon soon realised that making Junglee a marketplace will amount to cannibalisation of its own traffic.
In the second half of the same year, Junglee was again in the news—this time for entering the classifieds space. It added a 'Post Your Ad' feature on the site, allowing users to submit free ads, just like OLX and Quikr.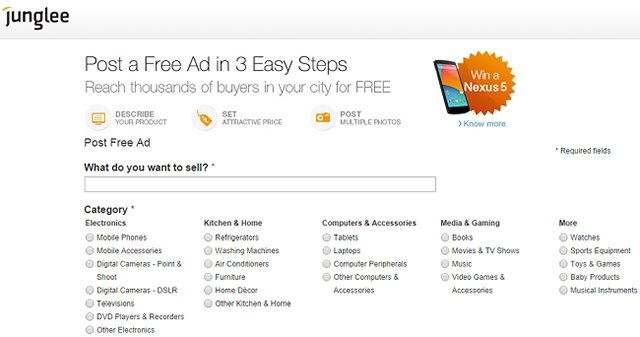 The feature was aimed at promoting a local buyer-and-seller ecosystem instead of focusing on online transactions. The company said customers in 10 major cities, namely Ahmedabad, Bangalore, Chennai, Gurgaon, Hyderabad, Jaipur, Kolkata, Mumbai, New Delhi and Pune, will be able to access the feature, and that it planned to expand to more categories and cities in the near future.
Cut to 2016. Amazon made a bold bet on organised peer-to-peer (P2P) selling and buying in India through Junglee. What that basically means is, nothing new really happened at the company between 2014 and 2016, except rehashed statements. So has Junglee's P2P platform, which has been around for almost three years now, made a dent in the space? Given Amazon's backing and DNA, is it now a mature player that can give OLX and Quikr the jitters?
Not quite. Three years after it took on the P2P avatar, the site seems to be be live only in Bangalore. Listings from Mumbai, Ahmedabad and other cities are not to be found. And Delhi is conspicuous by absence. Junglee looks like a half-baked site that is searching for its real identity.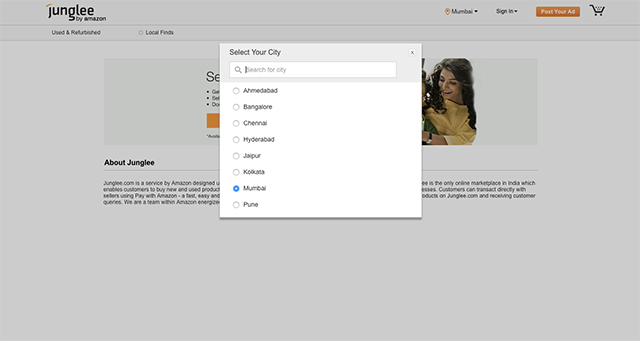 In response to an email query from VCCircle, an Amazon spokesperson said: "Amazon India has recently launched 'Sell as Individual', an end-to-end experience for customers in Bangalore to start selling used/new products on Amazon. The programme consists of a number of tools that are self-service in nature, and it builds off learnings from Amazon's similar programmes globally. Features have been customised for customers in India, such as pick-up and packaging at the seller's doorstep, delivery to customer by Amazon, and secure, online payments in 3-5 days."
"Besides, customers can choose goods from individuals and home entrepreneurs through a localised discovery experience. The programme can be used by individuals to sell used products across eight categories (namely books, mobiles, tablets, laptops, video games, music, movies and watches) and by home entrepreneurs to sell jewellery, apparel and home décor in Bangalore. Based on our learnings in Bangalore, Amazon will consider expansion into more categories and cities," the spokesperson added.
As for Junglee's role in the Amazon ecosystem, the spokesperson said: "Before launching the experience on Amazon, it was piloted on Junglee which allowed the team to learn and improve, and now the experience is available to even more customers through Amazon.in."
Interestingly, despite paying top dollar for Junglee, Amazon built its core India business, Amazon.in, from scratch. The Jeff Bezos-led company is now a strong contender for the numero uno spot in Indian e-commerce, snapping at market leader Flipkart's heels. Much of the credit for Amazon's stellar run in the country might go to Junglee, which has probably fetched precious user behaviour data for the global e-tailer.
VCCircle sought more clarity on what Junglee's future was likely to look like, other than serving as a pilot platform for Amazon. That didn't elicit a response from the company.
Clearly, the $250-million acquisition has gone haywire and meandered off the script, with its role relegated to becoming a test bed for Amazon India. That might be a small speck in Amazon's scheme of things, but a raw nerve all the same.