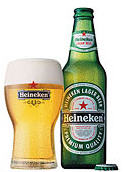 Dutch brewing giant Heineken has forked out euro 25 million ($37.14 million or Rs 170.64 crore) to take full control of Asia Pacific Breweries (APB) India as part of a move to buy peace with alcoholic beverage czar Vijay Mallya. APB, makers of Tiger beer, is a joint venture between Heineken and Singapore's Fraser & Neave.
This happened on a day when Heineken and UB Group Chairman Vijay Mallya cemented a new business relationship in India's rapidly growing beer market. Mallya has been resisting Heineken's efforts to take a management role in United Breweries Ltd (UBL) after it acquired UK's Scottish & Newcastle's (S&N) 37.5% stake in the largest domestic brewer. Heineken acquired this interest as part of a global takeover of S&N, which it scripted jointly with Carlsberg in early 2008.
S&N and Mallya were equal shareholders in UBL.
Mallya wanted Heineken to do away with APB India as a competing entity in Indian beer market. On Monday, Heineken said, it will merge APB's local operations with UBL in the first quarter of 2010. APB India has two breweries (in Maharashtra and Andhra Pradesh) and operates three brands - Tiger, Cannon and Arlem - which together sell over 2 million cases annually.
Heineken's valuation of Fraser & Neave's interest in APB India may not strictly adhere to industry multiples, as the global giant would have paid to mollify a longstanding ally in the Asia Pacific markets. Clearly, Fraser & Neave was not excited about quitting one of the last frontiers of the beer growth story. India is one of the fastest growing beer markets with robust double-digit growth predicted in the next 10-15 years. Singapore-based APB has said, the money that it receives as part of the transaction will be immediately earnings accretive.
On his part, Mallya is likely to bring the brewing division of Balaji Distilleries in Tamil Nadu into the UBL fold. But, this was not confirmed at the time of posting this news development. The Balaji unit is one of the largest breweries in the country and is a strategic asset given the fact that Tamil Nadu mostly procures beer from local units.
Now what does this development mean for concerned parties?
Dutch gain: A big fillip to its emerging market strategy. It becomes an equal shareholder in UBL with 51% share of India's beer market. The iconic beer brand, possibly the world's most visible beer, is set for a big push in the domestic market riding on UBL's dominant distribution. Heineken also becomes an equal owner of Kingfisher beer brand (Kingfisher Airlines is registered as a separate brand).
Heineken's headache: The global brewer has its own ambitions in the Indian market, unlike S&N, which was largely a sleeping partner. And, Mallya has always called the shots in all his enterprises, which is typical of the man who has an audacious way of running his fertiliser-to-beer-to-airline conglomerate. Heineken gets to nominate three board directors, which would include the company CFO. So it is probably only the beginning of an interesting story.
Mallya's prize: He gets Heineken brand in India. Now, that's a huge catch given India's growing thirst for premium beers. Past research has shown that beer consumption, increasingly a lifestyle habit, is directly proportional to GDP growth. The fact that India is one of the fastest growing economies will help. Mallya gains the world's best selling international beer in his tussle to keep the invading global rivals like Carlsberg at bay. Of course, he also gets an upfront payment to build Heineken brand in India. And, obviously, that figure remains "confidential".