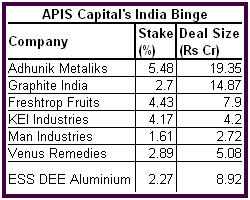 Global hedge fund Apis Capital had a busy day at the Indian stock markets on Friday. The fund has picked up stake in as many as 7 companies for a total sum of more than Rs 63 crore. The stake picked up by it varies from 1.6% to 5.5%. These stock pickings by US-based Apis Capital come at a time when it has lost millions on its investments in US. Also, globally hedge funds have been selling their investments to meet redemption pressures from the investors.
Three of the seven investments made by the hedge fund are in speciality natural resources manufacturing space. While it has picked stake in steel manufacturer Adhunik Metals and aluminium foil maker Ess Dee Aluminium, it has also picked up stake in graphite electrode
manufacturer Graphite India. It has also picked up stake in fruit exporting firm Freshtrop Fruits.
Other firms where its has bought into are pharmaceutical firm Venus Remedies, power cable company KEI Industries and infrastructure enabling firm Man Industries. All the shares have been bought from Goldman Sachs, who also happens to be its prime broker.
Apis Capital is a long/short equity fund with capital under management of around $600 million. The firm recorded returns of 41.8% last year, some of the best in the global hedge fund industry.
Apis was started in April, 2004 and is managed by Steven Werber. This year, as the markets worldwide are down, the stocks in Apis Capital's US portfolio are down by anywhere between 20% to 70%.