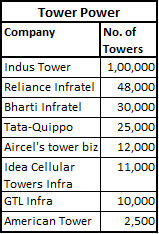 Aircel's tower business sale is in its final lap. The telecom major, in which Malaysia's Maxis Telecom holds 74% stake, has shortlisted GTL Infrastructure, Tata-Quippo combine and Bharti Infratel for a potential $2-billion sale of its tower business. As the transaction entered its final stage, Aircel has decided to exit the tower infrastructure operations completely, sources with direct knowledge of the developments said.
The three passive telecom infrastructure players were short-listed two weeks back after the final bids were filed on October 12, 2009. American Tower Company (ATC) and Crown Castle International, the two global giants in the telecom tower space, have not made it to the last round.
An e-mail query and calls made to Aircel's spokesperson elicited no response at the time of posting this story.
As reported in sections of media, Tata-Quippo is engaged in discussions with private equity giants Apollo Asset Management and General Atlantic for financial closure in the event of clinching the bid. GTL, which has around Rs 490 crore in reserves and tower strength of 10,000, could look at raising quick debt or tap financial investors.
And, Bharti Infratel, the tower arm of Airtel, which shares the passive infrastructure with other telcos, last year raised $1.25 billion from a consortium of private equity players including Singapore's Temasek and private equity biggie Kohlberg Kravis Roberts and Co.
Aircel had appointed Standard Chartered Bank, Nomura and N M Rothschild for sale of its tower business. While an initial agreement with a selected bidder could be in place shortly, the deal closure may be some months away as Aircel will have to de-merge the tower operations.
Aircel has over 12,000 towers but this number could touch 20,000 by the end of this fiscal.
A source said, Aircel had earlier explored the option of retaining at least 26% when the sale process started this year. The value unlocked will help Aircel's $5-billion capital expenditure plan over the next three to five years.
Aircel was bought over by Malaysia's Maxis Telecom for $1.08 billion in 2005. The Reddy family of Apollo Hospitals Group of India holds 26% in Aircel through its entity Sindya Securities & Investments Private Limited
The Aircel tower business sale is in line with the growing deal activity in this space with consolidation being the name of the game. Besides, nearly half a dozen new telcos have entered the market this year whose business existing players are eyeing.
The most recent deal in the space between ATC and Transcend valued each tower at a little over Rs 29 lakh. This was relatively low as Transcend operated only 325 wireless communications sites. The Nasdaq-listed ATC also acquired Gurgaon's XCEL Telecom this year, giving it more than 2,500 sites in the country. ATC's acquisitions of Xcel in March this year saw each tower valued at Rs 44-47 lakh.
The Tata Teleservices' merger with Quippo Telecom Infrastructure in December 2008 valued each tower at Rs 70-78 lakh. These benchmarks could value the tower portfolio of Aircel (12,000 towers) anywhere from Rs 5,280 crore to Rs 9,360 crore. The valuation would also depend on the per tower occupancy. Datacom Solutions, which still has to start operations, signed a tower-sharing agreement with Aircel worth $400 million in September this year. Other clients of Aircel are not known.
The sale of Aircel would come at a much higher valuation as it is probably the largest portfolio on the block. Several smaller tower firms like Aster Infrastructure, TVS Interconnect Systems and Independent Mobile Infrastructure were also reportedly put on block this year.
Almost all the major operating telcos have their independent tower arms India. The largest is Indus Towers - a three-way joint venture between Bharti Airtel, Vodafone Essar and Idea Cellular with over 100,000 towers - which also makes it the biggest such firm in the world. Reliance Infratel has 48,000 towers while Bharti Infratel has nearly 30,000.