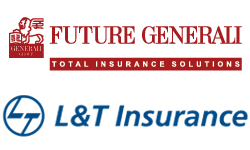 Kishore Biyani-promoted Future Group is divesting majority stake in its general insurance venture Future Generali India Insurance Ltd (FGI) through a merger with L&T General Insurance (LTGI) besides part stake sale to its other partners.
At present, FGI is a joint venture between Future Group and Italy's Generali in which the foreign partner holds 26 per cent stake – the maximum allowed as per the existing FDI norms in the sector. Future Group's flagship retail firm Future Retail (formerly Pantaloon Retail) holds around 50 per cent stake while the rest is with a promoter group entity called Sprint Advisory Services Pvt Ltd.
As per the deal, FGI will merge with LTGI in a deal where Future Group will also sell part of its stake to both L&T and Generali. While Generali will maintain its 26 per cent holding in the merged entity, L&T will hold 51 per cent, post-merger. The Future Group will continue to own 23 per cent.
The firms have not disclosed transaction details but according to media reports, the deal involves payment of around Rs 500 crore ($90 million) to Future Group by other partners in the tripartite venture.
The debt-laden group was looking to exit or part-exit non-core businesses in the recent past.
Earlier this month, Pantaloon Retail (India) Ltd sold 22.5 per cent stake in Future Generali Life Insurance to Industrial Investment Trust Ltd for an undisclosed amount. It also sold 50.1 per cent stake in the Pantaloon department store to Aditya Birla Nuvo for Rs 1,600 crore and transferred a debt of Rs 800 crore in the process.
Last year, the group sold almost its entire stake in the financial services firm Future Capital (now renamed Capital First) to Warburg Pincus.
LTGI, a unit of the leading engineering and construction group L&T Ltd, started operations in 2010 and currently operates 15 branches. It had gross premiums of Rs 143 crore for the year ended March 2012 and Rs 118 crore for the 9 months ended December 2012.
FGI, in contrast, had gross premium of Rs 1,034 crore for the year ended March 2012 and Rs 855 crore for the 9 months ended December 2012. It has around 83 offices.
Since FGI is much bigger than LTGI, it explains the cash payout for the Future Group as part of the merger.
(Edited by Sanghamitra Mandal)