India's wholesale prices dropped in September for an 11th month in a row, led by a steep decline in fuel prices, government data showed on Wednesday.
Wholesale prices decreased 4.54 per cent during the month, a tad slower than the 4.95 per cent drop in August, the data showed.
The wholesale price index (WPI) captures price movements in three broad categories—primary articles, fuel and power, and manufactured products.
Fuel prices slid by 17.71 per cent, faster than the 16.5 per cent drop the previous month.
Prices of manufactured products, which account for two-thirds of the index, fell 1.73 per cent while prices of primary articles decreased 2.09 per cent during September, both slower than the previous month.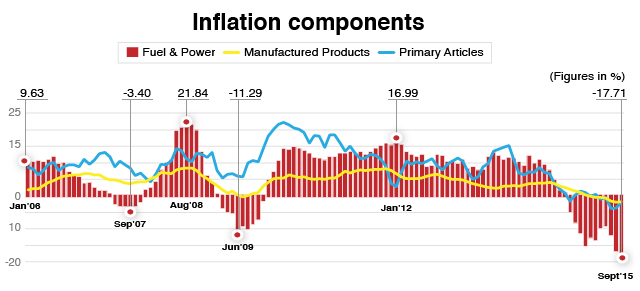 Within primary articles, prices of pulses surged 38.56 per cent while onion prices more than doubled, the data showed.
While wholesale prices have been falling, retail inflation has been acclerating. Data released on Monday showed consumer price inflation quickened to 4.41 per cent in September from 3.74 per cent in August, driven mainly by costlier pulses.