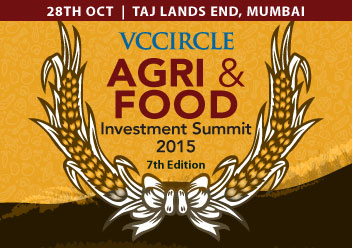 On October 28, more than 250 top CEOs, investors, new-age food and beverage innovators, and emerging foodpreneurs will gather under one roof for the 7th edition of the VCCircle Agri & Food Investment Summit at Taj Lands End, Mumbai, to discuss the emerging trends and developments in the agriculture and food sector.
This one-of-a-kind conference in India will look at the attractive opportunities in the sector along with path-breaking ideas making their mark as well as the issues and problems that are holding the sector back.
The food and agriculture sector presents both opportunities and challenges to its stakeholders. The VCCircle Agri & Food Investment Summit, with its proven gatherings of a cross-section of investors, entrepreneurs and innovators, many of whom are disrupting the sector, provides the best platform to look at these opportunities and challenges.
Talking about the mix, the food and agriculture sector has a back end with significant challenges and opportunities and an emerging front end where the evolving changes in consumer behaviour have transformed the very perception of food-based industries.
The age-old demand to scale up farm produce despite the persisting problems of climate change, wastage, water mismanagement etc., calls upon agri-business companies and entrepreneurs to urgently look towards adoption of technology and innovative ideas to address these issues. At the same time, the evolving dynamics pertaining to food, taste and consumer behaviour has created an exciting food ecosystem where a class of foodpreneurs is creating attractive services for consumers. The conference will explore these avenues and look at approaches to address and scale up the emerging trends that can prove win-win for all.
With this preview on what the Summit holds, the key topics that are going to be covered are:
Back to the Beginning: On Mapping Digital Innovations at the Farm Input Level
Investing in Agri and Food Businesses: The Debt vs Equity Investments Prism
Innovations in Supply Chain and Cold Storage: From Farm to the Dining Table
Can Indian Food Safety Standards get more consumer friendly?
How ready is India for an Organic Food Revolution?
Mapping new opportunities in the mainstream food businesses
Mapping emerging business opportunities in new foods
Mapping technology-centred food models
To have a look at the detailed agenda click here
The Summit will also feature a Showcase Session that will provide a platform for select companies in the agriculture and food sector to present their innovative services and products to the impressive gathering of entrepreneurs, investors and professionals. If you want to showcase your company at the Summit, please click here or write to kanika@vccircle.com.
To participate in the Summit and gain valuable insight on the agriculture and food sector, register now or write to Kanika at register@vccircle.com / 0120-4171111.
For branding and sponsorship opportunities, write to Nayab at nayab.k@vccircle.com.
Send us your views, ideas and suggestions on Twitter; use our event hashtag: #VCCAGRI