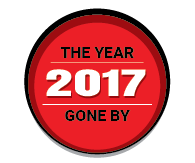 Startup failures rarely make headlines. In fact, most startups don't even announce shutting down. But one shutdown this year came as a reality check, pointing to the other end of entrepreneurship—the less-celebrated, dark side that most startup founders fail to foresee.
The shutdown of homestay aggregator Stayzilla, once touted as India's Airbnb and backed by venture capital firms Nexus and Matrix Partners, triggered discussions on the pointless pursuit of discounts-based growth over unit economics and the rat race of valuations.
However, the discussions tapered off soon enough and the Stayzilla fiasco failed to bring sanity in the way startups see growth and valuations, resulting in continued shutdowns.
At least 19 VC-backed startups shut down their operations in 2017, according to a VCCircle analysis. This compares with 32 startups last year and 17 in 2015. To be sure, the actual number of shutdowns could be far higher as most startups and entrepreneurs never make their failures public and simply move on to either new ventures or join established companies.

Apart from many startup demises, a number of large corporate houses and unicorns also took drastic measures this year to cut down losses on their Internet business ventures.
The biggest of such moves came from cement-to-telecom conglomerate Aditya Birla Group, which downed the shutters on its fashion e-tailing venture, Aditya Birla Online Fashion Pvt. Ltd (Abof), as it succumbed to the deep discounting-led model of rivals Flipkart and Amazon.
"Looking at how big and long-term e-commerce businesses continue to struggle and are unlikely to make money for some time, it did not seem logical to continue as if everything is all right in the sector," said Santrupt Misra, HR director at Aditya Birla Group, said at the time of the announcement.
This is the second e-commerce venture that Aditya Birla Group has shut down. In 2016, it had shut down Trendin.com for similar reasons.
In early 2017, e-commerce firm Snapdeal shut down its zero-commission mobile-based marketplace Shopo. "We realise that it will take some more years for a broader ecosystem to develop around the C2C (customer-to-customer) segment," Snapdeal said at the time.
Snapdeal's rival and US-based online retailer Amazon.com Inc. closed down its original India launch vehicle Junglee.com in November after multiple tests, trials and pivots. Amazon announced that it had finally integrated Junglee into Amazon.in through Local Finds, a platform launched in India earlier this year to allow customers to find and sell used and new goods.
Kishore Biyani-led Future Retail Ltd merged its home furnishing brand HomeTown with its online furniture store FabFurnish.com to sharpen the focus on its core food and apparel retail businesses. The merged entity kept the HomeTown brand name, putting an end to FabFurnish's existence. The Biyani-led group had acquired FabFurnish.com in an all-cash deal last year from Germany's Rocket Internet.
Noida-based IndiaMART InterMESH Ltd shut down the retail B2B wing of its online business goods marketplace Tolexo due to flagging sales and underperformance following the government's demonetisation move in November 2016.
Of the 19 startup shutdowns, Eatonomist and Yumist belonged to the dreaded food-tech genre that saw heavy casualties in the past two years. FinoMena, CardBack and Splitkart offered different financial solutions while HotelsAroundYou, RoomsTonite and Stayzilla operated in the hotel booking and homestay space.
While the overall numbers are a respite compared with the previous year, it is still a worrisome trend as investment sentiment remains depressed after the downward spiral that began in early 2016. The total number of private investment deals, including private equity, venture capital and angel/seed investments fell 36% to 1,056 transactions this year, data from VCCEdge, the research platform of News Corp VCCircle, for deals struck till December 18 show.
This is the lowest number of such transactions in the last four years and surpassed the previous big slide in the number of deals in 2009 when deal-making had declined 29% in the aftermath of Lehman Brothers' collapse in September 2008 and the subsequent global financial crisis.
On the flip side, despite the gush of initial public offerings on the capital markets that created an alternative channel for firms to raise money, the total amount of private investment hit a new high with $24.9 billion worth of transactions being announced this year. This surpassed the previous best recorded in 2015 when startups were a hot commodity and VCs fell over each other to back them, pushing up deal values.
The contrast between the value and volume of deals is explained by a clutch of large transactions in sectors such as e-commerce, banking, telecom tower and real estate that propped up the total value of private investments in the country. Factoring out the outliers, 2017 marked another year when investors tightened their purse strings.