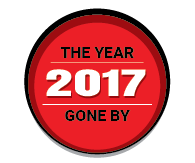 Big-ticket funding deals and a failed merger dominated headlines for Indian e-commerce this year.
Ending months of speculation, online retailer Snapdeal called off its proposed merger with rival Flipkart in July. The merged entity was meant to take on US rival Amazon, but Snapdeal, in a bid to revive its fortunes, said it will tweak its business model, cut costs and slash headcount.
Following the collapse of the merger talks, many senior-level executives at the e-commerce firm quit. People that VCCircle spoke to at that time said that the company would see a lot of attrition following the failed merger.
But layoffs at the company were already underway since February, when the e-tailer laid off 500-600 employees across the e-commerce marketplace and its subsidiaries, mobile wallet Freecharge and logistics wing Vulcan Express.
Top fundraises
After Snapdeal declined Flipkart's $900 million cheque, Japan's SoftBank Group invested a whopping $2.4 billion (Rs 15,300 crore) in Flipkart from its $93-billion Vision Fund. With the investment, SoftBank picked up a 20% stake in the e-commerce firm.
The other notable fundraise for 2017 was that of Paytm E-Commerce Pvt. Ltd, the online marketplace arm of One97 Communications Ltd, which secured $200 million (Rs 1,334 crore) from Chinese e-tailer Alibaba and venture capital firm SAIF Partners.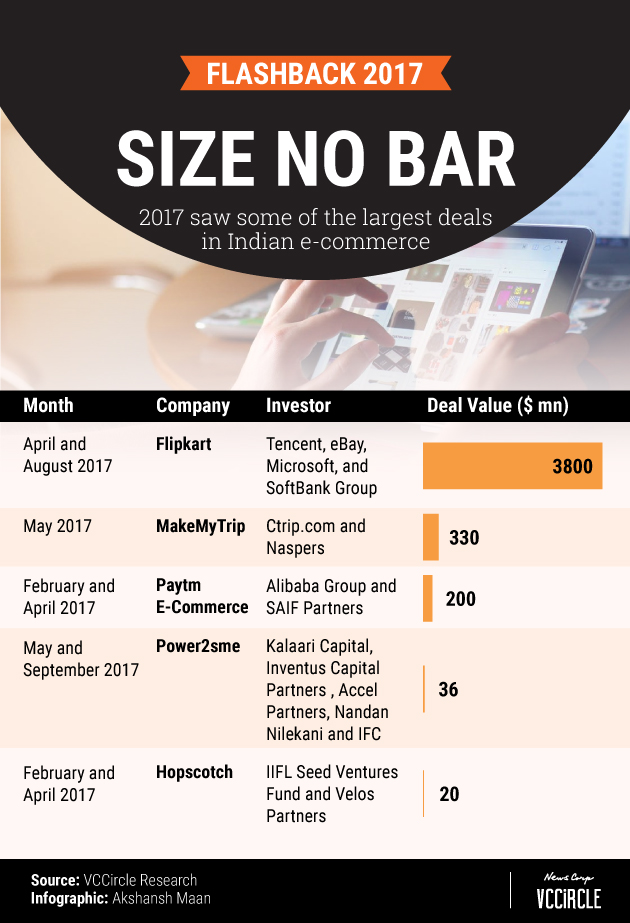 While the business-to-consumer segment got the biggest funding cheques, a few business-to-business online retailers also attracted investors. Power2SME, an online buying hub for small and medium enterprises, secured funds in two rounds this year. In May, it received $10 million (Rs 64 crore) from International Finance Corporation, the private-sector investment arm of the World Bank. In September, it raised an additional $26 million (Rs 166 crore) in its Series E funding round from existing investors Inventus Capital Partners, Accel Partners, Kalaari Capital and Nandan Nilekani.
Though not a traditional e-commerce player, online travel services player MakeMyTrip features on this list because of the quantum of funding it received this year. In May, the Nasdaq-listed company raised $330 million (Rs 2,116 crore) from South African technology group Naspers, Chinese travel firm Ctrip.com and other investors. In a year that saw the large unicorns raise gargantuan amounts, a company that stood out was baby products e-tailer Hopscotch. Operated by Hit the Mark Inc., the startup was set to raise $20 million in a Series D funding round from new and existing investors.
Amazon, Flipkart continue their battle
Besides the large fundraises, 2017 also saw Flipkart and Amazon lock horns in their battle for supremacy. Both the e-commerce rivals infused fresh funds into their respective digital payments arms this year.
Amazon made three investments into Amazon Pay this year. It put in Rs 67 crore in May and another Rs 130 crore in July. In October, Amazon increased the authorised share capital of Amazon Pay to Rs 2,000 crore from Rs 400 crore.
Also in October, Flipkart committed Rs 3,254 crore to its payments arm PhonePe and launched its own point-of-sale devices to boost its digital payments play.
Another significant fund infusion that Amazon made this year was into its seller services arm. In November, Amazon pumped an additional Rs 2,900 crore into Amazon Seller Services Pvt. Ltd and doubled its authorised share capital from Rs 16,000 crore to Rs 31,000 crore.
The moves reiterated the earlier investment commitment by Amazon towards its Indian operations. According to industry estimates, Amazon is yet to reach the $5 billion investment mark that its founder Jeff Bezos had committed to India in 2015.
Flipkart has managed to hold on to its lead and maintain the status quo in 2017 after its massive fund infusion, said Anil Kumar, chief executive at consulting firm RedSeer. "However, the metro markets are matured and the e-commerce players will have to make profits from those customers now to expand into Tier 2 and 3 cities. [Otherwise], the business will not be sustainable," he said.
Towards the end of the year, the competition between Amazon and Flipkart intensified.
Flipkart said it recorded over 80% growth in gross merchandise value between April and September this year, in response to Amazon India's claims of faster growth. Amazon India said it registered 66% growth in gross merchandise sales (GMS) during the six-month period. GMS is the value of products sold on an e-commerce platform in which the marketplace provider has taken a commission.
Harish HV, partner at consultancy firm Grant Thornton, says that the e-commerce market is three-cornered with well-funded Alibaba-backed Paytm entering the fray.
"The aggressive price war is not as severe as earlier. They are increasingly focusing on service quality, customer engagement and managing their supply chain. They have a wealth of data now to make themselves more efficient. It looks a difficult market to predict who will win and you cannot write off anyone. In 2008, Walmart was unbeatable, now Amazon looks unbeatable," he said.
While the e-commerce players have around $2 billion, or Rs 15,000 crore, in revenue by cornering 1% of the overall retail market, they could target $20 billion in revenue in three to four years if they reach even 10% of the overall retail market, Harish explained.
"Internet connectivity, data speeds, smartphones, and digital payments will accelerate the e-commerce adoption. Offline shopping is getting more difficult in cities every year," he added.
Kumar expects the e-commerce market to fragment into two camps in 2018—metro and non-metro consumers. While metro consumers will be regular and mature, Tier 2 and tier 3 customers will form the long-tail market, who will still buy apparel and electronics. "It will be another two years before customers in these cities mature," he said.
RedSeer estimates the overall e-commerce market to be $18 billion in India for calendar year 2017. But according to Kumar, that figure is low for what investors expect from the Indian markets.
According to Mohan Kumar, executive director at venture capital firm Norwest Venture Partners, it's still early days for e-commerce in India. He believes that Amazon and Flipkart cannot rest easy with Reliance Industries Ltd and Future Group planning to enter the sector. "An omnichannel business model might trump the traditional e-commerce model itself," he added.