Other | Credit: Rupak De Chowdhuri/Reuters
In what may bring in economies of scale and increase production of bauxite, India's ministry of mines has given its nod to increase the lease area for mining of the mineral from 10 sq. km to 50 sq. km. in the state of Odisha.
"We had written to the mines ministry (in the first week of February) seeking its approval for increasing the cap for prospecting-mining-cum-mining-lease and mining lease, which has been allowed," Deepak Kumar Mohanty, director of mines, government of Odisha, told VCCircle.
Bauxite is a raw material used for production of aluminium with Odisha accounting for 60% of India's estimated bauxite reserves of 593 million tonnes (MT). Odisha is also the largest bauxite producer and accounted for 35.24%, or 7.64 MT, of the country's 21.67 MT production in FY2013-14. The other bauxite producing states include Gujarat, Jharkhand and Maharashtra. India's production of bauxite stood at 20.2 MT in FY2014-15 valued at Rs950.42 crore.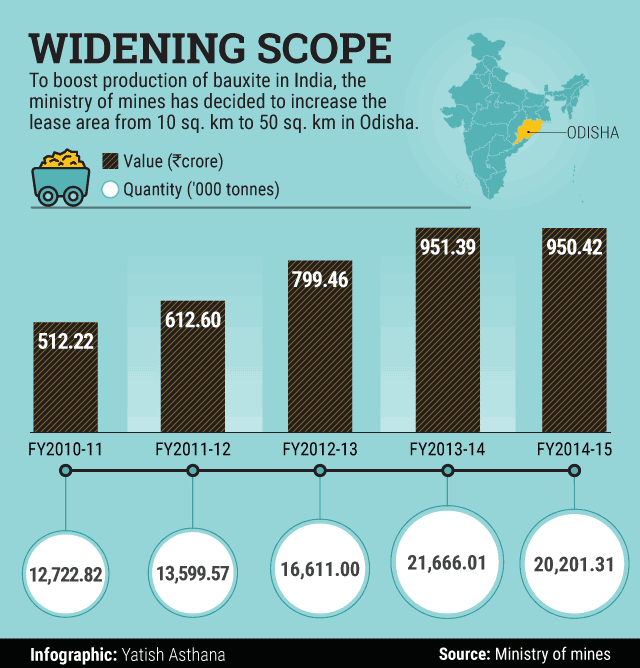 Mohanty added that the move will help mining in a more scientific way in bigger areas and lead to more mechanized mining.
India, the world's second-largest aluminium producer, produced 3.96 MT in 2014-15, which was lower than China's 21.48 MT. India is the third-largest aluminium consuming country with a consumption of 3.8 MT in 2014-15, lower only to that of China's 22.09 MT and the US' 5.5 MT.
Under the prospective-licence-cum-mining-lease, a miner first explores and proves mineral deposits and then a mining lease is granted. This is undertaken in those mining areas where the exact reserves of mineral are not known.
To be sure, the area under mining lease has been increased to 50 sq. km, whereas that for prospective-licence-cum-mining-lease, the new area limit has been increased to 55 sq. km.
In a bid to enhance mineral production in the country, the government amended the Mines and Mineral (Development and Regulation) Act, 1957 in 2015 and introduced several measures.
Under the Mining and Minerals (Development and Regulation) Amendment Act, 2015, there is a provision that if the central government believes that it is necessary in the interest of the development of any mineral or industry, it can increase the lease area for a particular mineral.
Earlier, the Act allowed granting of only one or more mining leases covering a total area of 10 sq. km.
Queries emailed to ministry of mines spokesperson on 17 March remained unanswered.
This comes at a time when the National Democratic Alliance government has taken various steps to attract private participation in mining and came up with measures to protect mining of other minerals.
Mining experts believe that the Union and the state's government move will lead to better raw material securitisation for the industry.
"Bauxite supplies have been a key constraint for several large players and they have had to depend upon smaller players with existing licenses to secure supplies. Large number of smaller deposits may be cumbersome to operate and may not favour economies of scale and modern technologies," said Dipesh Dipu, partner, Jenissi Management Consultants, a consultancy focusing on energy and resources.
Dipu added that it is indeed better to award larger areas under a license as there is a potent market and the government may also benefit through better realisation of values.
State-run National Aluminium Co. Ltd (Nalco), Hindalco Industries Ltd, Bombay Minerals Ltd, Prabhudas Vithaldas Minarals Pvt. Ltd and Utkal Alumina Industrial Ltd are the prominent bauxite miners in India.
Nalco, which operates an alumina plant at Damanjodi in Odisha and an aluminium smelting complex at Angul, welcomed the move.
"The step will help further consolidation of mining leases and will help us secure raw material needs," said T.K. Chand, chairman and managing director, Nalco.
He further added that the company has already invested around Rs19,000 crore in an aluminium smelter at Angul in Odisha and will further invest Rs10,000 crore to upgrade it.
A spokesperson for Vedanta Ltd said that the government will now be able to auction bigger area for mining.
"However, it (the move to increase mining area) does not have any effect on Vedanta at present since we do not have any bauxite mines," he added.
This comes in the backdrop of Odisha government's miner--Odisha Mining Corporation---approaching the Supreme Court for mining of bauxite on the Niyamgiri hills. Vedanta, which runs an alumina refinery at Lanjigarh in Odisha with an annual production capacity of 1 million tonnes per annum (mtpa) and intends to increase its capacity to 5 mtpa by February 2020, had plans to source supplies from the Niyamgiri region.