Recent proposed and notified regulatory changes have damaged the prospects of the Indian financial sector (ex-banks), with the expectation that sustainable ROEs will fall for most businesses. As a result stocks have de-rated and several are trading at all time low multiples.
Will NBFCs survive and prosper?
The sector has gone through many regulatory changes in the recent past, with life insurance on course to recover from the changes in Q4CY10 and the Mutual Fund industry still to recover from the ban on entry loads in FY10. NBFCs have already seen and are going to see more many regulatory changes over the next six months and we are aware of a concern that the RBI has some bias against the NBFCs and is trying to curtail their growth. We think that although ROEs are likely to decline structurally due to regulations, the sector should emerge stronger qualitatively given more stringent regulations and less risky portfolios.
What is RBI trying to do?
The RBI's action in the non-banking segment (see Table 2, 3 & 4) during the last fifteen months clearly highlights the regulator's concerns regarding: a) the rapid growth of NBFCs; b) depositors' protection and c) transfer of risks from NBFCs to banks. Moreover, its recent actions and commentary, especially with gold loan financiers, highlight its willingness to regulate the sector and bring down risks in the financial system. Although this has led to a huge amount of uncertainity for NBFCs, the ultimate outcome will be a much stronger regulatory environment for all participants.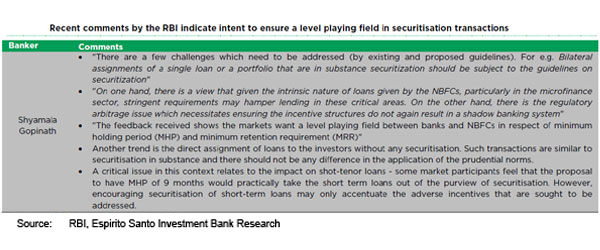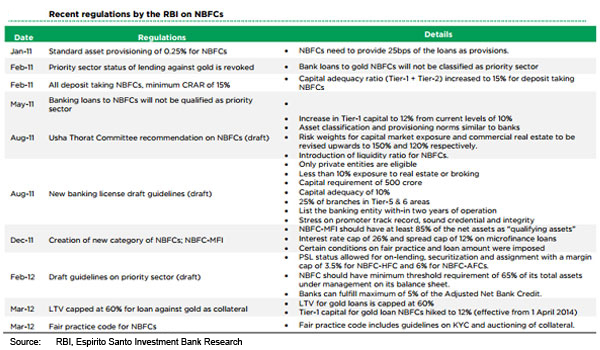 Securitisation guidelines: The RBI has publised the securitisation guidelines which will significantly reduce assignment transactions, and overall securitisation should also reduce. Although we do not expect any significant impact on margins, the guidelines will have an impact on NBFC's liquidity and hence future growth rates.
Upcoming guidelines: Usha Thorat committee's recommendations and PSL (Priority Sector Lending) guidelines are still to come and are likely to reduce leverage and ROEs for NBFCs, given that capital requirements are expected to increase with Tier- 1 increasing from 10% to 12%. (Guidelines expected by June-12).
(Santosh Singh and Nidhesh Jain are banking and financial institutions analysts with Espirito Santo Securities, a Mumbai based broking firm.)