Farmers in terrorism-hit state of Jammu and Kashmir (J&K) and the Northeast (NE) are far more prosperous than their counterparts in larger agrarian states such as Bihar, Uttar Pradesh, Jharkhand, West Bengal and Orissa. In a revelation that seems counterintuitive, data released earlier this week by the agriculture ministry show that farmers in J&K and NE earn two to three times more than those in the states mentioned above.
The data made public by the ministry in response to a Parliament question show that the monthly average income of agricultural households across states including J&K, Assam, Arunachal Pradesh, Meghalaya, Nagaland, Manipur, Mizoram, and Sikkim is significantly higher than the national average. This, despite the fact that some of these states are not only in the far flung border areas of the country but also suffer from constant political unrest, terrorism and unstable governments.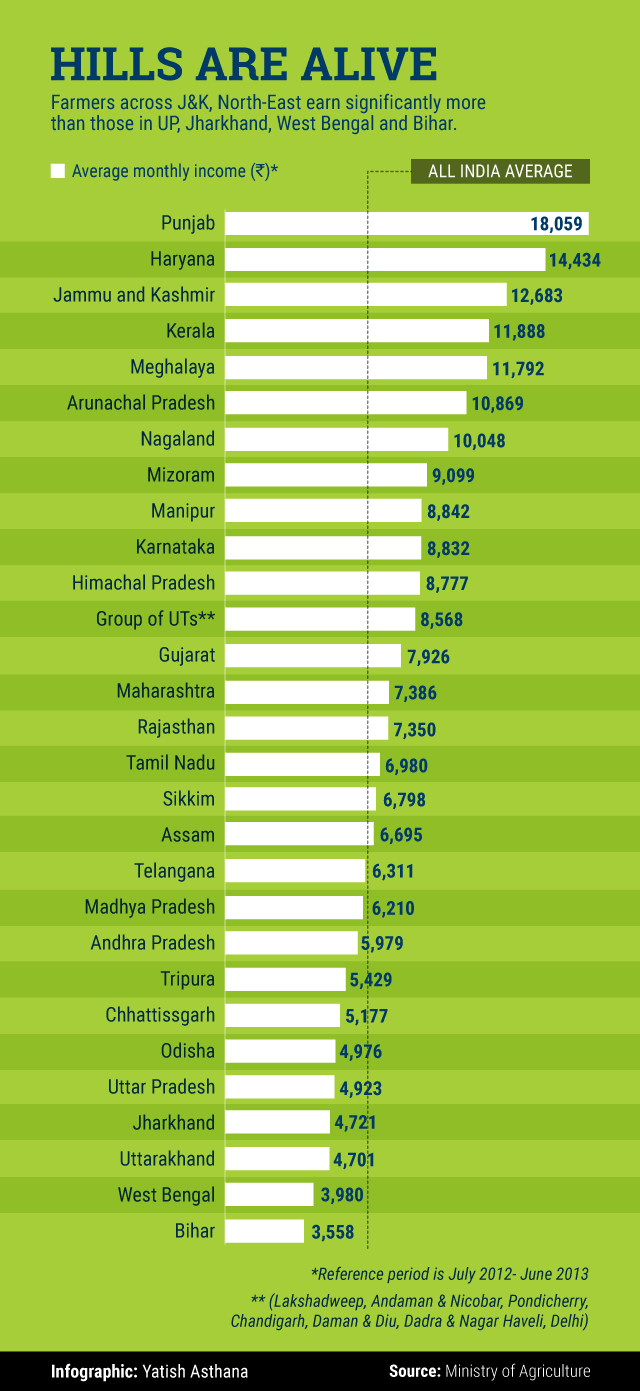 Data show a wide gap between agricultural income levels across states. Predictably, agricultural households in Punjab and Haryana are the richest, earning almost thrice the national average of Rs 6,426 per month. Those in large farm-dependent states such as Bihar, West Bengal, Andhra Pradesh, Madhya Pradesh, Uttar Pradesh, Jharkhand and Orissa earn significantly lower than the national average.
Farmer leader P Chengal Reddy, who is the chief advisor to the Consortium of Indian Farmers Associations, cites two major reasons for farmers in states like J&K having higher incomes than those across the rest of the country. First, Reddy points out that that farmers in Kashmir typically grow commercial crops that get them better margins. Second, fragmentation of landholdings has meant that an average farmer in Bihar or Uttar Pradesh on average has lower acreage of land under cultivation, thus reducing his economies of scale. 
Like this report? Sign up for our daily newsletter to get our top reports.