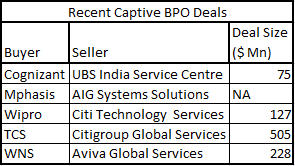 Captive outsourcing units continue to be strong M&A targets. In another captive operations sell off, outsourcing firm ExlService Holdings Inc has acquired the operations of American Express's travel business in Gurgaon. The acquisition of American Express' Global Travel Service Center operations is valued at $30 million net of working capital adjustments at closing, ExlService said in its release.The Nasdaq-listed firm has also entered into a eight-year agreement which will bring more than $160 million in revenues over the life of the contract.
"Through this transaction, we will deepen our relationship with one of our key clients as well as expand our capability set in analytics, exception processing, and transaction processing," said Rohit Kapoor, President and CEO of ExlService, while announcing the firms results.
The company reported its third quarter results with a 3.4% increase in revenues to $48.2 million and a net income of $4 million.
The deal, which is expected to close by first quarter of next year, will also bring an experienced management team and an additional delivery center to ExlService. In July this year it acquired the
operations of European logistics provider Schneider Logistics in the Czech Republic.
The deal follows Cognizant Technology Solutions picking up the Indian captive outsourcing unit of Swiss banking major UBS for $75 million last month. (See the table for other captive BPO deals)