In what promises to be a game changer for India's energy security efforts, state-owned NTPC Ltd is developing a battery to store electricity generated from solar power projects.
The plan is at the research and development (R&D) stage and India's largest power generation utility is in touch with US automobile and energy storage firm Tesla Motors Inc to use its expertise, according to three people aware of the matter.
"India needs to shift from oil to storage to become energy self-reliant. This would not only reduce pollution but also significantly reduce the country's import bill," said a senior NTPC official requesting anonymity. "Towards that direction, we are working on a solar power storage project. Our R&D people are in touch with Tesla's executives."
The Elon Musk-headed firm has developed a rechargeable lithium-ion battery, called the Tesla Powerwall, which can store electricity for households. NTPC's move comes after Prime Minister Narendra Modi visited Tesla Motors's facility in Palo Alto, California, when he went to the US in September last year.
A second NTPC official, who also didn't wish to be identified, said that solar storage would be among the most important priorities five to 10 years down the lane, as India is ramping up its solar power capacity to 100 GW by 2022. "We have our own R&D centre, money and everything required for this new project. We don't see any difficulty in achieving it."
Queries emailed to the spokespersons for NTPC and Tesla on January 20 remained unanswered till the time of writing this article.
The Modi government's 100 GW solar target, a five-fold revision from the previous goal and an increase of almost 20 times the current capacity, is part of efforts to provide power to around 280 million people that don't have access to electricity. NTPC has been tasked with meeting a quarter of this target.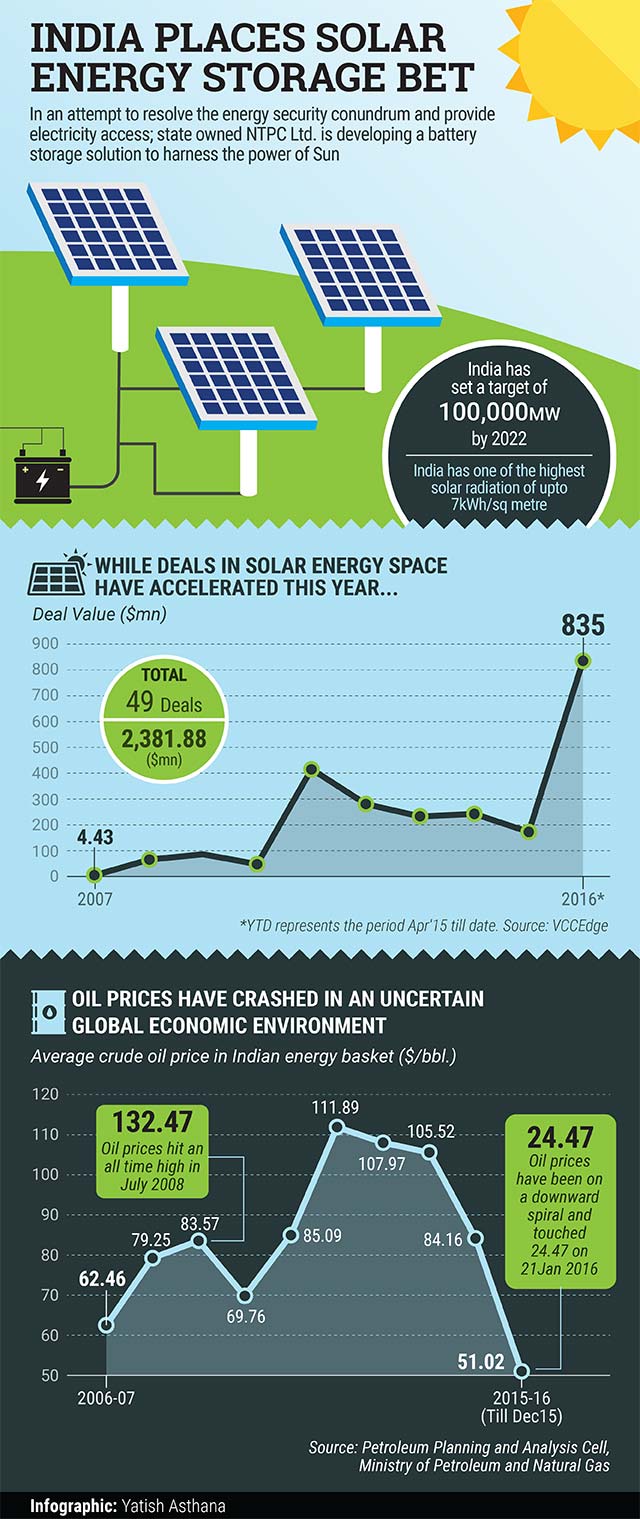 The solar strategy is at the heart of the Modi government's ambitious target to halve the country's energy imports by 2030. India imported 192 million tonne (mt) of crude oil in 2014-15 for Rs 6.92 trillion. Although crude oil mostly meets India's transportation and farm requirements currently and only a fraction is used for power generation, the long-term plan is to replace fossil fuels with renewable energy sources. 
Higher solar capacity will also help fulfill India's pledge to reduce emissions, as committed at the recently concluded United Nations Climate Change Conference in Paris.
While critics say it will be difficult to meet the 100 GW target, proponents point out that it is doable. India receives one of the highest solar radiation of up to 7 kilowatt per hour (kWh) per sq. metre for most part of the year. Also, solar power tariff in the country has fallen to Rs 4.34 a unit from Rs 18 in 2010 as several new players entered the sector.
However, storage of electricity is a challenge given that solar power can only be harnessed when the sun shines. To use that electricity at night, or on cloudy days, an effective and economical storage solution is required.
This is where NTPC's efforts are critical.
"There are two major challenges for solar storage--availability and affordability. R&D on solar storage battery is going on across the world, but pricing is the main problem," said former power secretary P. Umashankar.
The Tesla Powerwall, for instance, costs $3,000 (about Rs 2 lakh) in the US for the daily cycle variant with a capacity of 7 kWh and $3,750 for the weekly cycle option with 10 kWh capacity.
Umashankar applauds NTPC's move, but remains cautious. "If NTPC is working on a solar storage battery, it is extremely good for the country," he said. "If such a battery is made available at an affordable price, it will avoid uncertainty about solar energy and supply of electricity at night. But it requires a lot of money."
Amol Kotwal, director of energy and environment practice at consultancy firm Frost & Sullivan, said the battery storage solution could be used to electrify those areas where grid connectivity is either not feasible or not cost effective.
India has also taken the lead in championing the cause of solar power, with an International Solar Alliance (ISA) of 121 prospective member countries including the US, France, Japan and China to be headquartered in India. Modi, along with French President François Hollande, who is the chief guest at India's 67th Republic Day, will lay the foundation stone of ISA headquarters in Gurgaon on Monday.