In the heady days of Amazon.com, chairman and founder Jeff Bezos had said, "What's dangerous is not to evolve".
Years later with the second wave of e-commerce in India surging, Indian internet-driven companies seem to have learnt from their experiences and have evolved in their approach to online business models. Not many old companies of the 1999 era remain in 2010, but those who exist have set high standards and benchmarks for the new crop of startups.
It is from the learning and experiences of those old companies that the industry today appears mature in overcoming serious infrastructural challenges in India. Although many differ on whether the current trends in online businesses indicate a significant turning point in the industry, nevertheless the panel on E-commerce in India: Are we at an inflection point? proved to be an insightful analysis on the challenges and opportunities in the sector.
We bring you a panel-by-panel account of the conference summarising key takeaways. The distinguished first panelists were Mahesh Murthy, Managing Partner, Seedfund (Moderator); Vivek Nayak, COO, Avenue India Pvt Ltd; Manik Arora, MD, IDG Ventures; Murugavel Janakiraman, Founder, Consim Info Pvt. Ltd and K Vaitheeswaran, CEO, Indiaplaza.in.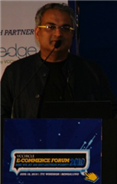 In one of the most illuminating presentations of the forum, Mahesh Murthy set the backdrop for the panel discussion. Speaking on the Path to eCommerce Success in India: From Amazon to Redbus: 15 years of e-commerce learnings, he made the following noteworthy points:
1 . It is not about technology – it is about consumer delight. Technology for the sake of technology is meaningless.
2 . Lowest price opens the category and commits hara-kiri in the process. Fair price wins not the lowest price.
3 . The best shopping sites dispel loneliness. Does yours?
4 . Be the category killer. Or be killed.
5 . Not having just one key vendor can stymie you deeply.
6 . Online flight booking is slowing down; hotels and packages taking off. But these are hard to sell online. 90% are sold over phone.
7 . The secret technology to travel e-commerce is the phone. Cash on delivery models work.
8 . If you need to be here, you need to die. If you need to advertise you have to die. You have to fork out your hard money to Google ads. The customers have to be bought.
9 . Portals are dying or are dead. The new sources for business are social networks. Portals grew at only about 4% last year.
10 . Everything depends on your reputation. Invest in smart people not call centres.
11.  It's not the number of fans that you have on Facebook that matters – but their engagements.
12 .Only bits will get transacted here at current exorbitant merchant fees. Learning from i-tunes like model is necessary.
13 .Get off the deck if you want to make real money.
14 . Don't ignore the non-resident Indian population which is significant. More than 65% of ecommerce on some large sites comprises of gifting by NRIs to resident Indians.
15. Solving the customer problems is itself a big business opportunity.
16 .Setting up just to win the 'clonazon.com' battle is risky. If all you aim for is an exit then chances are that you might not find an exit.
17. Eeeeeeecom will win over ecom in some categories. Watch out group buying. My sense is that it will probably not do well.
18 Many categories are wide open - auto accessories, spices, apparels, electronics, adult and others. Beware of global competition.
19. Take advantage of low costs. Example: Services like Dabbawalas in India.
20. There is still a long way to go. Get in and enjoy.
One of the most valuable companies in the ecommerce space in India is CC Avenue, a payment gateway provider for ecommerce portals. Speaking of the business growth, CC Avenue COO Vivek Nayak said, it manages payments for over 85% of sites in ecommerce. It started off in 2001 with a mandate to encourage ecommerce in India and start providing value to customers.
While he agred that e-commerce was growing in India, it had only touched a few sections. The reason for the numbers not being as large as the businesses wish it to be is the lack of certain key elements in the existing business models. These customer propositions are: Convenience and Value.
Every airline has a presence online. The convenience of buying tickets online is very high. This happens because it provides value. In contrast this may not be true for a category like gifting or buying rakhis. It is much more convenient to buy it from a store: touch, feel and buy.
Another challenge that he points out is to find a suitable web development company to build applications. Most of the companies in this space have been bought over by MNCs. And some have just made cyber coolies of independent entrepreneurs. If an idea has value, go for it, he says.
On online payments, CCAvenues finds that credit card has a good penetration but debit cards are doing good too, as it provides a choice of payment. For Indians the idea of credit isn't a very comfortable one.
The other part is the perception that exists with most customers is that, "it is unsafe to transact with my credit card." The reality is that it's much safer. Processes with additional layers of security are available which protect customers from being defrauded. The actual issue is that credit card use is unsafe offline. One needs to be a little careful as a customer. Over the past four or five years, the core banking system has put in place applications to allow merchants to connect to CCavenue. These are safe and the customer puts his data on the bank's page not on a third party's site. Alternatively cash cards and payments via mobile phones have come out. As we see it the transactions will grow and for this more merchants need to come online. E-commerce in India is about 8,000-10,000 websites. It needs to grow at least a million in the years ahead. There are 1,500-1,600 government owned sites which are going online which is a significant area of growth.
Manik Arora of IDG Ventures finds that the following fall in the ambit of ecommerce:
--Business to Customer model
--Business to Business model
--Transaction service providing sites.
He chronicles the two distinct phases of VC industry (pertaining to this space) in India. 1999-2000 saw a lot of VCs coming and shutting down as well. The second bout came in 2006 when a lot of them came back. The growth trajectory has picked up since then. For entrepreneurs it's a great time to build an internet company, he added.
Critical to raising an ecommerce company is capital. Infrastructure forms a major part
of the business and building this is very capital intensive. Propositions like within 24 hr delivery etc costs money. These are the aspects that the VCs are thinking about.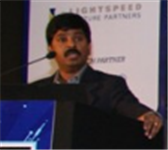 Murugavel Janakiraman of Consim (which operates the matrimonial site BharatMatrimony) held a contrarian view on the growth of ecommerce sector in India. He does not think that the industry is at an inflection point and neither does he feel that there have been any changes in the business environment over the past few years. He finds that the customers in India essentially belong to three categories:
1. Similar to those in the West: Those who need the service, use the service and transact themselves. These are typical Class A users and they use credit cards.
2  Those who need the service, use it but transact offline. These do not use credit cards. (For Bharat Matrimony, significant revenue comes from this mode.)
3. Those who need the service but use and transact through third party. 
How are these needs served is the question. Among the challenges that he lists on the Indian market include:
1 . India has limited English speaking population.
2 . PC costs and broadband costs are still high.
3 . Government not supportive of ecommerce sector.
4 . Lack of talent in the sector.
The change story of ecommerce sector was put succinctly by K Vaitheeswaran
– CEO of Indiaplaza.in. Being one of the pioneers of ecommerce in India (as he puts it, "we are the only ecom company which started in the last century"), his perspective was valuable. 
The big changes that have happened are:
1 . Users: When we started there were < 3 million users in India. Depending upon whom you talk to, the user number can vary from 13-100 million users.
2. Speed of broadband connections.
3. People are now comfortable using credit cards on the internet.
4. Travel: online ticketing has greatly improved with portals like IRCTC, MakeMyTrip etc.
5. Internet banking has gone ahead. People now trust these modes of payments as it comes from government owned companies.
4 . Consumers today are comfortable saying, "If I order something, it will come. It will get delivered."
5. Integration of mobile phones. Earlier pureplay meant only internet. Now it is inclusive of mobile sector.
6 . Electronic flow of information has increased manifold. Brands and companies are experimenting on the internet and this is a huge change.
On the other hand, Vaitheeswaran feels some issues that existed when Indiaplaza started remain unchanged even today.
1. eCom companies are undercapitalized. There is high capital requirement to build some serious infrastructure.
2. Taxation structure: Serious changes are required here. Every product except books attracts tax.
3. Key thing is to know who are you competing with? We must be clear that we are not competing with other sites. eCommerce companies need to compete with offline retail not online/ecommerce companies. The minimum requirement is a level playing field.
4. Inventory control: Customer delight is difficult to achieve because companies often do not have inventory control as they are dependent on third party.
5. Documentation: 27 states in India require 27X3 numbers of documents. This needs to be streamlined.
6. Making a profit: There is whole lot of things that ecommerce companies do not have in their control. So it's not easy to make a $100 million company. 
Sachin Tiwari & Prateek Singh contributed to the coverage of  VCCircle Ecommerce Investment Forum 2010. They run an early stage startup in Vellore which is into developing technology applications for process improvements in healthcare and environment sectors. They blog at www.detailtalk.org.