The Indian e-commerce space is rife with extremes. Pink slips are handed out to hundreds at once, valuations nosedive soon after they shoot through the roof, and companies hire scores of expensive employees the moment they have some cash cushion—or hope of it.
Perhaps such caution-to-the-wind attitude is what prompted private equity firm Tiger Global to tighten its leash on Flipkart, its biggest investment in India. By installing its turnaround man Kalyan Krishnamurthy at the helm of the e-commerce company, it's also looking to rationalise the excesses created over time.
Sample this. In 2015-16, Flipkart had 117 employees drawing an annual remuneration of Rs 1 crore (about $150,000) and above. To give a perspective of sorts, that's more than two of India's leading IT companies put together: Infosys and Wipro.
Flipkart Internet Pvt. Ltd, which runs the consumer-facing flipkart.com, had 107 such employees. For Flipkart India Pvt. Ltd, the cash-and-carry wholesale arm of the e-commerce company, this number was 10, annual reports show. During that period, Infosys and Wipro together had 108 employees earning Rs 1 crore and above, according to their annual reports.
Interestingly, Flipkart's current valuation stands around $9.3 billion, with many of its investors, including Morgan Stanley, recently slashing the number to as low as $5.4 billion. Although not an apple-to-apple comparison given Infosys and Wipro are publicly traded, their market capitalisation stands at Rs 2.36 lakh crore ($36.4 billion) and Rs 1.23 lakh crore ($19 billion), respectively.
You get the drift.
In fact, an additional 42 employees with over Rs 1 crore in salary joined Flipkart during the year, but we didn't include them in the analysis because they quit before completing a year. If we include those as well, this number would balloon to 159. Besides, these numbers also do not include some of the top-paid executives from the group's other entities.
Queries sent to Flipkart regarding compensation packages for key talent did not elicit a response at the time of filing this report.
This flab, says Head Hunters India chairman Kris Lakshmikanth, is attributable to the overzealous hiring that accompanied the funding boom in 2013-14, where rapidly growing startups desperately on-boarded top talent.
Other industry experts agree—they feel the companies tried to replicate helter-skelter the Amazon model of growth where the first 10 years are marked by heavy spend, and profits start coming in afterwards. However, Amazon could afford to do given its huge war chest and the fact it has other revenue sources that can cushion the losses.
The following graphic carries the list of people who earned over $1 million at Flipkart in FY15-16. All but two have left the company now. The top earner, chief people officer Mekin Maheshwari, left the firm in March 2016. Ankit Nagori and Mukesh Bansal left to launch online preventive healthcare platform Curefit while Amod Malviya and Vaibhav Gupta left to launch Udaan, a business-to-business online marketplace.
Sameer Nigam and Rahul Chari are CEO and CTO, respectively, of Flipkart-owned mobile payments entity PhonePe, which they founded.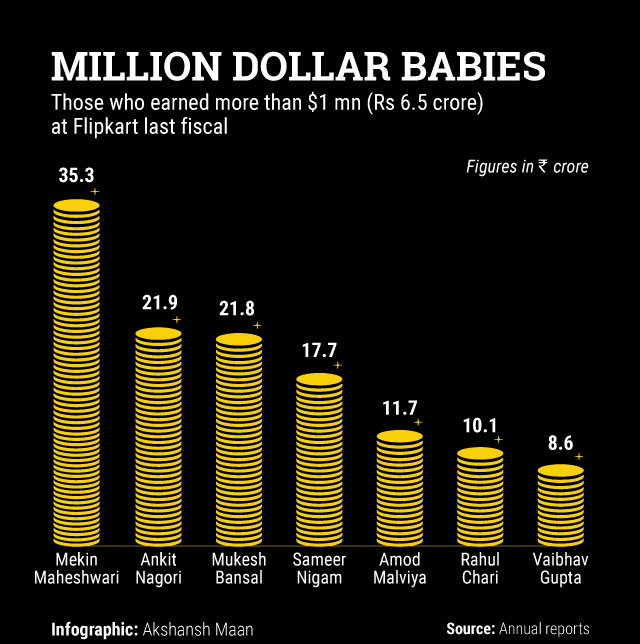 Talent war
Is Flipkart squarely to be blamed for this mess of excesses? Probably not. Faced with daunting targets, it was left with little choice. The engineering talent pool is limited in India. When it comes to top, Silicon Valley-level talent, it's merely a trickle. Paying top dollar is the easiest, and probably the only, way to ensure that your product and processes remain ahead of competition.
"An average Silicon valley engineer's average package is around $120,000 (Rs 78 lakh). Now, Flipkart started hiring talent at a base package of $250,000 (Rs 1.6 crore)-$300,000 (Rs 1.9 crore)," Lakshmikanth parts with an interesting piece of stat.
Anita Ramachandran, founder and CEO of management consulting firm Cerebrus Consultants, feels bloated salaries were a must to attract top talent. "In the absence of a high-risk compensation tied to the total pay package, companies like Flipkart and Snapdeal would have found it very difficult to get key talent," she says.
But assuming that the indiscriminate hiring was only under pressure from investors and the need of the hour would be a rushed conclusion. It was also bad judgement on part of the founders.
"In 2014, an Indian e-commerce company founder wanted 100 people from Silicon Valley. The talent went to the highest bidder [the e-commerce company], and this led to the disproportionate pay package culture that has become a hallmark of Indian tech ecosystem," Lakshmikanth remembers.
Often, companies also throw money to hoard top talent to keep them away from rivals. In the process, they use tactics such as stock options, and generous signing-on and retention bonuses to ensure employees stay on. Flipkart possibly did the same in a bid to ensure that it remained ahead of Snapdeal, Amazon and other competitors.
Besides, given the spate of senior-level exits at Flipkart from the later part of 2015 to whole of last year, it had to spend extra dollars on retention. According to a report in the The Economic Times, the company spent $290 million (Rs 1,880 crore) on salaries and stock-based compensation in FY16, a 124% year-on-year increase.
However, some industry experts feel the whole issue of exorbitant packages running into crores of rupees is only partially true, given a chunk of the compensation is in the form of stock options.
Says Ramachandran: "One should understand that stocks form a major component of the compensation package. In a firm like Flipkart, they could be as much as 50-70% of the total compensation. Also, for most startups which usually do not generate significant cash revenues during the early years, this is a rational strategy.
High-earners bear the brunt
Eventually, when the fat paycheques didn't translate to corresponding sales numbers, the Rs 1 crore-club employees was the first to get the axe.
"These expensive hires are now willing to take a pay cut as most of them are either in the lay-off stage and have commensurate personal liabilities. An ex-Flipkart vice president level executive who was drawing, say, a little over $300,000 (Rs 2 crore) is now available for Rs 1.2 -1.3 crore for jobs at the old economy" Lakshmikanth says.
And things can go further south this year.
If the Flipkart-Snapdeal merger were to materialise, this will get worse. One can expect a major correction in senior management packages during this year, Lakshmikanth adds.
Ramachandran, however, feels that while the overzealous hiring will self-correct as the new realities sink in, offering a high-risk compensation as part of the total package is a trend that's here to stay at Indian startups.
Like this report? Sign up for our daily newsletter to get our top reports.