Bangalore-based Dropkaffe Food & Beverages Pvt. Ltd, (dropkaffe.com) which makes ready-to-drink dairy beverages, has raised $495,000 (around Rs 3.3 crore) in a bridge funding round led by Kanwaljit Singh of Fireside Ventures.
Other investors in the round include GrowthStory and high net worth individuals (HNIs) including Apurva Salarpuria, owner of Salarpuria Group, Hitesh Oberoi, MD and CEO of Info Edge India Ltd, and Nirupa Shankar, director (hospitality), Brigade Group.
The funds will be used for ramping up its production capacity and marketing, Chaitanya Chitta, CEO, Dropkaffe told VCCircle.
The firm is looking at raising its Series A round of funding and hopes to secure it within the next six months, he added.
In August 2015, Dropkaffe had raised $300,000 (Rs 2 crore) in a seed funding round led by angel investor Manish Singhal and US-based venture capital firm P39 Capital.
Dropkaffe's products are currently available in over 100 modern retail stores in Bangalore and it plans to enter the Chennai and Hyderabad markets soon. Chitta said it will focus only on the Southern region for now and given the low shelf life of the product, expansion to other parts of the country will happen in a phased manner as more funds become available.
"We do not have our own manufacturing and bottling unit, but partner with existing manufacturers who have the requisite infrastructure and resources," said Chitta. Dropkaffe claims that it nets a gross margin of 40-45 percent at its current scale.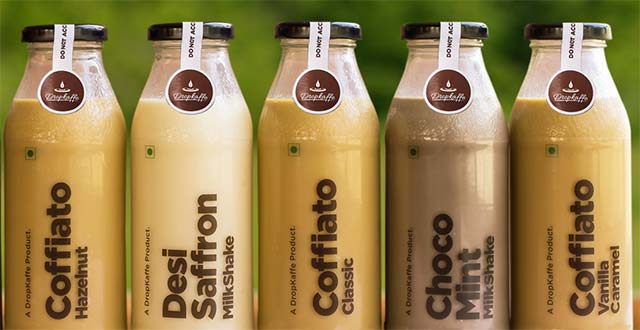 Dropkaffe aims to reach over 500 retail stores in Bangalore by the next four months. It is also exploring other channels of sales that include educational institutions and magazine stores.
According to information available on its website, Dropkaffe is set to launch two more beverage categories – DK Signature Smoothies (yogurt based beverages) and DK Signature Elixir (fruit based anti-oxidant beverage).
The Economic Times, which first reported the development, said DropKaffe has partnered with National Dairy Research Institute for its new line of fruit-based smoothies which have a shelf life of 30 days and do not contain any preservatives.
Founded in 2015 by Rakshit Kejriwal, Lakshmi Dasaka, Chaitanya Chitta and Amar Yashlaha, Dropkaffe offers ready-to-drink signature cold brews and milkshakes. Currently, it offers four variants of flavoured cold coffees under the category DK Signature Cold Coffees and three variants of flavoured milkshakes under the category DK Signature Milk Shakes.
The four co-founders had earlier worked together at SmartOn Learning, an education technology startup that was part of TechStars Accelerator, in New York in 2014.
A couple of startups in the beverage space have raised funding recently.
In February this year, Rakyan Beverages Pvt Ltd, which sells fresh cold-pressed juices under the RAW Pressery brand, raised Rs 30.8 crore ($4.5 million) in a Series B round of funding from Saama Capital, DSG Consumer Partners and existing investor Sequoia Capital. 
In July last, Gurgaon-based Hector Beverages Pvt Ltd, which manufactures soft drinks and beverages under the Paper Boat brand, raised Rs 183 crore ($29 million) in Series C round led by Belgium-based investment company Sofina and China's Hillhouse Capital.