How long does the morning scrum at your startup last? What's the average length of a conversation by the water cooler? Is there a particular desk that employees flock to during breaks?
No, we are not taking a peek into the restive mind of a micro-manager.
These are data points that Sidharth Menda, founder and CEO of homegrown co-working startup CoWrks, routinely analyses to improve his services and handpick the "healthiest mix of companies" for his facility. "We use facial recognition, and behavioural pattern and social interaction analyses to collect data insights..." he says.
Though some of these findings might seem to be of little consequence, when put on top of one another they can help member companies come up with actionable insights. "How long a coffee conversation went, which activity brought people closer, how far people are willing to walk for coffee, and how interior design is offering stimuli for thought leadership—this is all useful information," he explains.
"We ran a Game of Thrones telecast and saw that a lot of people were interested in the activity. The same holds for food, beverages, gyms and swimming pools," says Menda, adding that employees have now started seeing office space as a second home, which boosts productivity.
The analytics also help CoWrks design the next workspace better, and make tweaks to existing locations.
None of this, however, comes at the cost of privacy. Menda says that sensors collect anonymised data, which ensures that member privacy is protected.
The deployment of technology doesn't stop there. "We offer an app, much like private social networks like LinkedIn. Once a member signs up for CoWrks, it gets access to CoWrks Connect, our proprietary technology platform connecting CoWrks members across the country."
This helps member companies connect with each other for requirements. For example, if anyone needs a graphic designer, they can post the requirement on the platform, and rope in talent faster. "We also try to handpick members to suit each other's needs. More than 30% of our member companies are doing business with each other," Menda points out.
Journey, future plans
A very confident Menda told VCCircle that his company, which has just two co-working spaces as of now, will soon have 12 office spaces of 40,000-150,000 sq ft each.
"We are opening two new co-working spaces at Whitefield and Ulsoor (Bangalore) over the next two weeks.
A new facility in Chennai is coming up next week, and another is in the pipeline. We are looking at 12 spaces in total, but we can't disclose where the other three locations are coming up as discussions are underway," said Menda, the son of Raj Menda, corporate chairman of office space developer RMZ Corp.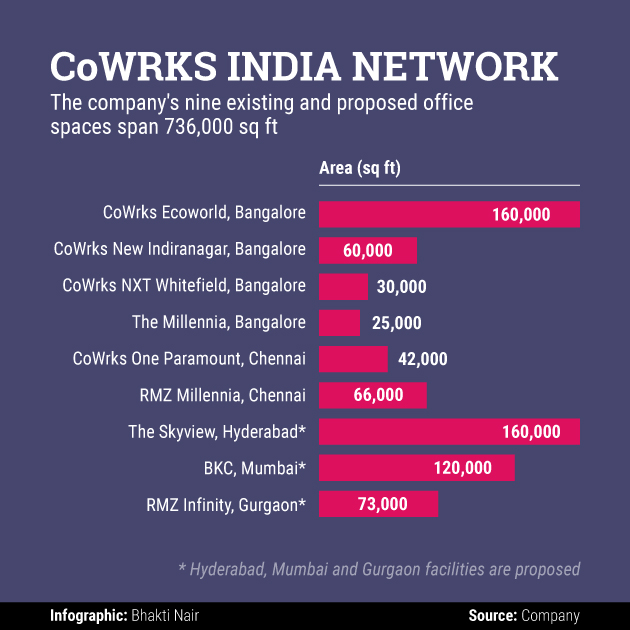 The company is also looking to launch centres in Mumbai, Gurgaon and Hyderabad (see graphic). Its nine existing and proposed office spaces will be spread across 736,000 square feet, making it the largest co-working chain by office space in the country.
Incorporated in September 2016, CoWrks started its operations in Bangalore. It currently has 3,500 members and 100 companies, and employs 120 people.
CoWrks charges a membership fee based on the number of desks and hours. Based on the location, a desk can cost can anywhere from Rs 3,000 to Rs 10,000 a month.
Menda said the company is targeting 100 shared office spaces over the next three years, spanning 9 million square feet. Besides, he is also looking to start operations in Southeast Asia and Europe.
CoWrks, which is bootstrapped as of now, plans to stay that way for the next year or so.
Differentiating factor?
While most co-working spaces are filled up by startups and freelancers including graphic designers, writers and app developers, Menda says CoWrks boasts a balanced ratio of big companies and startups.
"Almost 50% of our membership is with large enterprises such as Alibaba, Boeing and Standard Chartered," he elaborates, adding large enterprises were moving into co-working spaces because of lower maintenance costs and increased productivity.
"It is an employee's market. Look at what is happening in the US. Goldman Sachs is using Snapchat to recruit people and JPMorgan is rethinking dress codes. India's millennial workforce is forcing large companies to change, and we will soon see other corporates move into co-working spaces," Menda says.
A recent survey of 3,000 people by careers site FlexJob highlighted that 82% of millennials cite flexibility as a major factor when evaluating job prospects. That finding is corroborated by another PwC study, which surveyed 44,000 of its US employees. It said the high attrition rates were because 80% of its employees, who are millennials, demanded flexibility in work schedule. As a result, the accounting firm is expected to convert all its US offices into co-working spaces, a move that it claims could entail cost savings of "millions of dollars".
But Ajeet Khurana, an angel investor who has backed co-working space companies, feels big enterprises are hesitant to take up shared spaces due to challenges with regard to expansion. "Besides, the shared spaces are few in numbers and might not be in locations that the large enterprise is targeting. The majority of them are in metros," Khurana says.
Co-working segment
According to a report by global real estate services firm Colliers International, India has more than 160 co-working space operators running over 350 centres across Tier I and Tier II cities. More than half of these centres are based in Bangalore, Delhi-NCR and Mumbai, and have an occupancy of 60-80%.
"We estimate that more than 1.2 million sq ft were leased by co-working operators in India in 2016, which accounted for 3% of the overall leasing volume. Although it represents a small share of the total leasing demand, co-working operators are planning to lease 8-9 million sq ft by 2020," said the report.
With investors lining up, companies are also betting big on expansion plans. Domestic co-working space provider Awfis had announced in late April that it had raised $20 million from Sequoia Capital India.
Earlier this month, co-working startup GoWork opened two campuses in Gurgaon of 450,000 sq ft and 350,000 sq ft. The facilities, built for Rs 800 crore, can house as many as 12,000 people.
US-headquartered WeWork, the fifth biggest startup in the world by valuation, has partnered Embassy Group to set up 6 million square feet of shared office space in Bangalore, Mumbai and Delhi-NCR by the end of 2017.
Regus, another global player, plans to launch its co-working brand Spaces in Delhi this year. Other shared space providers, including BHIVE Workspace and 91springboard, plan to double their floor plate area by the year-end.