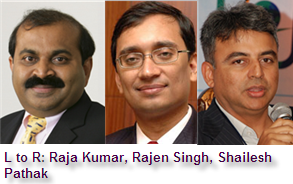 At a recent private equity conference organised by VCCircle in Mumbai, there were two unusual attendees: Rajan Singh, a former commissioner of Police of Thiruvananthapuram City, and a 2004 batch IPS officer from Kerala cadre. These civil servants were, interestingly, searching for fresh deals and to gain a handle on latest trends in private equity investing in India as they script their next career innings in the world of alternative investments.
Rajan Singh, a 1996 batch IPS officer from Kerala cadre, was the police commissioner of Thiruvananthapurum city (between 2001 and 2004), one of the prized postings for a police officer in the politically sensitive state. He is now a Vice President with New Silk Route Advisors Pvt Ltd, a leading private equity fund with $1.4 billion under management. If Singh has already quit his service, the other IPS officer from Kerala cadre is currently on deputation with a leading Mumbai-based private equity fund (he did not want to be identified for this story).
While earlier they were worried about the crime graph in their respective jurisdictions, now their daily routine includes evaluating business plans and crunching the spreadsheets to find if a company was worthy of an investment. 
Another recent entrant to the private equity from civil service is Vinod K. Thomas, a 1993 batch IPS officer from Kerala cadre, who joined as Vice President with IL&FS Investment Managers in 2006. Thomas, who was police commissioner of Kochi, is one of the senior investment managers in the real estate division of IL&FS and works closely with Archana Hingorani, Executive Director, IL&FS Investment Managers, on deals.
These three IPS officers (coincidentally all IPS officers are from Kerala cadre) are not the only bureaucrat-turned-investors in the private equity industry, which has attracted talent from the services earlier too. One of the most prominent names is Raja A Kumar, Founder and Managing Director of leading growth capital PE fund Ascent India Capital Advisors (formerly UTI Ventures), a former officer from the Indian Revenue Service (1986 batch).
Kumar's move to PE was a circuitious one unlike Singh and Thomas. Kumar was part of a team of officers from the government handpicked by GV Ramakrishna, the first chairman of capital markets regulator Securities Exchange Board of India (SEBI). He initially joined as the first regional director of SEBI South in Chennai, and then moved to Unit Trust of India, where he was drafted to set up the mutual fund's venture capital arm, UTI Ventures. Kumar never went back to the service and officially resigned from IRS only in 2007. Later, Kumar and his team hived off an independent private equity fund (Ascent India) in 2009 albeit with an investment from former parent UTI.
Says Kumar of his tenure in private equity:  "I have always enjoyed the dynamism and the entrepreneurial experience the PE industry has offered." Kumar feels that whether it is managing a small or medium corporate entity or something as vast as a state or central government, the inescapable factor in any management exercise is leadership. He has plenty of that. Kumar is now one of the few most successful PE fund managers in India with the highest return multiple to his credit (50X return on Excelsoft exit). He also successfully raised a $350 million growth fund under the Ascent banner. Moreoever, he has managed to build an entrepreneurial team in his fund.
Apart from the leadership and inter-personal skills required as essentials for success in the private equity industry, a public sector experience also provides with a fair understanding of the government machinery, especially the execution of the PPP (private-public partnership) projects, which act as an added advantage for those who invest in the Indian infrastructure sector, say industry experts.
"If you understand how the government functions, how the bureaucracy works, how the PPP model works, it comes in very handy especially for infrastructure investors," says Sunit Mehra, Managing Partner, Hunt Partners, a talent search firm exclusively focused for the VC/PE industry.
One such example is former investment banker-turned-IAS officer Shailesh Pathak who is now Managing Director of PE Indian Infrastructure Fund (PE IIF), an international PE firm with over $1billion of assets under management. Pathak has experience in executing infrastructure projects in public-private partnership with IDFC.
He was heading a State Infrastructure Development Company during his government years at Madhya Pradesh-Chhattisgarh for three years, as well as the State PWD (Public Works Department) , with an  annual budget of $200-400 million, where he led a team of 900 engineers. Prior to joining PE IIF in 2009, Pathak was a Senior Director with ICICI Venture looking after the firm's infrastructure practice. He joined ICICI Venture in 2007, and IDFC in 2006 after quitting IAS. Pathak declined to comment for the story.
Another former IAS heavy weight who strayed into the PE world is PJ Nayak. A former joint secretary in finance ministry, Nayak briefly became an operating partner with Advent International, a leading US-headquartered global private equity group, a job he picked up after retiring from Axis Bank as its Chairman & CEO. Nayak quit Advent early this year to become the Chief Exceutive Officer of Morgan Stanley India.
If Kumar, Nayak and Pathak strayed into PE during the course of their career which included deputation to semi-governmental roles, officers like Singh and Thomas opted to join the investment world laterally.
Are they happy with the move? Thomas of IL&FS Investment Managers says he is enjoying his stint in the high finance world as it's offering him "intellectual challenge". "Both jobs are highly responsible. While you protect life and liberty as a police officer, you are responsible for wisely allocating life's savings as an investment manager," says Thomas, who is a civil engineering graduate of IIT Madras.
Singh is an IIT Kanpur graduate, and, in 2005, he went to Wharton Business School for an MBA on study leave. He later joined McKinsey New York and worked there for two years before moving into India. Singh, who is currently an year-old in the PE industry is happy having made such a career decision. "My problem solving skills combined with operating experience in past life is helping me a lot," says he.
As the PE industry also offers attractive remuneration, the sector is bound to attract talent from the government. Even retired bureaucrats are in demand. For instance, M Damodaran, former chairman of SEBI, acts as an  advisor to PE funds and is a sounding board to several PE fund managers in India. "For a civil servant, the intellectual capabilities, academic pedigree, understanding of the sector, and how the government machinery works helps a lot," avers Mehra.