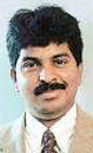 Consim Info Pvt. Ltd, the Chennai-based online services firm with flagship bharatmatrimony.com, has initiated a portfolio rejig. It has hived off online properties--ClickJobs.com, Indialist, IndiaAutomobile.com, etc. -- under a subsidiary called Perspi Interactive Pvt Ltd, for which it will look at raising funds. And, it has bunched profit-making websites such as matrimony and property under Consim itself.
It is understood that Consim would look at listing the matrimonial and property websites in the next one or two years, and may also look at a pre-IPO round at a future date.
Consim competes with the likes of Info Edge India Ltd, which is listed on the exchanges with sites like Naukri and Jeevansaathi, and Mumbai-based People Interactive, whose portfolio includes Shaadi and Makaan.com.
Consim Info founder and CEO Murugavel Janakiraman (in pic) confirmed plans of hiving off some assets into a subsidiary. "Matrimony and property are two key and established businesses which we plan to take public," he told VCCircle, saying that other websites were still at a very nascent stage. Janakiraman did not give any timeframe on the plans to take it public. Consim, for whom matrimony accounts for over 70% of the revenues, is expecting at least a 40% growth for FY10, he said.
Consim has already raised around $20 million in venture funding from internet major Yahoo and venture capital investors Canaan Partners and Mayfield Fund.
"Of all the assets that Consim has, these two (Bharatmatrimony and Indiaproperty) are reasonably mature. The idea will be to give thrust on matrimony and property without getting encumbered by the other sites," said Srikanth Narasimhan, a director with Veda Corporate Advisors.
After raising funding in two rounds since 2006, Consim had started expanding its matrimonial business by opening offline centres. Some of these centres turned out to be unprofitable and Consim has decided to shut some of them. At present, it has around 70-75 centres, which include both owned and franchisee centers.
Consim has also opened several niche matrimonial websites based on communities and religions and also match-making concepts like Elitematrimony for rich people. "We launched them only six months ago. We believe that it will be one of the growth drivers for Consim," said Janakiraman.
Consim will look at investors for Perspi, though it has not started a formal process to raise this funding. Consim, which was set up nearly a decade ago, had initially planned to go for a listing this year which was postponed after the market meltdown last year.
According to this report, online classifieds markets in India was valued at Rs 1,800 crore in 2008 and is expected to grow to Rs 4100 crore in 2010.