The National Democratic Alliance (NDA) government may amend the rules which will allow transfer of captive mining leases not granted through auction thereby paving the way for many high-value deals which are presently stuck as such transfers are not allowed.
According to two government officials aware of the development, the Union cabinet may decide this week on these rules under the Mines and Minerals (Development and Regulation) Act (MMDR), allowing such transfers.
This will help fructify deals such as the acquisition of cement business of Jaiprakash Associates Ltd and Anil Ambani-controlled Reliance Infrastructure Ltd by Aditya Birla Group's UltraTech Cement Ltd and Birla Corp. Ltd, respectively.
"The amendment to allow transfer of captive mining leases, not granted through auction, would allow mergers and acquisitions of companies with such leases," said one of the government officials.
In 2015, MMDR was amended to allow transferability of mining leases which were granted only through auction. Due to this restriction, various acquisitions, especially in the cement space, have been stuck as transfer of mining rights would not have been possible as per the provisions of the law.
"The cabinet may approve the proposal on 10 March. After the cabinet's nod, the proposed amendment is likely to be introduced in the current session of Parliament," the official added.
While a Reliance Infrastructure spokesperson declined to comment, queries emailed to the spokespersons of India's mine ministry on Saturday and UltraTech Cement on Sunday were not answered. Also, queries emailed to the spokespersons of Jaiprakash Associates and Birla Corp. on Tuesday afternoon remained unanswered.
Business Standard newspaper on 7 March reported that companies have appealed to the government to make necessary amendment in the Act and get it passed in the current session of Parliament.
The move is part of the Bharatiya Janata Party-led government's strategy to streamline the Indian resources space. In an attempt to attract participation in mining auctions to be conducted by various states, the government last week notified rules—known as the Mineral Concession Rules, 2016—to allow transfer of such leases, in the event of ownership changing hands. The government's move is also an attempt to avoid future high-value deals such as the ones mentioned above getting stuck.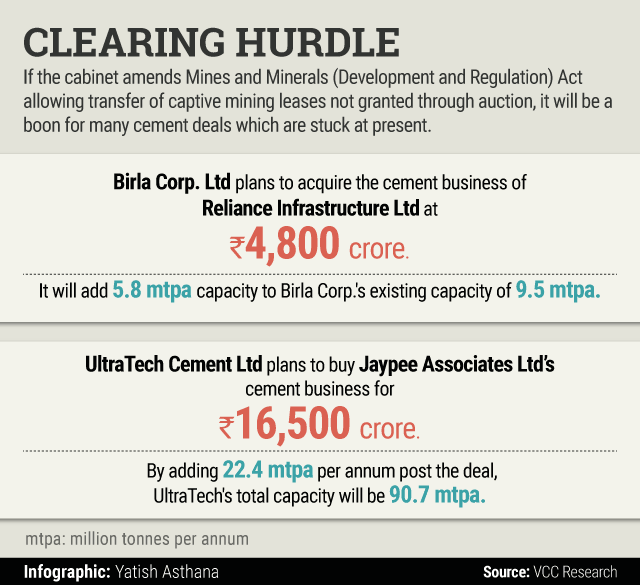 The amendment to the MMDR Act will also help the banking sector given its stressed financial position.
"The said amendment will enable banks to liquidate stressed assets wherein a company or its captive mining lease is mortgaged," said a second government official.
Indian banks' financial position has become increasingly alarming. According to government estimates, Rs8 trillion is lying in the system as stressed assets including all scheduled commercial banks in the country.
Experts welcome the government's move to amend MMDR Act.
"The proposed amendment to MMDR Act is aimed at making mineral assets more liquid and their financing, transfers, securitisation and monetisation easier. These have been the demand of the industry for quite some time since these will permit larger private and foreign company participation in the sector where currently the mines are held by entities—firms, individuals and associations—who have not been able to either scale up or bring in advanced technology," said Dipesh Dipu, founder and partner at Jenissi Management Consultants, a consulting firm focused on energy and resources.
On 28 February 2016, UltraTech Cement entered into a binding memorandum of understanding with Jaiprakash Associates for acquisition of the latter's cement assets. The proposed deal of around Rs16,500 crore will help UltraTech Cement increase its capacity by 22.4 million tonne per annum (mtpa) to 90.7 mtpa enabling it to further strengthen its position as the market leader. The production capacity of the Indian cement market is 270.3 mtpa. The deal will also open new markets for UltraTech including Karnataka, Madhya Pradesh, Himachal Pradesh, eastern Uttar Pradesh, Uttarakhand, and Andhra Pradesh.
However, the deal is facing execution challenges as it requires clarity on transferability of limestone mines. Most of the limestone mines which are required for cement production have been allotted to companies in the past, and were not auctioned.
Other than UltraTech which needs clarity on MMDR, Reliance Infrastructure and Birla Corp. are also awaiting the government's move on the issue. In order to retire its debt, Reliance Infrastructure sold its cement business to Birla Corp. for Rs4,800 crore on 5 February 2016.