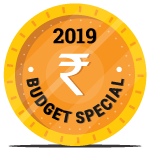 Tax breaks for affordable housing and efforts to boost credit were among the key takeaways for the real estate sector in the first full Budget of Prime Minister Narendra Modi' second term, as the government persisted with its efforts to achieve 'Housing for All' by 2022.
In her maiden Budget speech, Union finance minister Nirmala Sitharaman announced that individuals would be allowed an additional deduction of up to Rs 1.5 lakh for interest paid on home loans. This will be applicable to loans availed up to March 31, 2020 for the purpose of buying a house valued up to Rs 45 lakh.
In other words, an individual will get an enhanced interest deduction up to Rs 3.5 lakh, up from Rs 2 lakh earlier. This will translate to an overall benefit of around Rs 7 lakh over a period of 15 years.
This step is in addition to the tax holiday already provided to developers on profits earned from affordable housing. 
"This budget has clearly shown the intent to continue and further grow the platform for the affordable housing segment in India," said Prasoon Chauhan, chief executive officer of HomeKraft, an affordable housing company of the ATS Group.
"Total interest savings of Rs 7 lakh for home loans over 15 years is significant for a middle class family, and that too with bigger houses as carpet area norms have been significantly relaxed. This would lead to many developers, including us, launching projects in this segment as there is a huge demand and supply mismatch," he added.
In another attempt to push affordable housing, the government also said that it would like to take up infrastructure and affordable housing projects on land parcels owned by the Centre. This can be done through various routes such as joint development and concession. 
Rental housing, which has been not been a strong feature of India's real estate market, also attracted the attention of the government with the finance minister promising that several reform measures will be taken up for its promotion. 
A model tenancy law will also be finalised and circulated to keep the norms in tune with the changing times. 
"Current rental laws are archaic and do not address the relationship between the lessor and the lessee realistically and fairly," Sitharaman said. 
A sound rental policy will help the government boost its agenda for housing in the country. 
Pradhan Mantri Awas Yojna, the flagship housing scheme of the government, has so far completed a total of 1.54 crore homes in rural India. In the second phase of the scheme, 1.95 crore houses are proposed to be provided to the eligible beneficiaries.
In urban India, the government said that over 81 lakh houses with an investment of about Rs 4.83 lakh crore have been sanctioned, of which construction has started on about 47 lakh houses. More than 26 lakh houses have been completed, of which nearly 24 lakh houses have been delivered to the beneficiaries.
"The government's idea to provide affordable housing will be a possibility and is highly successful in almost all the cities except Mumbai where there is a paucity of land. The government's proposal to invest more than Rs 100 lakh crore for infrastructure over the next five years is also a welcome move," said Niranjan Hiranandani, president of real estate industry body National Real Estate Development Council (NAREDCO).
Boosting credit
Liquidity has been a major concern for the real estate industry, which the government has tried to address to a certain extent in this Budget as it intends to recapitalise public sector banks with Rs 70,000 crore to boost credit.
Funding has been a key challenge for developers in the last few quarters. The liquidity issues after the collapse of IL&FS has led to a standstill in funding avenues for non-banking financial companies (NBFCs). As developers were heavily dependent on NBFCs for funding, they have also been in deep trouble of late. 
In order to ease the stress in the NBFC segment, the government said on Friday that NBFCs which are fundamentally sound should continue to get funding from banks and mutual funds without being unduly risk averse. 
"For purchase of high-rated pooled assets of financially sound NBFCs, amounting to a total of Rs 1 lakh crore during the current financial year, the government will provide a one-time six months' partial credit guarantee to public sector banks for a first loss of up to 10%," Sitharaman announced.
This is likely to open up funding avenues for NBFCs and in turn for developers as well — a much-needed breather for the real estate segment. 
The finance minister also said that in order to create a level playing field, interest on bad or doubtful debts in the case of deposit-taking NBFC and systemically important non deposit-taking NBFC shall be charged to tax on receipt basis. 
"Banks would be recapitalised by Rs. 70,000 crore. It's a welcome step as several banks were sitting on liquidity but lacked capital. This will encourage them to supply further credit and kick-start much needed growth," said Sanjay Grewal, chief executive officer of Altico Capital, an NBFC which has a large exposure to the real estate segment. 
While industry experts hailed the push given to affordable housing, some felt that the Budget had more misses than hits. Anuj Puri, chairman of property consultancy firm Anarock, said that the Budget failed to address the sector's most pressing concerns. 
"We may not see consumers and investors return to the market in sufficient numbers -- barring in affordable housing. Taxes were not sufficiently moderated and land reforms were not mentioned at all," he said.