Big VC funds fail to deliver big returns. We have no funds in our portfolio that have raised more than $500m and returned more than 2x our capital after fees.
The best-performing GPs face increasing demand for access to subsequent funds, and many understandably succumb to the pressure to raise larger funds. There are plenty of examples of this behavior in the market—Accel, Greylock, NEA, Oak, and Sequoia have each raised $1b+ funds in the past few years, in some cases despite declining returns.Other funds such as Benchmark, First Round, and Foundry are focused on early-stage investing with fund sizes generally less than $500m.
We discussed above how VC allocations or mandates can create pressure among LPs to invest in whatever funds they can access. Many good small funds are closed to new investors, and institutional investors with large balance sheets cannot move the performance needle without large allocations if they choose to invest in VC. This creates pressure to invest in big funds, even if the expected returns are lower, and makes very long odds for large institutional investors trying to win the VC investing game.
In our own portfolio, we found that we earned an investment multiple of two times our invested capital only from venture funds whose commitment size was less than $500 million; not a single fund that exceeded that capital raise earned more than twice the invested capital after fees. 
No Kauffman Foundation VC fund >$1billion returns more than twice the invested capital after fees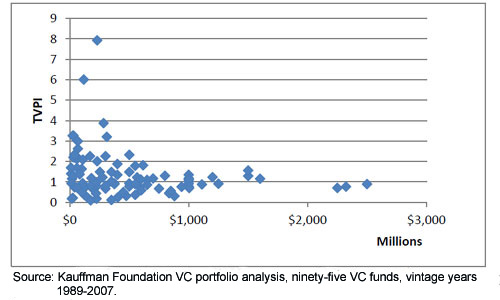 Furthermore, our PME analysis shows that the preponderance of VC funds that exceeded our expected high returns relative to public equities raised less than $500 million.
The Kauffman Foundation's best-performing VC funds are smaller than $500m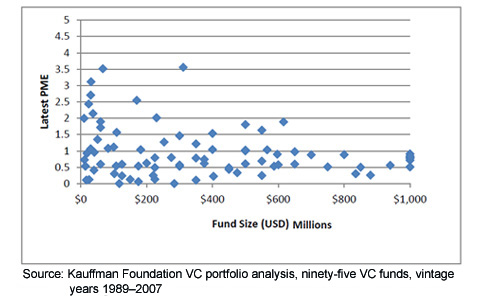 Our data on the relationship between fund size and returns is supported by other empirical work within the industry. Silicon Valley Bank conducted a study on VC fund size and performance, examining Total Value to Paid In (TVPI) capital returns from 850 VC funds from vintage years 1981–2003. There are three main conclusions to be drawn from SVB's analysis: 
The majority (51 percent) of funds larger than $250 million fail to return investor capital, after fees; 
Almost all (93 percent) of large funds fail to return a "venture capital rate of return" of more than twice the invested capital, after fees.
Small funds under $250m return more than two times invested capital 34 percent of the time; a rate almost six times greater than the rate for large funds.
(Diane Mulcahy, Bill Weeks and Harold S. Bradley head the investment team at Ewing Marion Kauffman Foundation, one of the largest foundations in the United States. Excerpts taken from the report "We Have Met the Enemy … And He is Us," based on a comprehensive analysis of the Kauffman Foundation's more than 20 years of experience investing in nearly 100 VC funds.)
n