Bangalore has emerged as the No. 2 city globally where rent and capital value of commercial property are likely to rise over the next 12 months, according to a quarterly survey by global real estate body RICS.
Ireland's capital Dublin topped the list of 32 cities in terms of both rent and capital value expectations in the survey of about 1,300 companies. Capital value is likely to rise in 21 of the 32 cities in the coming 12 months, RICS said.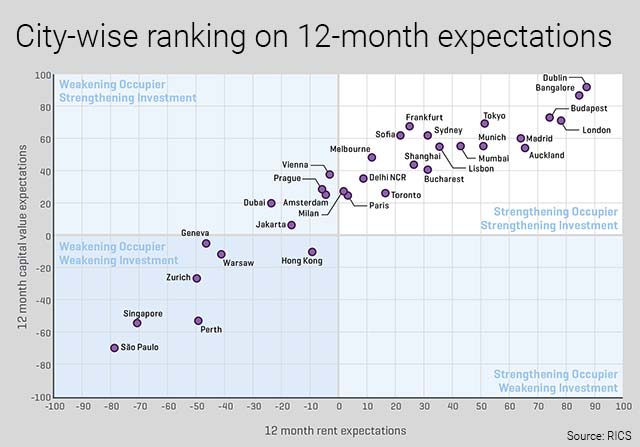 "Bangalore has been consistently performing better than other regions in India for many years now," said Devina Ghildial, managing director, South Asia, RICS. "The city has low inventory as project sizes are relatively smaller in comparison to Mumbai and Delhi-NCR. Developers are not carrying high debt, execution and delivery of projects are on time and there is a healthy demand of Grade A office space."
Many startups, e-commerce, IT and ITeS companies are looking to expand their operations in Bangalore, making it a hot market, she said.
Among Indian cities, Mumbai was ranked second while Delhi-NCR stood at the third spot.
The report noted a greater divide emerging between those cities in which sentiment has remained robust over recent quarters and others where confidence is slipping. It also said that near-term momentum has reportedly deteriorated across many emerging markets, with the economic slowdown in China likely a key catalyst.
The RICS composite indicators covering developments in overall occupier and investment market conditions highlight Dublin as a standout performer in terms of market momentum.