The Reserve Bank of India (RBI) picked 10 of 72 applicants for an in-principle nod to start small finance banks in the country. Those selected include eight microfinance institutions besides PE-backed non-banking finance company (NBFC) AU Financiers and a Punjab-based local area bank.
Those selected include Janalakshmi Financial Service, Disha Microfin, Equitas Holdings, ESAF Microfinance and Investments, RGVN (North East) Microfinance, Suryoday Micro Finance, Ujjivan Financial Services, Utkarsh Micro Finance besides Capital Local Area Bank of Jalandhar and AU Financiers.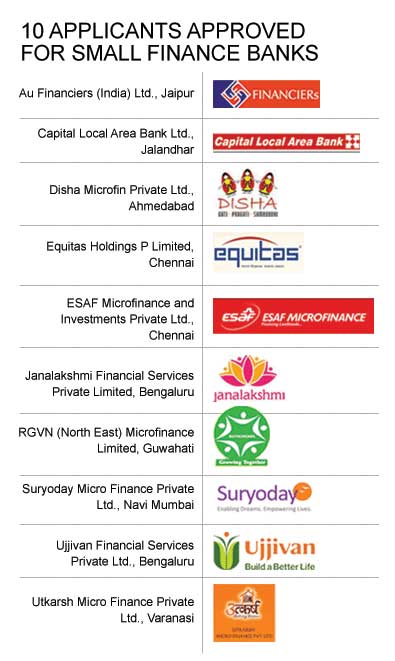 Several of these firms are PE backed and AU Financiers counts a bunch of them as shareholders including Warburg Pincus, ChrysCap, IFC and Kedaara Capital.
While a bunch of MFIs have managed to get a nod for the small finance bank, some missed out such as SKS Microfinance, the second largest microlender in the country; as also others such as Arohan's parent IntelleCash.
Some other big names also got left out (click here for the full list of applicants) including a venture proposed by former Infosys and Wipro CFOs.
While discussions on the importance of a new category of small finance bank has been going on since 2009, the central bank had released draft guidelines last year in July.
RBI had issued final guidelines for small finance and payments banks last November for setting up new categories of banks to support financial inclusion by provision of savings vehicles and supply of credit to small business units; small and marginal farmers; micro and small industries; and other unorganised sector entities, through high technology-low cost operations.
The central bank had given approval to 11 firms, including some of the big telecoms service providers, to start payments banks in August.
The rules for small finance bank are the same as those of payments bank where the "in-principle" approval granted will be valid for 18 months, during which applicants have to comply with the requirements under the guidelines and fulfil the other conditions as may be stipulated by RBI.
The bank in draft guidelines in November last year had specified that minimum paid-up equity capital for small finance banks will be same as payments banks pegged at Rs 100 crore. While payments bank can only accept deposits up to Rs 1 lakh and cannot lend, small finance banks have no such restrictions.
"The small finance bank will be subject to all prudential norms and regulations of RBI as applicable to existing commercial banks including requirement of maintenance of Cash Reserve Ratio (CRR) and Statutory Liquidity Ratio (SLR)," the RBI had said in its guidelines.
The small finance banks will be required to extend 75 per cent of its Adjusted Net Bank Credit (ANBC) to the sectors eligible for classification as priority sector lending (PSL) and are also required to have a loan portfolio where at least 50 per cent should constitute loans and advances of up to Rs 25 lakh.