The Reserve Bank of India has issued in-principal approval to eleven applicants to set up payments bank, it said on Wednesday.
Those selected include units of top telecom firms besides companies associated with top business houses such as AV Birla, Reliance Industries, Mahindra, government's postal unit and mobile wallet venture Paytm's co-founder & CEO Vijay Shekhar Sharma and Sun Pharma promoter Dilip Shanghvi.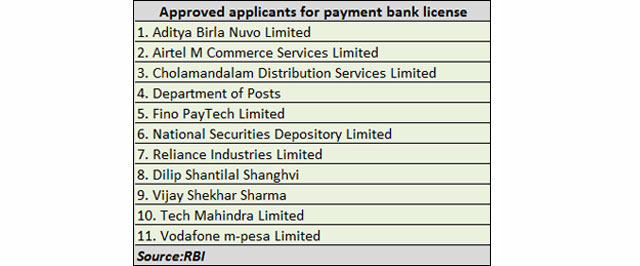 The central bank had started discussions on setting up a separate niche in the Indian banking system two years back following which in January 2014, a committee under chairmanship of Nachiket Mor had recommended granting of licenses to payments banks to offer financial services.
RBI had issued guidelines in November last year for setting up new category of banks to support financial inclusion by providing small savings accounts, payments/remittance services to migrant labour workforce and low income households and supply of credit to small business units among others.
Payment banks are meant for simple banking transactions and will not be allowed to lend or accept term deposits. Customers can't keep more than Rs 1 lakh in their account. As a payments banks these firms will be allowed to accept demand deposits, issue ATM/debit cards and become business correspondents of other banks.
The bank had received 41 applications at the start of the year for starting payments bank and just around one in four have been selected.
"The "in-principle" approval granted will be valid for a period of 18 months, during which time the applicants have to comply with the requirements under the Guidelines and fulfil the other conditions as may be stipulated by the Reserve Bank," the banking regulator said.
The bank in draft guidelines in November last year had specified that minimum paid-up equity capital for payments banks shall be Rs 100 crore and that the payments bank should have a leverage ratio of not less than 3 per cent, i.e., its outside liabilities should not exceed 33.33 times its net worth (paid-up capital and reserves).
RBI is expected to release the names of those picked for a separate set of banking license as 'small finance banks' by the end of the month.