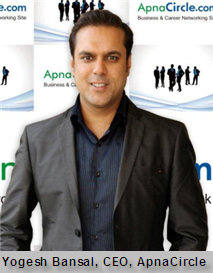 In a market dominated by professional networking sites like  and job sites like Naukri and Monster, professional networking site Apnacircle.com is patiently tuning up its "localised and Indianised" strategy to draw in users living in Tier 2 cities rather than worrying about revenue streams right now.
Apnacircle, which was acquired by Viadeo, a Paris-based Web 2.0 professional social network, in February 2009, claims to have grown from 25,000 users in February 2008 to 1.8 million users currently, and the company is not in a hurry to make money.
ApnaCircle's userbase is tiny compared to Linkedin's 7 million Indian users as of September 2010 and Brijj.com's 3 million registered users. Bansal parries, when we bring up InfoEdge-owned Brijj.com, saying, "Brijj.com mainly gets users from Naukri.com."
Apnacircle was founded by Yogesh Bansal in June 2007 with an investment of Rs 45 lakh ($100,000) and an angel funding from Sabeer Bhatia of Hotmail fame. This round was followed by an investment (adspace-for-equity deal) from Bennett, Coleman Company Ltd's Private Treaties in 2008, which picked up a minority stake in ApnaCircle. 
No advertisements, no recruiter fees
For the time being, Apnacircle is firm on not going pay. Also, it does not pitch to advertisers nor does it charge recruiters in India.
Bansal reasons, "India and China are growth markets, they are producing content and adding value to the platform. So we are not going to make it paid for users for the next 2-3 years in India unlike Europe where it is already a paid service. Our global strategy is to make money from users in Europe, since people there want to network with users in China and India and are willing to pay." 
So ApnaCircle is focusing on adding more Indian users, offering classifieds, free SMS, astrology advice and a points system to draw users. In line with that strategy, Apnacircle is rapidly adding users from tier 2 cities such as Ahmedabad, Jaipur and Lucknow. It adds 4,000 registered users in India per day.
Bansal says, "We are already in metros, and are now seeing growth from tier 2 cities and towns. On the back of growing social media understanding, many users now understand the difference between personal networking and professional sites, and mindsets are opening up to adding total strangers on professional sites. Our strategy is offering free SMSs to our users and astrology advice on the right time or date, as many people in India still look to the stars for a 'shubh' time or day to go to an interview."
'We will replace job boards'
Bansal predicts that job boards will soon be replaced by professional networking websites. "Job boards are inefficient. They are merely a database of jobs and users. From the employer's perspective, how to go about picking the right candidate from the 200 resumes available is the huge problem.
Employer networks can offer background information for a prospective employee too. Professional networking sites offer far superior targeting of profiles with auto screening. They will be more effective," he said.
Alok Mittal of Canaan Partners counters, "We have not seen a model yet which threatens the job board model significantly at this point, but with social networks getting more and more prominence, I would not rule that out in future."
Mittal knows displacing classical job boards is easier said than done. Canaan-funded techTribe set out in 2007 with the business model of online recruitment based on referrals. The company, which targeted tech professionals, could not gain traction and finally shut shop in early 2009. It doesn't mean professional networking sites cannot eat into the business of Naukris and Monsters, as shown by LinkedIn which is emerging as one of the upcoming sources for recruitment.
Unlike Linkedin, which is readying a sales team for its recruiting business, Apnacircle does not have a revenue stream from recruiters yet, though it has partnered with 500 employers in IT, FMCG, education and retail sectors. It plans to set up a sales force across India to take care of recruitment needs of employers only in 2012.
Meanwhile, new revenue models are coming up, such as that offered by New York based TheLadders.com. "We are seeing two dominant models – one is charging recruiters for referral based recruitments like Linkedin.com and the second is of providing job seekers with paid services around managing their career better, like TheLadders," offers Mittal, who earlier co-founded JobsAhead.com and later sold it to Monster India.
How Apnacircle works for its users 
Apnacircle users can earn points by being active on the site (by answering questions, updating statuses and adding events etc.) and redeem them for free products. Apnacircle has tied up with Moser Baer for DVDs and is currently running a scheme where its users can redeem points for digital camera, pen drives, microwave ovens, watches, iPods and laptops from various vendors.
"Corporates need users to send samples of their latest products and gadgets. We offer the platform for them to reach our users, while benefiting our users too. This is similar to the concept of flight miles. In return for the products, we offer corporates banner space," he said.
The networking website also offers free classified ads, on everything from house rentals to car sales, office equipment and holiday club memberships. The feature, introduced in March, has worked out well for Apnacircle, Bansal claims. The company is now working on developing a product around classifieds which will be introduced in the next quarter.
Apnacircle should first attempt to reach out to users through offline events, suggests Jessie Paul, MD of Paul Writer. She says, "The Indian professional networking space is immature and there is a lot that needs to be done to train people on how to go about professional networking, being active on the site and engaging other people.
Linkedin has just begun to participate in offline events that explain all its features to users. Apnacircle should conduct such events in towns, informing people how to harness the benefits of professional networking. There are not enough SMBs in India today using professional networking and they are a huge target market - take for example a Saree trader in Madurai who wants to tie up with one in Gujarat but does not know how to go about it. If Apnacircle can get this right, they can overtake Linkedin."
Despite having a 'go local' theme to it, no local language interfaces have been added to Apnacircle. "Unlike China, where there is a language barrier, Indians do not have a problem communicating in English," he says.
The focus at Apnacircle is currently on building mobile applications. Its iPhone app witnessed poor traction in India. "We expected the iPhone app to pick up in India too, it was a mistake," says Bansal. Work has now earnestly begun on Android OS based applications, followed by Bada OS and Blackberry apps, which will be launched in July 2011.
Global versus Local
Apnacircle's share of the Indian market is currently 3.4% but Bansal optimistically says,  "We are looking to touch the 3 million mark by next year and in the next 3-4 years, hope to have 10 million registered users. By 2015, I want Apnacircle to become a household name like Facebook or Twitter."
With Linkedin's increased India focus and strong B2B pitches to corporates, Apnacircle might need to rethink its strategy if it wants to be the top professional networking site in India. Ashok Lalla, President - Digital, Euro RSCG, says, "Linkedin's India presence in terms of India-based professionals on the network has been growing, so in a sense it is also 'localized and Indianized'.
The primary challenge that Apnacircle will face is getting a critical mass of India users on the site. Clearly, people will gravitate to the site that gives them the widest and most relevant quality of professional networking opportunities. Apnacircle may well need to sharpen its positioning as well as its service offering in order to take on LinkedIn."
And globally, despite its aggressive acquisition strategy, Viadeo SA still lags behind Linkedin. Viadeo SA acquired Chinese social networking site Tianji.com in 2007, ICTnet in Spain in 2008,Apnacircle and Canadian contact management website Unyk in 2009. It now has a total of 30 million registered users - Tianji's 4.6 million registered users, Unyk's 16 million, Apnacircle's 1.8 million and Viadeo.com's 7.5 million. What will it take for Viadeo to slug it out with Linkedin?