Non-banking financial company Altico Capital has appointed Sanjeev Agrawal as its chief operating officer (COO), the firm said in a statement. The position has been created anew.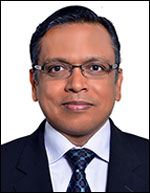 Agrawal's most recent corporate role was as chief financial officer (CFO) for Standard Chartered Bank's Singapore, ASEAN and South Asia operations. He spent more than two decades at the company before his departure in February last year.
Since then, he has been an associate faculty member at Singapore Institute of Technology.
In all, he mas more than three decades of experience across banking, finance, strategic transformations and operations.
At Altico Capital, Agrawal will be responsible for implementing strategy, oversight of treasury, HR, technology, external communications, among other functions.
"His leadership skills and deep understanding of the industry from both international and Indian context will be invaluable to the company to scale our business to newer heights," said Sanjay Grewal, chief executive officer of Altico Capital. "He is astute across both the risk and balance sheet sides."
Altico Capital has been one of the biggest debt investors in real estate lately. Last month, the firm deployed Rs 1,250 crore (nearly $195 million) across five deals in Hyderabad and Pune.
Altico Capital's key backers include Clearwater Capital Partners, Abu Dhabi Investment Council and Varde Partners.
The company posted revenues of Rs 588.2 crore and net profit of Rs 270.8 crore in the financial year 2016-17.
It plans to deploy Rs 4,000-5,000 crore on an annual basis into the residentials and commercial real estate sectors across Tier-1 cities in India.