On Monday, neo-banking platform Open Financial Technologies Pvt Ltd said it had become the 100th Indian unicorn after raising $50 million in a Series D funding round led by IIFL Finance at over $1 billion valuation. Referring to this milestone, Union Minister Piyush Goyal tweeted: 'India hits a century in style!'. Several other Indian ministers including Finance Minister Nirmala Sitharaman hailed the effort.
Traditionally, a tech startup with a valuation of at least $1 billion is called a 'unicorn'.
Nearly a fifth of them are also incorporated overseas due to business, tax and regulatory reasons, according to a VCCircle analysis. However, this analysis only covers startups that first became unicorns when they were private. Most of these so-called unicorns are not only listed in the public markets now, some of them are also no longer unicorns.

Of note is that, 19 out of the 100 Indian or Indian-origin startups that have at least once achieved unicorn status are now headquartered outside the country. In 2022 alone, of the 17 unicorns, six of them -- Fractal Analytics, Polygon, Amagi, CommerceIQ, Hasura and Biofourmis -- have their headquarters overseas.
Most of these unicorns incorporated overseas belong to the software-as-a-service (SaaS) sector, where companies earn the bulk of their revenues in USD, also making it easier for them to list overseas. Tax norms are also favourable in the US for SaaS companies. Freshworks, which became the first Indian SaaS startup to list on the US markets last year, is one such unicorn.
Lately, blockchain-based companies have also been moving abroad. Ethereum-based blockchain scaling service provider Polygon, which raised $450 million in a funding round led by Sequoia Capital India, Tiger Global Management and SoftBank earlier this year, relocated to Dubai two years ago. Crypto trading platforms CoinSwitch and CoinDCX are, however, incorporated in India.
Secondly, six of these startups have lost value in recent times because of commercial challenges. For instance, Grofers, now Blinkit, was in talks to be sold to Zomato for around $700-800 million. Similarly, companies such as Snapdeal, Hike, Quikr or Paytm Mall are technically not unicorns currently.
Further, the total number of unicorns born out of India since mobile ad-tech firm InMobi became the country's first unicorn in 2011 may also vary from one source to another -- depending on the parameters taken into account.
A report by venture capital firm Iron Pillar last month said that a total of 130 companies have already joined the much-coveted unicorn club to generate a value of $535 billion. Out of the 130 unicorns listed in the report, 40 have chosen US as their headquarters, the report said. The report also predicted to have over 250 unicorns by 2025.
A Credit Suisse research report in March 2021 said that India already has 100 unicorns. However, its coverage area of unicorns went beyond the "normal" technology or technology-enabled sectors.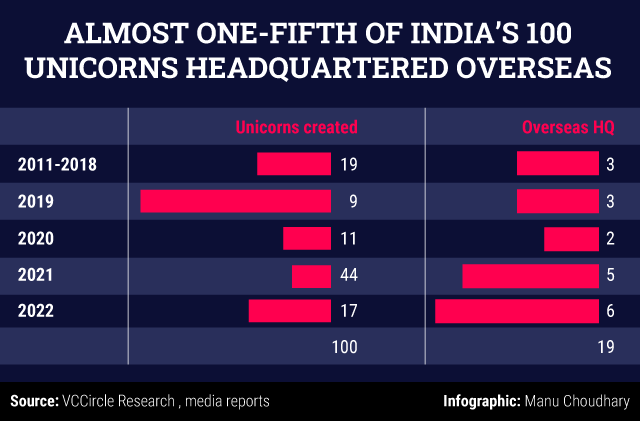 In VCCircle's compilation of this 100-unicorn list, we have excluded non-tech companies as well as companies that turned into a unicorn after getting listed on the stock exchanges like MapmyIndia. Over the past two years, other privately held financial services or consumer companies such as Five Star Business Finance, Vini Cosmetics or Allen Career Institute have also hit a valuation of over a $1 billion after raising private equity capital. Nearly all of these non-tech unicorns are also profitable –– but they are not included in this analysis.