Private equity firm Alchemy Ashmore has invested Rs 35 crore in Gurgaon-based apparel retail firm Numero Uno Clothing Ltd. The fund has picked up around a 25% stake in the firm in a deal struck last year, VCCircle has learned.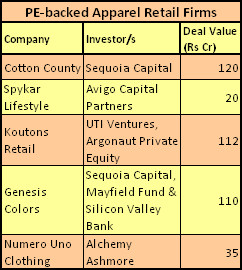 Apparel retail firms have attracted quite a lot of interest from private equity players in India.
Numero Uno is involved in both manufacturing and retailing of apparel and specialises in denim wear. It has a network of 115 exclusive retail stores across the country. It has also opened up offices in Hyderabad and Bangalore to strengthen dealer network and expand in south India market. Numero Uno's goods are also sold by major retailers like Pantaloon, reliance, Shoppers Stop, etc.
Numero Uno has four manufacturing facilities in Gurgaon, Okhla (Delhi), Manesar (Haryana) and Selaque (Uttaranchal). These facilities have 500 machines and the company employs around a 1,000 workers. Numero Uno's Gurgaon facility can manufacture 200,000 pieces a month.
Alchemy Ashmore is a joint venture between Alchemy Partners LLP and Ashmore Investments (UK) Limited. The fund has raised commitments of $80 million and has also invested in Kerala-based NBFC Manappuram Group. 
India was ranked as the third most attractive market destination for apparel retailers, according to a study by global management consulting firm AT Kearney last year. Apparel is the second largest
retail category in India accounting for 10% of the $37 billion retail market. Though the slowdown has hit retail in general, areas like women apparel market are expected grow at CAGR of over 17% and expected to cross Rs. 61,000 Crore by 2010, according to a study by RNOCS.
Another area is kids retail.