Bangalore-based Jeeves Consumer Services Pvt Ltd, an electronics products and appliance service provider to individual households, has raised an undisclosed initial round of funding from Seedfund, an early-stage venture capital fund.
Seedfund, which raised its second fund last year, typically seeks to invest between $0.5 million to $4 million in its portfolio companies.
The funds will be used to scale up the operations of Jeeves.
Alok sen, co-founder of Jeeves, said, "The funding will help put in place a strong IT system to effectively manage calls and spares inventory and help strengthen Jeeves' network, which currently covers 225 cities in India." Jeeves is also launching 'Jeeves Home Care', an annual maintenance contract for individual households to service and repair out-of-warranty electronic products and appliances. A Jeeves Home Care member will need to call only one number, instead of multiple numbers, for servicing the entire range of products, regardless of the brand.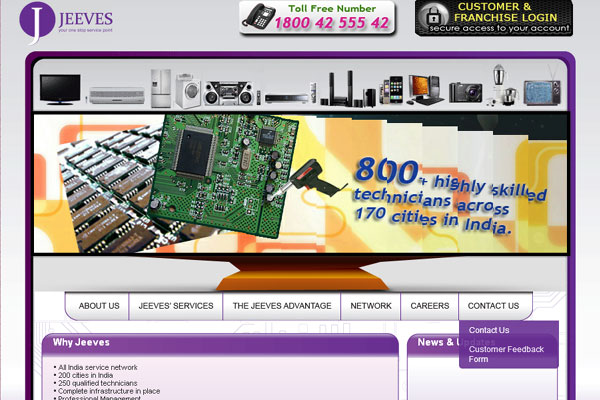 Jeeves was founded by RN Balasubramanya, Alok Sen and SL Padmanabhan in 2007. Balasubramanya has more than two decades of combined experience in the consumer durables industry and retail banking. He has previously worked with Sanyo BPL and BPL Limited.
An IIM Bangalore alumnus, Sen has 17 years of experience in the consumer electronics and appliances business, and has worked with BPL and Digital Video Systems, US-based pioneers in the digital audio visual business.
Padmanabhan, who has over three decades of experience in customer service in the consumer electronics and home appliances segment, has headed the service function at Sanyo BPL and BPL previously.
RN Balasubramanya said, "On an average, a household has 10-15 different durables of various brands. We have developed the capability to service any brand and any product under one umbrella. This will eliminate the need to coordinate and go to multiple service providers. This, we feel, is the need of the hour of the modern lifestyle and nuclear families, where time is at a premium."
Bharati Jacob, partner, Seedfund said, "Jeeves' value proposition solves the real pain point of an Indian household and helps Indian homes to call one number for repair or service of all durables and electronics." The pricing for all services will be standard and will be listed on the website for reference. With the launch of Jeeves Home Care, Jeeves aims to capture a significant part of the post-warranty service market.
Till now, Jeeves was focusing on B2B post sales service for consumer electronics and appliances, supporting about 26 electronics and appliances brands including Toshiba, Panasonic, TCL and Sanyo and large-format retail chains like Future Group, Metro Cash and Carry, Aditya Birla Retail and Croma (Infiniti Retail) in India. The company handles over 32,000 calls per month.
Jeeves competes with companies like One Call India and Easyfix. Interestingly, both these companies are looking to raise funds to scale up their operations and to expand their footprint.
A couple of months back, Seedfund invested in Innoz Technologies Pvt Ltd, a mobile search platform. The funds raised by Innoz, estimated to be between $2 million to 5 million, was supposed to be used in marketing, hiring people and strengthening the technology base to support the increase in demand and traffic.
(Edited by Prem Udayabhanu)