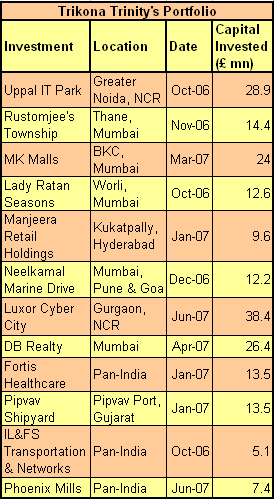 New York-based hedge fund QVT Financial LP is the shareholder that has demanded that Trikona Trinity Capital sell all its investments in India and return the money to the shareholders, VCCircle has learned. QVT Financial, a hedge fund with over $8.5 billion under management, is the largest shareholder in Trikona Trinity with 27% stake.
VCCircle had earlier reported that a major shareholder of Trikona Trinity had demanded that the AIM-listed fund disposed of all its assets and return the capital to its shareholders.
Trikona Trinity has, however, responded that if it goes ahead with QVT's proposal, then it might run into a serious risk of legal action from Trikona's partners as well as the Government of India.
With its projects being developed with local developers, it would make an exit a tough proposition as Trikona Trinity's partners would have their own rights and restrictions. Also in India investments are only allowed in developing assets with a three year lock in period. Trikona
Trinity's investments have been made over a period between October '06 and June '07, according to its annual report.
Also Trikona Trinity has said that it will return £100 million in next 24 months, which is much higher than its market capitalisation.
"As the world is going through deleverage and credit crunch, a lot of other people's businesses are under pressure for no reasons of their own making," Aashish Kalra, Managing Partner of Trikona Capital told VCCircle. Hedge funds around the world have been facing redemption pressures and have thus been forced to liquidate their assets.
"For a lot of the developed world's larger investors, when the going gets tough, the first assets they want to liquidate and leave are emerging markets assets. They want to bring the money closer to home," added Kalra.
QVT has been agitating at a number of funds listed on London Alternate Investment Market. These include AIM-listed real estate fund Hirco, promoted by India's realty major Hiranandani group. Here QVT, along with Laxey Partners has demanded  a non-Hirnandani Chairman.
Interestingly, QVT managed to remove directors and investment mangers from Black Sea Property Fund, in which it held a 30% stake. That was in 2007, and since then the fund has not been able return any money to shareholders. Other funds where QVT is agitating is Principle Capital Investment Trust.