Restaurant listing and review site Zomato.com, owned and operated by Gurgaon-based Zomato Media Pvt Ltd, has struck its sixth overseas acquisition in as many months and its biggest yet by acquiring Urbanspoon, a restaurant information and table booking property, the company's co-founder and chief Deepinder Goyal said in a blog post. The deal involves an all-cash transaction worth $52 million (Rs 325 crore).
Goyal said in his blog post that the firm spent most of its last round of funding on this acquisition.
In November, Zomato had raised $60 million in a fresh round of funding at a pre-money valuation of $600 million from existing investors Info Edge (India) and Sequoia while adding Vy Capital as a new investor.
There are two critical elements of the transaction. One is that it instantly inflates Zomato's size many times over across multiple parameters. But more importantly, it marks Zomato's entry into the North American market and taking on the might of the dominant player Yelp.
Urbanspoon, which was part of NASDAQ-listed umbrella firm for various internet ventures IAC, has a presence in six countries including the US, Canada, Ireland, the UK, Australia and New Zealand. It was a self funded venture before IAC snapped the firm in 2009.
Zomato clocks 35 million+ visits a month which would rise to 80 million+ post the acquisition; its presence would also rise over threefold to over 500 cities against 150 currently with number of restaurants listed increasing to the same extent to over 1 million restaurants. The biggest differentiator, however, would be that the number of ratings would rise around 9x to 43 million with number of reviewers rising to over 1.4 million as against 400,000 at present.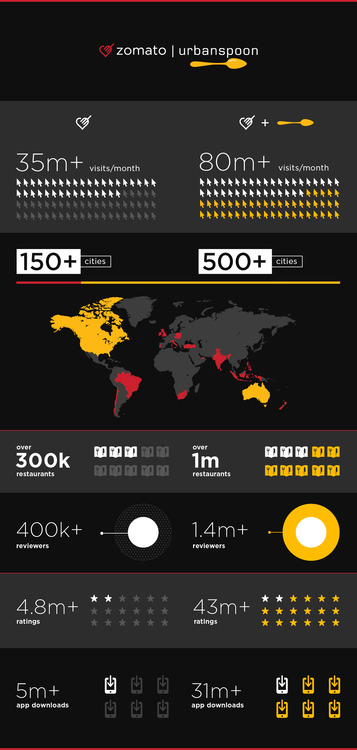 The acquisition would make the first big move by an Indian internet venture in the US. Local business listings venture Just Dial had tried breaking into US but it remains a bit player in that market. Online travel agency MakeMyTrip started its business in the US targeting the travellers to India but with the rise of the Indian market essentially became an Indian venture.
"As we stand here now, we felt joining forces with Urbanspoon would be the best way to turbocharge our growth and make our way into the US, Canada and Australia. Without question, this will also help us take significant strides forward in the markets we've been sharing with Urbanspoon so far – the UK, Canada, New Zealand and Ireland," Goyal said in the blog post.
He observed that the first big task is to ensure that Urbanspoon's website and app are integrated into Zomato smoothly over the next couple of months.
Goyal took dig at Yelp: "The biggest challenge and most fun part of this move, however, is the fight we're going to be picking with Yelp, in the market they have dominated for so long. After all, like Mark Twain famously said, it isn't the size of the dog in the fight, it's the size of the fight in the dog."
NYSE-listed Yelp, which has a current market cap of around $4 billion, is one of the world's largest in the business of crowd-sourced local business reviews.
Yelp had a roster of over 66.6 million cumulative reviews of almost every type of local business, from restaurants, boutiques and salons to dentists, mechanics, plumbers and more as of September 2014. It had 139.4 million unique visitors on its site on an average in that quarter. It is present in 61 markets in the US and 66 markets internationally. It has been slow in expanding overseas and in the January-September 2014 period derived just about 3 per cent of total revenues outside the US. It had, however, looking at new monetisation channels and in 2013 introduced Yelp Platform, which allowed consumers to purchase or order food, book spa appointments and hotel rooms directly from vendors listed on Yelp. This is something similar to what Just Dial is trying in India.
Zomato, in contrast, has restricted itself to ads of restaurants having discontinued its events listing business.
Urbanspoon, besides restaurant reviews, also allows users to book restaurant tables with integration of OpenTable to its site. It itself used to own a reservation platform RezBook which it sold to OpenTable while integrating the latter's restaurant table reservation platform to its own site. Exactly how the revenues are split between OpenTable and Urbanspoon is not clear, though. Zomato also has a similar arrangement with OpenTable for certain overseas markets such as the UK.
The latest acquisition is the sixth such deal by Zomato since last July. Just last month it acquired Italy-based web and mobile restaurant search services startup Cibando Ltd. for an undisclosed sum.
Over the last few months it has acquired four other companies, including MenuMania in New Zealand; Lunchtime in the Czech Republic; Obedovat in Slovakia; and Gastronauci in Poland.
Zomato was founded in 2008 by IIT Delhi alumni and ex-Bain employees Goyal and Pankaj Chaddah. An online and mobile restaurant discovery service, Zomato provides information such as menus, directions, contact details, pictures and user reviews for over 310,000 restaurants. Zomato claims that it sees around 35 million visits per month across its website and mobile app.
To date, Zomato has raised more than $113 million, over multiple rounds of funding from investors including Vy Capital, Info Edge and Sequoia Capital.
(Edited by Joby Puthuparampil Johnson)