You can soon have a @facebook.com email address. At the Web 2.0 conference in San Francisco today, Founder and CEO Mark Zuckerberg, announced the launch of Facebook mail for all its users, ending a weeklong frenzy and speculation over what Facebook's latest offering would walk and quack like. Facebook mail will be rolled out gradually over the coming months. One can also request an invite to experience Facebook mail earlier at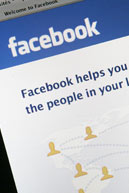 http://www.facebook.com/about/messages/
Zuckerberg denied the possibility that Facebook mail will be a email killer, and called it a 'messaging system' that included email as a part of it. Currently some 350 million Facebook users message friends and family members via the site, and more than four billion messages are sent everyday on Facebook, with the vast majority of those messages between two people, Zuckerberg added.
Facebook mail is going to be platform-independent. Messages can be sent or received as instant messages, SMSes or mails; to the end-user it will not really matter which communication platform is being used. The entire messaging history will be seamlessly integrated into Facebook mail as one discrete conversation between two users. Messages can be forwarded and users will be able to add or remove other users from conversation threads. However, keeping with the continuous conversation feel, Facebook mail messages will not have subject lines or carbon copies.
A voice mail component is not ruled out, but Facebook could not specify if or when that would be integrated with Facebook Mail. Facebook also declined to comment exactly how much storage would be allocated or the size of the mailboxes.
Microsoft was one of the earlier investors of Facebook, and relationship between the two companies continue to be warm. The partnership gets extended to Facebook mail, where users can open Word, Excel or PowerPoint documents from Facebook itself, without having Office installed locally. No points for guessing Facebook already has a Search partnership with Microsoft Bing.
Facebook mail will have different layers of inboxes. The company calls this concept the 'Social Inbox'. It will automatically send messages from a user's most frequently contacted person to a main inbox.  Messages from others will be pooled into a separate inbox, and the rest will be filtered in a different inbox. What this essentially means is that all personal email can be separated from things like bills or bank statements, which also come in the mail, but are not essentially a part of our social graph. Much like Google's Priority Inbox, emails can be moved around in Facebook mail inboxes as well.
Facebook plans to insert display advertisements on the messaging page, but said the company did not have any immediate plans to automatically scan the contents of the messages to display ads based on similar keywords like Gmail did.
Wall Street had a mixed reaction to Facebook's gain, which turned out to be Google's loss. Google shares took a beating today, and was down by $7.82 to $595.47. Microsoft  shares were also down by 7 cents to $26.20. Yahoo went up by 5 cents to $16.59 as possibilities of a merger with AOL overshadowed any public skepticism on the loss of user-base to Facebook. Yahoo Mail, Windows Live Hotmail, Gmail and AOL mail are currently believed to be the leading email providers.
What will happen to Facebook employees now that @facebook.com emails have been opened up to the users? The company has modified its email addresses to @fb.com, incase you needed to email someone at Facebook.
The video of the launch is available here if you want to take a look. A video explaining how Facebook mail will work can also be found here on Facebook.