World Bank has snipped the global growth outlook for the current year while saying India would grow at 7.5 per cent, the fastest among major economies in the world. It now expects Indian economic growth rate to step up to 7.9 per cent in 2016 rising further to 8 per cent by 2017.
World Bank's latest Global Economic Prospects (GEP) report, released on Wednesday, said global economy would grow at 2.8 per cent as against its previous forecast of 3 per cent for the current year.
In the previous GEP report in January, World Bank had said India would grow at 6.4 per cent this year but later revised upwards its estimates for the country. It has maintained its 7.5 per cent growth expectation for the country this year.
The report highlighted India leading the pack of developing economies in terms of growth. World Bank estimates India to grow at 7.5 per cent surpassing China (7.1 per cent) as the fastest growing economy in the world.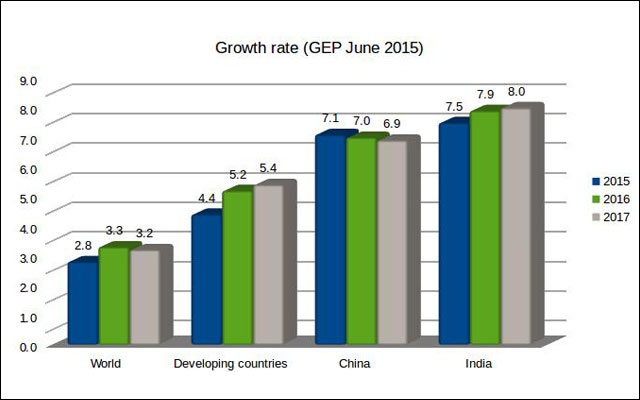 "In India, new reforms are improving business and investor confidence and attracting new capital inflows, and should help raise growth to 7.5 percent this year," World Bank said.
While the World Bank was optimistic about prospects of the Indian economy, it also pointed to the risks facing the developing economies given the lift-off in rates for the U.S. The report drew parallels from the turmoil in markets in 2013 highlighting that the emerging markets face a similar situation as the US Federal Reserve's first interest rate increase, or liftoff, since the global financial crisis could ignite market volatility and reduce capital flows to emerging markets by up to 1.8 percentage points of GDP.
"Developing countries were an engine of global growth following the financial crisis, but now they face a more difficult economic environment," said World Bank Group president Jim Yong Kim highlighting that low commodity prices have hurt the prospects of developing economies which depend on commodity exports while the benefits accruing to commodity importers have been low given the constraints they face in electricity, transport, irrigation, and other key infrastructure services.
The report estimates growth rate accelerating to 5.2 per cent in 2016 for developing economies.
"Slowly but surely the ground beneath the global economy is shifting. China has avoided the potholes skilfully for now and is easing to a growth rate of 7.1 percent; Brazil, with its corruption scandal making news, has been less lucky, dipping into negative growth. With an expected growth of 7.5 percent this year, India is, for the first time, leading the World Bank's growth chart of major economies. The main shadow over this moving landscape is of the eventual US lift-off," said Kaushik Basu, World Bank chief economist and senior vice president.
This would especially hurt emerging markets with greater vulnerabilities and weakening growth prospects. For commodity-exporting emerging markets that are already struggling to adjust to persistently low commodity prices, or for countries experiencing policy uncertainty, a slowdown in capital flows would add to their policy challenges.
Even though the bank highlighted the external risks to the Indian economy, it pointed out that the growth in the sub continent was much more dependent upon the government's ability to deliver reforms. The report said that in India, there is a risk that the passage of key legislative bills pending in parliament (land acquisition reforms and GST) is delayed which could dampen investor sentiment and weigh on infrastructure spending plans.
The report also pointed to the risks emanating from rising incidence of non performing assets (NPAs).
While world organisations have been projecting India as the fastest growing economy in the world, they are also acknowledging that the country just might disappoint given its poor track record of implementing reforms.