Reuters | Credit: Reuters
On Thursday, Bharatiya Janata Party (BJP) leader and Rajya Sabha member Subramanian Swamy levelled fresh allegations against the Reserve Bank of India (RBI) governor Raghuram Rajan, demanding that the latter be sacked. In a fresh letter to Prime Minister Narendra Modi, Swamy accused Rajan of compromising national security interests by using an unsecured University of Chicago email id for sending "confidential and sensitive financial information to various people around the world" and of hurting small and medium enterprises by raising interest rates.
Swamy's fresh salvo comes even as BJP president Amit Shah has distanced the party from the controversy. "The party stand is spelt out by me," Shah reportedly told journalists, in what is being seen as a snub to Swamy.
Finance minister Arun Jaitley has thus far maintained a stoic silence on the issue of succession, although he has said that personal attacks should not be directed against the central bank chief.
The industry, too, it appears, is not on Swamy's side. In a poll conducted by The Economic Times newspaper earlier this month, 90% of respondents from among top industry executives, wanted Rajan to get an additional term at the RBI; none wanted him sacked.
Interestingly, in a separate development on Thursday, Rajan warned that a sharp slowdown in China could threaten the global economy. Rajan spoke of bad loans in the Chinese banking system and of "weaknesses in the shadow banking system" as likely causes that could negatively impact South Asian economies such as India. In fact, this warning is eerily reminiscent of 2005, when Rajan had predicted the global economic crisis of 2008.
Swamy's motives notwithstanding, and irrespective of whether his party supports the intrepid leader on this issue, it would be good to briefly analyse whether his principal charges against Rajan hold any water.
In his first letter to Prime Minister Modi earlier this month, Swamy had argued that fighting inflation with higher interest rates is erroneous. As this critique points out, Turkey has been trying to fight inflation by reducing interest rates, but that has not helped. In fact, ever since he took office, Rajan has cut interest rates by 150 basis points (bps), but opinion is divided on whether he should have gone lower still.
Having said that, inflation has certainly come down. When he took office in 2013, the Consumer Price Index (CPI) was 9.52%, while the Wholesale Price (WPI) Index was 6.1%. The corresponding figures for April stood at 5.39% and 0.34%.
Swamy has further said that Rajan should have considered the trend in wholesale and not retail prices – precisely where the Congress-led United Progressive Alliance regime headed by the Oxford educated Manmohan Singh had perhaps erred, resulting in double digit inflation.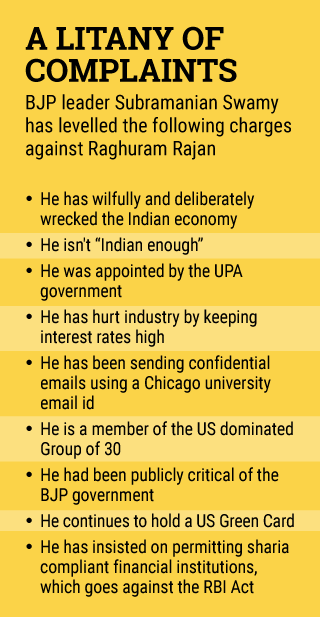 Rajan has been known to speak his mind. In December 2014, he was openly critical of Modi's Make in India initiative, saying that an import substitution strategy or an incentive driven export led growth mechanism will not work for India.
Finance minister Jaitley had, however rejected Rajan's criticism.
Earlier, in June 2014, Rajan, in a strongly worded remark, had trashed the recommendation by the Financial Sector Legislative Reforms Commission (FSLRC), to set up a uniform regulator, calling it "somewhat schizophrenic."
Then, in February 2015, Rajan again caused more than a flutter, when he went beyond his brief and, in what was perceived to be a political remark, spoke about excesses by strong regimes leading to an ineffective government. "However, necessary government function is sometimes hard to distinguish from excess. We will have to strengthen government (and regulatory) capability resisting the temptation to implant layers and layers of checks and balances even before capacity has taken root," Rajan had said.
Then, in November last year, Rajan waded into the nationwide debate on intolerance, saying that India's future economic prospects depended on how intellectually free its society was. "India's tradition of debate and an open spirit of inquiry is critical for its economic progress," he said while addressing students at the Indian Institute of Technology (IIT), Delhi, his alma mater.
In January 2016, when Rajan publicly chastised loan defaulters for public display of wealth, both chief economic advisor Arvind Subramanian and NITI Aayog member Bibek Debroy openly differed with him on the issue. Irrespective of the merits of Rajan's views, his "deep surgery" on bad loans revealed that half the lenders did not report their stressed assets. The so-called Asset Quality Review (AQR) by the RBI has shown that government-owned banks are not the only culprits when it comes to under-reporting bad loans, and that private banks were equally culpable.
As mentioned earlier, India Inc. seems to have thrown its weight behind Rajan.
Earlier this week The Economic Times cited Uday Kotak, the executive vice-president and managing director of Kotak Mahindra Bank said that a central banker like Rajan should be insulated from politics. "The RBI (governor's) position should be apolitical fundamentally," the report cited him as saying.

Earlier, Adi Godrej, chairman of the Godrej Group said that he supported a second term for Rajan. "I think he has done a good job. He is very well-respected across the world. He is a very capable person, very well-respected person and I think if his term is extended then its a good thing for India" Godrej had told PTI.

Rahul Bajaj, chairman of the Bajaj Group told the Business Standard newspaper that he, too, wanted Rajan to continue as the RBI chief. "I believe Rajan should get an extension for more reasons than one." Bajaj added that "Rajan has substantially enhanced the reputation of the RBI, not only in India but internationally. He is well known as a tough economist with a great track record."

The same report also cited Harsh Mariwala, chairman, Marico as saying that Rajan has had a great track record. "Rajan is going about finishing his unfinished agenda. At this stage, to change to someone else would mean shifting gears. It is better Rajan completes his journey over the next term," he is cited as having said.

Sajjan Jindal, chairman, JSW Group, too, came out in Rajan's support in the same report. "India's central bank is one of the best in the world with the RBI governor at the forefront...Rajan's contribution to the Indian economy is immense," he added.
"Raghuram Rajan has had an admirable term as RBI governor. He has instilled confidence domestically and globally, too, has earned praise for his astute handling of monetary policy," Harsh Goenka, chairman of RPG Enterprises, told Business Standard.