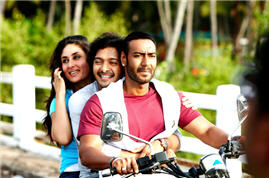 Eros International Media Ltd, the Indian movie distribution arm of AIM-listed Eros International Plc that made a blockbuster debut on local stock exchange (listing at 22% premium to the issue price of Rs 175), has seen its latest flick Golmaal 3 receive a mega response that could well make it one of the biggest movies this year in terms of collections.
The comedy movie is said to have grossed Rs 117 crore worldwide in its first week of release and went strong in its second week. This will make for a good quarter of earnings for the three months to end December for the company that listed last month.
Although the correction in the markets over the last few weeks has affected both Eros International Media Ltd and its parent Eros International plc who have also succumbed to the selling pressure but to put the performance in perspective, the AIM-listed firm has seen its price shoot up over four times since February 2009, when the Indian markets bottomed out.
Notably, Eros International plc has even outperformed the Indian benchmark indices that has doubled in the same period.
For the first half ended September 30, Eros International Media Ltd reported consolidated revenues of Rs 313 crore with net profit of Rs 61 crore, up 33% over the year ago period. The net profit margins pulled up to around 20% against 14% in the first half last year. The company's Q2 numbers, in particular, was boosted by Bollywood movie Housefull.
Kamal Jain, Group CFO, Eros International Media said, in a television interview, he expected the company's FY11 net profit to come in at around Rs 110-120 crore, almost 50% up previous year.
Local brokerage houses are also expecting the Indian arm to bring neat returns for investors at the current price levels. For instance, Sharekhan that has initiated coverage with buy rating and price target of Rs 247 in 12 months (with over 40% appreciation) is one of those bullish on its growth prospects.
"With its proven track record, de-risked business model and aggressive ramp-up plans, we believe the company is well poised to gain from the rising discretionary spending on film entertainment driven by the country's favourable demographics. Thus, EIML is a compelling value play on the Indian media and entertainment industry," Sharekhan said in a report dated November 15.
The firm, that raised Rs 350 crore through the public float recently, has movies like Game, No problem and Tunpur ka Superhero slated for release in the second half of this fiscal. In the next fiscal, the company already has 5 movies in the bag including Agent Vinod, Rockstar, RA1 and Zindagi Na Milegi Dobara.
It intends to use the fresh money raised to acquire and co-produce Indian films, primarily Hindi language films as well as certain Tamil and other regional language films. The company is part of Eros group that is led by Lulla business family founded by Arjan Lulla and now handled by his two sons Sunil and Kishore.